Astros go for power with Kentucky's Reed in Round 2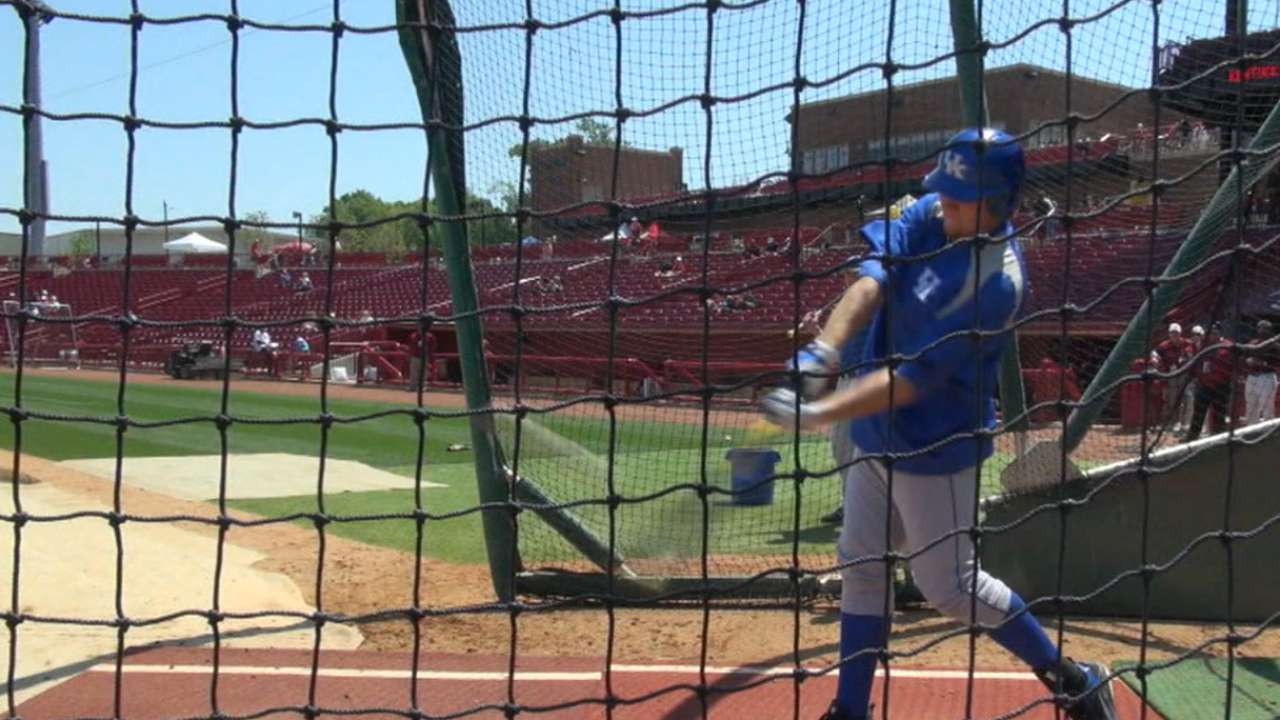 HOUSTON -- If there's something the Astros needed in their farm system, it's some power bats. They added one Thursday with the first pick of the second round (42nd overall) of the First-Year Player Draft when they took University of Kentucky slugger A.J. Reed.
Reed, a 6-foot-4, 240-pound left-hander who is a finalist for the Golden Spikes Award for the college player of the year, was a two-way star at Kentucky as a pitcher and a hitter, but Houston drafted him with hopes he'll be hitting home runs at Minute Maid Park one day.
"Getting drafted by the Astros is something I'm very happy about," Reed said. "It's a great organization that I feel is a good fit for myself. I'll be able to add a little bit of power to the organization, and that's a benefit for both of us. I think we're going to be able to see eye to eye on a lot of things, and I'm really excited about that."
After taking San Diego high school left-hander Brady Aiken with the No. 1 overall pick, Houston drafted a pair of left-handed hitters -- University of Virginia outfielder Derek Fisher with the No. 37 pick and Reed, who's coming off one of the most historic seasons in college baseball history.
Reed led the nation in homers (23), slugging (.735) and OPS (1.211), while ranking as the Southeastern Conference leader, and fourth in the NCAA, in pitching victories (12). Reed hit .336 with 18 doubles, one triple, 73 RBIs, 49 walks and a .476 on-base percentage while posting a 2.09 ERA as the Wildcats' Friday night starter.
"A.J. Reed kind of speaks for himself," Astros scouting director Mike Elias said. "He's is the SEC Player of the Year, led the nation in home runs in the toughest college baseball conference in the country. I believe he's probably going to win the Golden Spikes Award for the best college player in the country. If you look back at the list of Golden Spikes winners, it's a pretty impressive list of big league players."
Among the recent winners of the award are the Mariners' Mike Zunino (2012), Bryce Harper ('10) and Stephen Strasburg ('09) of the Nationals, Buster Posey ('08) and Tim Lincecum ('06) of the Giants, and David Price of the Rays ('07).
Elias said Reed has earned the nickname "Babe Ruth" in some circles because of his ability to mash home runs and pitch.
"He's got a real zeal and enthusiasm for the game that's apparent when you watch him play," Elias said. "He had a monster season. He's got a lot of bad speed, tons of power, obviously. We think it's going to play. I think he might have the most raw power in our system once we get him signed."
In his storied three-year career, Reed has a .306 average in 172 games, with 35 doubles, three triples, 40 homers and 168 RBIs, with a .559 slugging percentage and a .415 on-base percentage. On the mound, Reed -- a first-team All-America selection -- has a 19-13 record with a 2.83 ERA in 248 innings, allowing just 53 walks and striking out 174.
"I hadn't talked to the Astros that much," Reed said. "I didn't know they were interested. I'm just really excited and happy that they wanted to take me and let me be a part of their organization."
It's the second year in a row the Astros have tabbed the SEC Player of the Year, taking infielder Tony Kemp in the fifth round last year out of Vanderbilt. He's hitting .336 with a .428 on-base percentage at Class A Lancaster.
"You're pretty good if you win the SEC Player of the Award," Elias said. "I don't think it's a secret we put a lot of stock in what players do during college, especially what they do in the Cape Code League when they're playing with wood and playing against other professional-caliber players. But we also look to make sure they have the tools to make that success resilient once they get into the pro game, and these guys do."
The 2014 First-Year Player Draft runs through Saturday, with MLB.com's exclusive coverage of the second and third days beginning with a live Draft show at 11:30 a.m. CT on Friday.
Brian McTaggart is a reporter for MLB.com and writes an MLBlog, Tag's Lines. Follow @brianmctaggart on Twitter. This story was not subject to the approval of Major League Baseball or its clubs.