Rangers pile on early and late to pull away from O's
Five-run lead disappears, but offense takes advantage of mistakes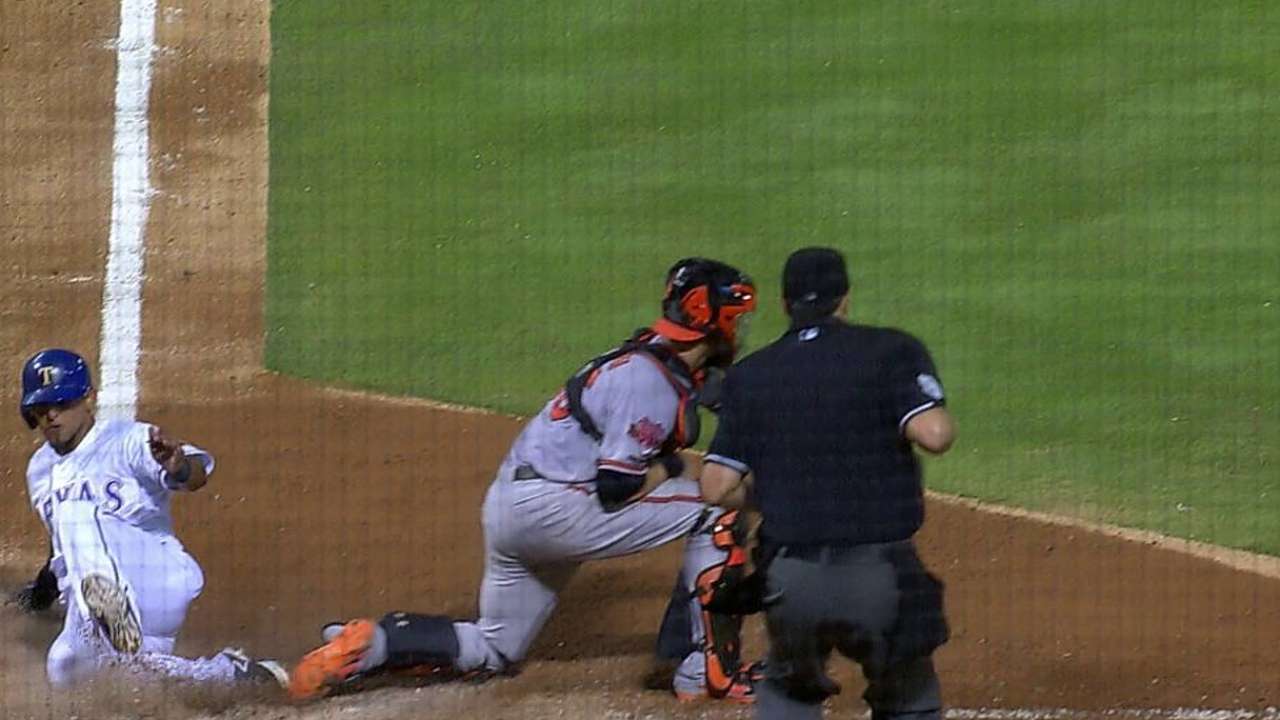 ARLINGTON -- Just hours before the first pitch of the finale of a three-game series with the Orioles on Thursday, Rangers manager Ron Washington couldn't quite explain it.
He couldn't seem to put his finger on the reason for the Rangers' continued struggle at home, dropping seven of their last 10 at Globe Life Park, including two in a row to the Orioles.
"I expect us to play well all the time no matter where we are," he said. "It just hasn't happened yet."
Thursday it happened.
With an 8-6 victory, the Rangers snapped their two-game losing streak and ended Baltimore's four-game winning streak. Perhaps more importantly, they picked up a much-needed win at home after entering with a .464 home winning percentage that tied for 11th in the American League.
"We put what, eight runs on the board? And we had to drive them in," Washington said. "I'm just looking for consistency. That's all. … That group I've got, they're capable of winning ballgames. They've just got to go out there and get consistent."
The Rangers jumped to a quick start in the first inning, putting two runs on the board against Orioles starter Chris Tillman when Mitch Moreland drove in Shin-Soo Choo, who had walked, and Elvis Andrus, who had doubled. They tacked on three more runs in the second when Michael Choice's fourth home run of the season scored Leonys Martin, and Andrus' single to left field brought in Rougned Odor to end Tillman's outing.
"It felt good," Choice said of his homer. "We did a great job of getting guys in tonight. … When you can put up runs in key situations like that, it definitely takes the pressure off."
Tillman left the game with his team trailing, 5-0, in the second, and his streak of three consecutive wins in Arlington snapped.
"It's evident to me I'm just not executing pitches," said Tillman, who gave up six hits, three walks, and five runs -- all earned. "It's always frustrating any time you leave the game early. … It's our job to go deep into the games and save the bullpen. Didn't happen."
The Orioles scored in the third to cut it to 5-2 when Nick Markakis homered, scoring David Lough, who had doubled. They tied it in the fifth when a diving Martin bobbled an Adam Jones line drive in center, allowing Caleb Joseph and Manny Machado to score. Jones, who would homer in the eighth, scored moments later on a single from Chris Davis.
But the Rangers regained a permanent lead in the seventh when Odor singled, reached second on an error from shortstop J.J. Hardy and was brought in when Andrus hit a grounder to Hardy, who bobbled it again.
"I'm very surprised," Washington said of a carrer-high three errors from Hardy. "I've never seen him make a bad throw. Matter of fact, I've really never seen him make an error."
Rangers starter Colby Lewis left after the fifth with a no-decision, giving up seven hits and five runs to go along with four strikeouts.
Though Washington commended him for his outing, Lewis wasn't satisfied. He's still 4-4 on the season and has a 5.77 ERA.
"It's just frustrating," Lewis said. "I felt like I'm feeling really, really good -- feel great every time I hit the mound. I'm just not always getting the results I want to see."
Robbie Ross Jr. came on in relief for the win, throwing two scoreless innings and retiring all six batters he faced.
"It's just like, 'Hey, we gotta come out here and help. There's days where it's going to be perfect and everything's going to go fine, and there's times where stuff happens," Ross said. "But knowing you can help a guy out is definitely something you try to do."
Washington sang his young squad's praises, and added that each day requires a new sense of patience, a fresh new mindset despite some frustrations.
"You're always going to be teaching and you're always going to be trying to fix something," Washington said. "But when you've got kids that are talented, it's easy. They're gonna make some mistakes, but I never see them give up, I never see their drop their head. … In the end. it's going to continue to pay dividends."
And Thursday was proof.
Grace Raynor is an associate reporter for MLB.com. This story was not subject to the approval of Major League Baseball or its clubs.