Rays replenish system with slugging Gillaspie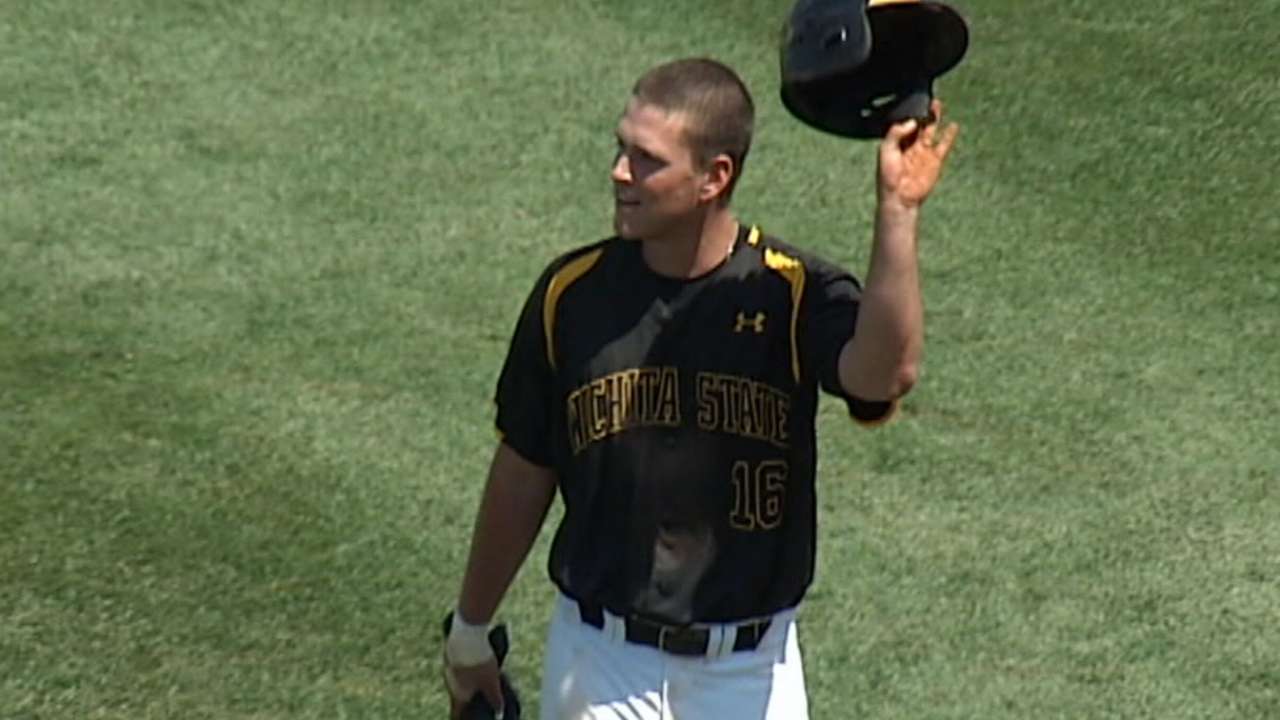 ST. PETERSBURG -- The Rays went for power with their first pick of the 2014 First-Year Player Draft when they selected Casey Gillaspie, a switch-hitting junior first baseman from Wichita State, at No. 20.
Rays scouting director R.J. Harrison said Gillaspie "sticks out," noting that there were three college sluggers in the Draft who stood above the rest, and "we got one of them."
"And he's a switch-hitter," Harrison said. "It's probably more of a natural loft stroke from the left side. And more of a direct swing from the right side. This is a really strong man. This is not a kid we're waiting for strength to catch up. He's 6-foot-5, 240 [pounds] and he's some kind of put together. ... He's made the way you want a big leaguer to be made."
Gillaspie sounded pleased to be selected by the Rays.
"I'm so thankful for the opportunity to play for the Rays' organization," Gillaspie said. "I'm so happy about it. I'm ready to get going. I can't say thank you enough to the organization for picking me in the first round. Just overwhelmed with happiness and just so thankful for the opportunity."
With the 60th overall pick of the Draft, the Rays selected Cameron Varga, a right-handed pitcher from Cincinnati (Ohio) Hills Christian Academy. Their final selection of the first day was Brent Honeywell with the 72nd overall pick. He is a right-handed pitcher from Walters State.
The Draft continues on Friday with Rounds 3-10. The MLB.com pregame show begins at 12:30 p.m. ET, with exclusive coverage of Rounds 3-10 beginning at 1 p.m.
Lacking offensive talent in their farm system, the Rays couldn't resist the strapping slugger when they made their first pick. In addition to being equipped with the bat, Gillaspie is said to be capable at first base.
Gillaspie is projected to move quickly through the Minor Leagues en route to his ultimate destination as a middle-of-the-order hitter in the Majors.
While many have projected Gillaspie to have a quick ascent to the big leagues, he sounded humble when asked about his chances to do so.
"I haven't really thought about it too much, moving through the ranks and everything," Gillaspie said. "I'm going to work hard and hopefully move through the ranks fairly quickly."
Gillapsie hit .389 with 15 home runs and 50 RBIs this season for the Shockers. He also had a .682 slugging percentage and a .520 on-base percentage.
Gillaspie's father, Mark, is a former All-American outfielder at Mississippi State and he played professionally, reach Triple-A. He encouraged Casey to become a switch-hitter at the age of 8. Meanwhile, the first baseman's brother, Conor, was a third baseman for the Shockers and was picked 37th overall by the Giants in 2008. He currently plays for the White Sox.
"His father played up at Triple-A," Harrison said. "It's a baseball family. He can draw off his brother's experience. I just think it's a real good baseball family."
Gillaspie called it a "big advantage" to have a brother who had been in his position.
"He's kind of gotten me through this whole Draft process," Gillaspie said. "He told me to enjoy it. I'm thankful to have him. He's been through it all. I just take his advice to enjoy the process and have fun."
When asked if he had fun on Draft day, Gillaspie allowed that it was "a little nerve-racking."
He confessed that he did not know a lot about the Rays.
"I watch them, usually on the MLB Network, when David Price is pitching," Gillaspie said. "I don't know much. I'm hoping I can get in there and make an impact on the organization and help them win ballgames whatever way I can."
Tim Beckham, the No. 1 overall pick in the 2008 Draft, is the last Rays first-rounder to reach the Major Leagues.
Because of his brother, Gillaspie has been around Major League hitters and has seen them take batting practice, so he did not take the bait when asked if he could hang with the big boys.
"Those guys are big league hitters," Gillaspie said. "There's no other way around it. They're up there for a reason, and I can't really compare myself, because they're so good. I'm going to try and work my way up there. Whatever I need to do, I'm going to do. ... Those big league hitters, you know, I can't take anything away from them, because they're very good. I hope someday to be up there with them."
Harrison noted that Gillaspie was "ready to go" as far as signing with the Rays.
"So as soon as we can get the logistics together, we'll get him taken care of, get him signed and get him out there playing," Harrison said.
When asked how important it is for Gillaspie to sign as quickly as possible, Harrison didn't mince words.
"I think it's really important," Harrison said. "The sooner he gets out playing, the sooner he can get here."
Bill Chastain is a reporter for MLB.com. This story was not subject to the approval of Major League Baseball or its clubs.