Astros squeeze by Angels to take series victory
Youth movement in full effect as Houston improves to 12-8 over last 20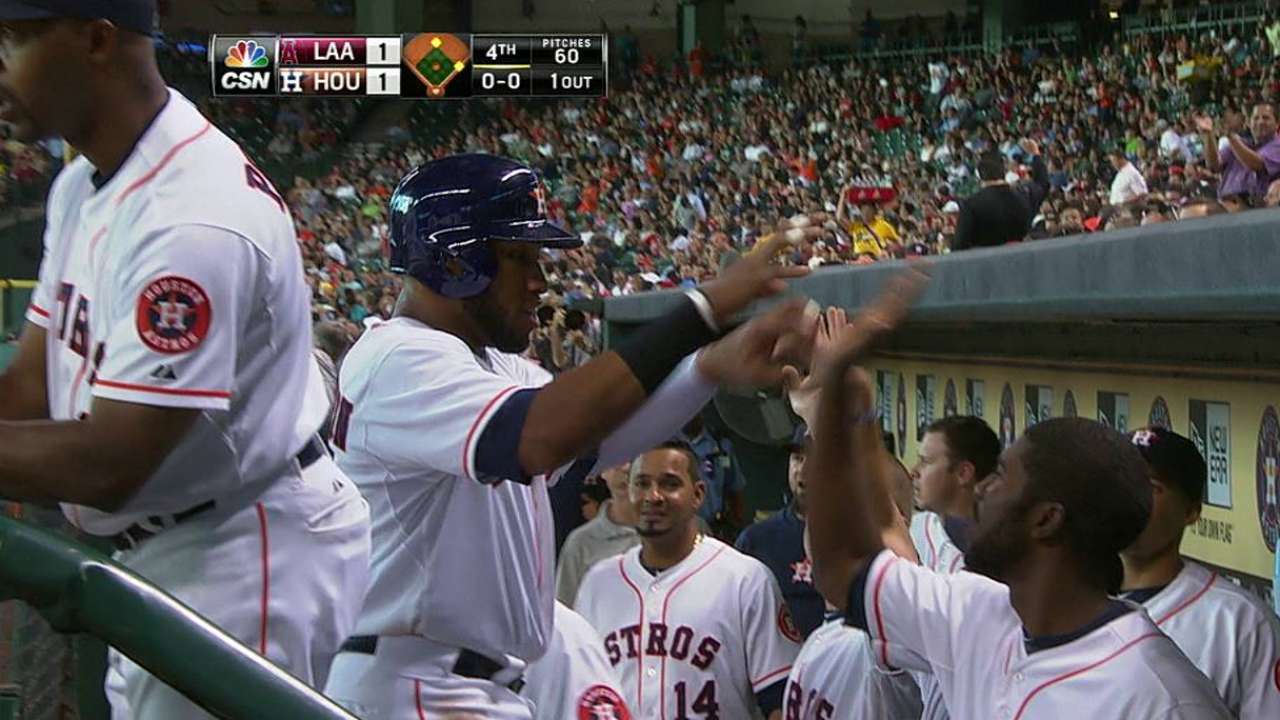 HOUSTON -- Not too long after his big hit, George Springer stood in front of his locker with Dexter Fowler standing next to him delivering instructions.
"Like this," Fowler said, "You come back around."
In the eighth inning of the Astros' 8-5 win over the Angels on Thursday, Springer hit a single to score Fowler and Jose Altuve. Fowler was returning the favor with some veteran instruction -- teaching Springer, the 24-year-old rookie, how to tie the pink necktie that was already on Springer's neck.
When Springer was done, he revealed a well-tied knot and a tie that was sitting far too short.
"It's a clip on," Fowler joked. "It's a mini-clip on."
Soon, Springer had given up. Video coordinator Jim Summers finished the job for him. Apparently not everything comes so naturally for Springer, whose energy has made a clear and visible impact on an improving Astros ballclub during their recent five-game home stretch.
Whether it's pregame dancing, celebrating with the "Monster Claw" after big games, or learning how to tie a tie, the youth has started to arrive in Houston. The win against the Angels clinched the series for the Astros, who went 4-3 on their recent homestand against Los Angeles and Baltimore. In their last 20 games, the Astros are 12-8.
Winning 60 percent of your games is a big step forward for the Astros, who hadn't had a plus-.500 month since September 2010 before May, when the club went 15-14.
"You can feel a sense of the buzz," manager Bo Porter said. "I feel really good for our fan base right now, just the excitement that's going on in the organization, the players that have arrived here, it's exciting for the city of Houston and the Astros."
Thursday was all about the future of the Astros, as the team selected left-handed pitcher Brady Aiken with the No. 1 overall pick in the 2014 First-Year Player Draft. The Houston crowd cheered when Aiken's name and picture appeared on the Minute Maid Park video board, announcing the Astros had just selected him.
Sure there was Springer and Aiken, but there was also Jon Singleton, who at 22, is five years older than Aiken. Singleton wouldn't be overshadowed playing in just his third Major League game. He ripped a fourth-inning single into right field for his second career hit before stealing second base, the first of his career.
Soon, Singleton was standing on third, getting a signal from third-base coach Pat Listach with Robbie Grossman, at the plate. Singleton knew the signal, but when you're a coach and you've got a first-week rookie in front of you, sometimes it's best to make everything as clear as possible. Listach went up to Singleton to verbally make sure he knew what was coming.
"He just kind of helped me out and let me know what was going on," Singleton said. "It's always nice when they reassure the sign they give you."
Seconds later, Grossman laid down a bunt to the right side of the infield, and all 255 pounds of Singleton were in a dead sprint toward home. There would be no play at the plate or at first base; both Singleton and the 24-year-old Grossman were safe on a play to break a tie. The run was just the second of Singleton's Major League career.
The three-run fourth inning continued for Houston when Carlos Corporan, who was playing in place of a resting Jason Castro, knocked an RBI single to right field. Fowler followed with an additional RBI single to score Corporan.
Altuve's two-run double in the eighth was followed by Springer's two-run single to cap the Astros' scoring.
The Houston bullpen backed up Brad Peacock, who gave up three runs on six hits in five innings. When Peacock left the game, the Astros held a one-run lead that was extended in their four-run eighth inning.
"We couldn't hold that [one-run] deficit," Angels manager Mike Scioscia said. "They showed some patience."
Patience has been a big to-do for the Astros' young team. The trait can come in especially handy when the bullpen pitches like it did Thursday night.
Peacock moved to 2-4 on the season, with an ERA of 4.82.
"I was battling all night," Peacock said. "I didn't really have anything; the bullpen really picked me up tonight. Luckily, I came out with the win."
Astros relievers Josh Fields, Darin Downs, Kyle Farnsworth, Paul Clemens and Chad Qualls combined to allow two runs over four innings, both runs coming in the ninth, on a bases-loaded walk by Erick Aybar and a fielder's choice by Collin Cowgill.
"Their confidence is riding high," Porter said of the bullpen. "Their confidence is riding high because they started to throw up zero after zero after zero. I think it's contagious."
The Astros hope whatever the bullpen's dealing is infectious on their upcoming five-game road trip that starts in Minneapolis on Friday night, leaving Houston late after the game to catch their flight, neatly tied ties and all.
Mike Vernon is an associate reporter for MLB.com. This story was not subject to the approval of Major League Baseball or its clubs.