MLB.com Columnist
Jonathan Mayo
Final Mock: Mayo's picks for the first round
First-Year Player Draft begins tonight, to be aired live on MLB.com and MLB Network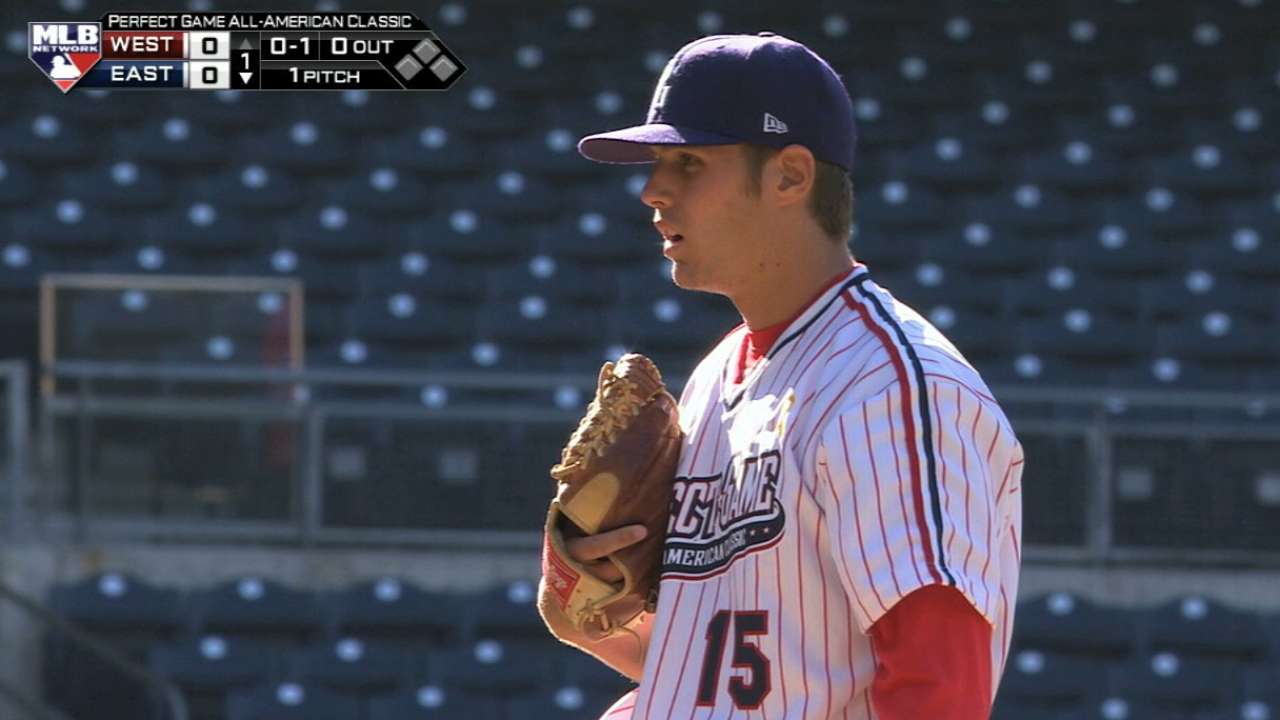 This is it, the last crack at projection the first round of the 2014 Draft. With still no real clarity about who the Houston Astros are going to take at the top, it's tough, not just for us prognosticators, but also for the teams picking behind them, to line things up. But Jim Callis and I are going to give it one last try.
Major League Baseball's First-Year Player Draft begins tonight with a preview show on MLB.com and MLB Network at 6 ET. Live Draft coverage from MLB Network's Studio 42 begins at 7 p.m., with the top 74 picks being streamed on MLB.com and broadcast on MLB Network. MLB.com's exclusive coverage of the second and third days will begin with a live Draft show at 12:30 p.m. ET on Friday.
MLB.com's coverage includes Draft Central, the Top 200 Draft Prospects list and Draft Tracker, a live interactive application that includes a searchable database of Draft-eligible players. You can also keep up to date by following @MLBDraft on Twitter. And get into the Draft conversation by tagging your tweets with #mlbdraft.
Here is my final mock draft, just in list form.
1. Houston Astros: Brady Aiken, LHP, Cathedral Catholic HS (Calif.)
2. Miami Marlins: Carlos Rodon, LHP, NC State
3. Chicago White Sox: Tyler Kolek, RHP, Shepherd HS (Texas)
4. Chicago Cubs: Michael Conforto, OF, Oregon State
5. Minnesota Twins: Nick Gordon, SS, Olympia HS (Fla.)
6. Seattle Mariners: Alex Jackson, C/OF, Rancho Bernardo HS (Calif.)
7. Philadelphia Phillies: Aaron Nola, RHP, LSU
8. Colorado Rockies: Kyle Schwarber, C, Indiana
9. Toronto Blue Jays: Max Pentecost, C, Kennesaw State
10. New York Mets: Sean Newcomb, LHP, Hartford
11. Toronto Blue Jays: Jeff Hoffman, RHP, East Carolina
12. Milwaukee Brewers: Kodi Medeiros, LHP, Waiakea HS (Hawaii)
13. San Diego Padres: Trea Turner, SS, NC State
14. San Francisco Giants: Touki Toussaint, RHP, Coral Springs Christian Academy (Fla.)
15. Los Angeles Angels: Tyler Beede, RHP, Vanderbilt
16. Arizona Diamondbacks: Bradley Zimmer, OF, San Francisco
17. Kansas City Royals: Derek Hill, OF, Elk Grove HS (Calif.)
18. Washington Nationals: Kyle Freeland, LHP, Evansville
19. Cincinnati Reds: Brandon Finnegan, LHP, TCU
20. Tampa Bay Rays: Jacob Gatewood, SS, Clovis HS (Calif.)
21. Cleveland Indians: Casey Gillaspie, 1B, Wichita State
22. Los Angeles Dodgers: Grant Holmes, RHP, Conway HS (SC)
23. Detroit Tigers: Nick Howard, RHP, Virginia
24. Pittsburgh Pirates: Monte Harrison, OF, Lee's Summit West HS (Mo.)
25. Oakland A's: Erick Fedde, RHP, UNLV
26. Boston Red Sox: Alex Blandino, 3B, Stanford
27. St. Louis Cardinals: Luis Ortiz, RHP, Sanger HS (Calif.)
28. Kansas City Royals: Foster Griffin, LHP, The First Academy (Fla.)
29. Cincinnati Reds: Sean Reid-Foley, RHP, Sandalwood HS (Fla.)
30. Texas Rangers: Forrest Wall, 2B, Orangewood Christian HS (Fla.)
31. Cleveland Indians: Michael Chavis, SS, Sprayberry HS (Ga.)
32. Atlanta Braves: Ti'quan Forbes, SS, Columbia HS (Miss.)
33. Boston Red Sox: Michael Kopech, RHP, Mt. Pleasant HS (Texas)
34. St. Louis Cardinals: Spencer Adams, RHP, White County HS (Ga.)
Jonathan Mayo is a reporter for MLBPipeline.com and writes a blog, B3. Follow @JonathanMayoB3 on Twitter. This story was not subject to the approval of Major League Baseball or its clubs.