Pick No. 74 nets power-hitting outfielder Morgan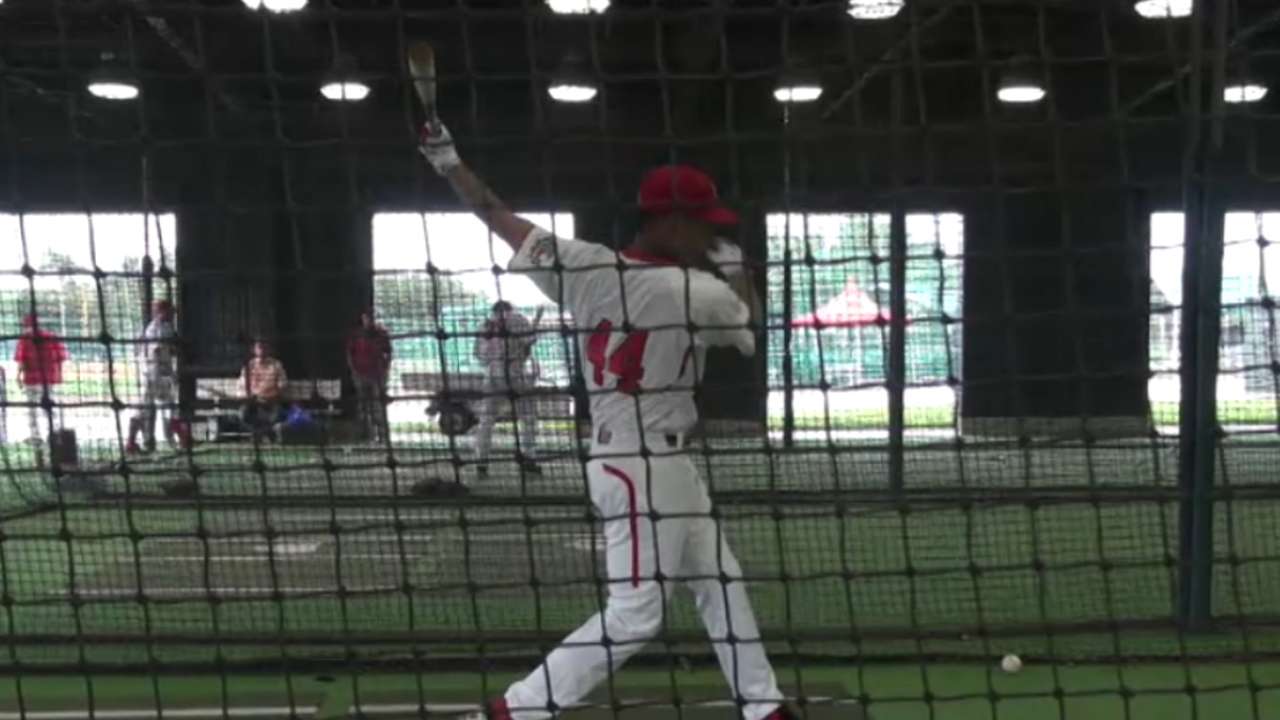 ST. PETERSBURG -- If you sensed a theme on the opening day of the Mariners' First-Year Player Draft on Thursday, scouting director Tom McNamara won't disagree.
Seattle used both its picks on young right-handed-hitting corner outfielders with significant power potential, tabbing 18-year-old Gareth Morgan from Blythe Academy in Toronto with the final second-round selection of the day after taking San Diego prep star Alex Jackson with the sixth pick in the opening round.
"We're real happy with the two guys we got today," McNamara said before heading back into the Draft room to prepare for Rounds 3-10 on Friday. "Both are good-looking hitters. They both have aptitude, power and are athletic. And both are young.
"These are the type of players our fans can get excited about. Both have good upside. They'll start at lower levels, but we just gave the organization a good shot in the arm with young talent."
Morgan was taken with the 74th overall pick, which came to Seattle as the last Competive Balance Round B selection at the end of the second round.
The 6-foot-4, 220-pounder has signed a letter of intent with North Carolina State. He isn't as polished as Jackson, but Morgan is regarded as the top prep talent in Canada and he traveled to Arizona and Florida to showcase his skills this spring with the Langley Blaze club team, playing against a Mariners Minor League squad on one stop.
Morgan is a member of the Canadian Junior National Team, which recently played eight games against professional squads in the Dominican Summer League. General manager Jack Zduriencik and several Mariners scouts watched Morgan in the Dominican and clearly liked what they saw.
"All of our scouts were involved on this one," McNamara said, "because that team traveled all over the world. And he flew into Seattle on the way back [for a workout after the Dominican trip]. We've seen both these guys since the start of their high school years, not just in high school, but in summer tournaments where you really try to bear down on those guys because they're facing the best pitchers and players in the country."
McNamara said Jackson and Morgan both have the kind of preparation that will help them transition into Minor League baseball just out of high school.
"We call them advanced high school players because they know the travel routine and playing with other players, being on the road and the grind of playing every day," he said. "It's not pro ball, but it's a good introduction."
The Mariners lost their regular second-round pick by signing Robinson Cano in free agency. They would have regained a second-round pick had Kendrys Morales signed with another team prior to Thursday, but Morales remains the one qualified free agent still without a contract after he turned down Seattle's one-year, $14.1 million qualifying offer last winter.
The Draft continues on Friday with Rounds 3-10, with the Mariners selecting sixth in each of those rounds. The MLB.com pre-Draft show begins at 9:30 a.m. PT, with exclusive coverage of Rounds 3-10 beginning at 10 a.m. PT. The final 30 rounds of the Draft will be held on Saturday.
Greg Johns is a reporter for MLB.com. Follow him on Twitter @GregJohnsMLB as well as his Mariners Musings blog. This story was not subject to the approval of Major League Baseball or its clubs.