Cubs draft Stinnett to wrap up Day 1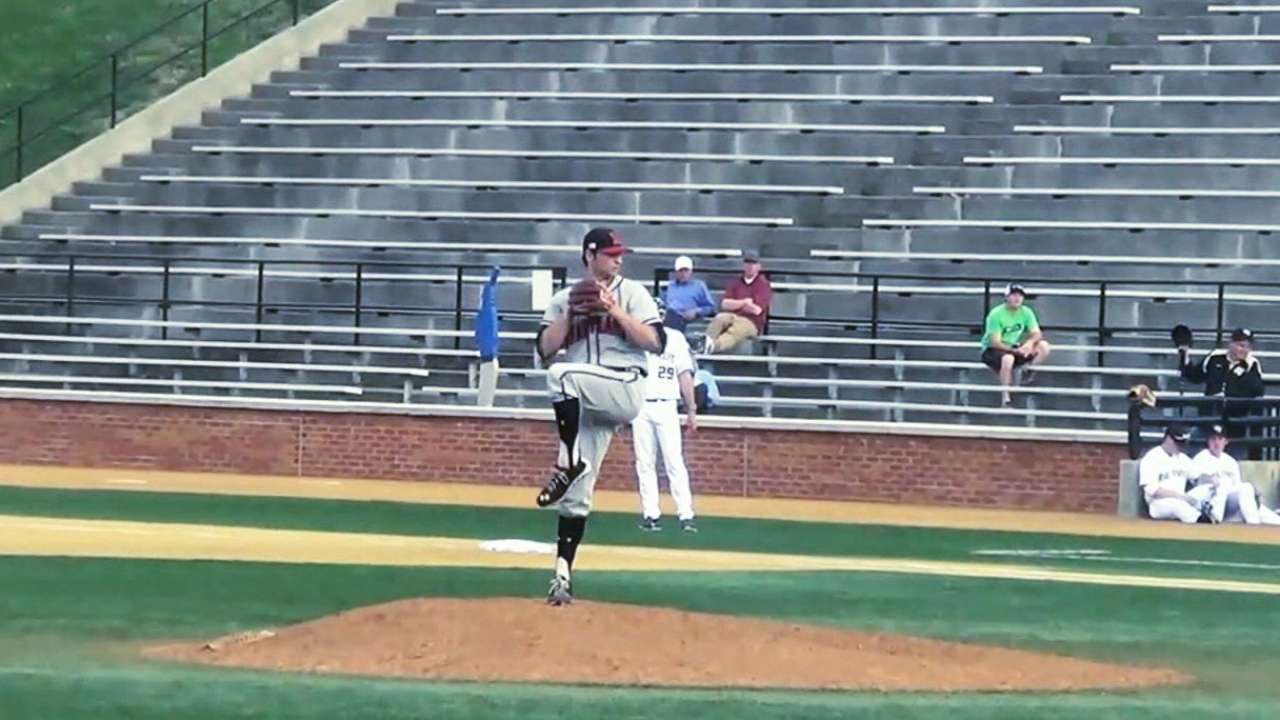 CHICAGO -- Right-hander Jake Stinnett was drafted by the Pirates last June but chose to finish school. The Cubs are glad he did.
On Thursday the Cubs picked Stinnett from Maryland in the second round of the First-Year Player Draft. He was the 45th player taken overall.
Stinnett is a little different from previous pitchers selected. He originally played third base for Maryland and didn't start focusing on pitching until his junior year, in 2013. This year his velocity has reportedly increased, and his slider has improved.
In 2011, Stinnett started 40 games at third base and hit .174, which may explain the switch to pitcher. That year he made five relief appearances and picked up two saves. In 2012 he did well in relief and was named the MVP of his team in the fall World Series of the New England Collegiate League.
Last year he was a closer, then moved into the rotation and compiled a 2.83 ERA. On March 1 he threw a no-hitter against Massachusetts, Maryland's first since 2008.
"He had pretty much everything working," Maryland coach John Szefc said after that game. "It doesn't happen every day that a guy is that sharp. He's able to throw strikes and command the zone almost on command. Whereas last year, when he was still developing, I don't think he had that kind of command. It's hard to beat him, because he's constantly in the zone."
On March 21, Stinnett struck out 14 over eight innings to lead Maryland to a 10-0 win over North Carolina State and Carlos Rodon, who was taken third overall this year by the White Sox. Rodon served up eight unearned runs over 4 2/3 innings in that game and took the loss.
The Cubs, who earlier in the evening selected catcher Kyle Schwarber of Indiana with the fourth pick overall, now have taken position players in the first three years under president of baseball operations Theo Epstein, after choosing outfielder Albert Almora in 2012 and third baseman Kris Bryant in 2013.
After selecting Almora, the Cubs switched their emphasis to pitching, and drafted arms with the next seven picks -- including two in the supplemental round. Epstein placed the emphasis on pitching last year as well, as they chose six hurlers out of seven picks after Bryant.
The Draft continues on Friday with Rounds 3-10. The MLB.com pregame show begins at 11:30 a.m. CT, with exclusive coverage of Rounds 3-10 beginning at noon.
After being selected by Pittsburgh in the 29th round in 2013, Stinnett rejected a $70,000 offer. It wasn't an easy decision.
"I just tried to put some things in perspective for him," Szefc told the Washington Post. "I wasn't trying to sandbag him into coming back. I really felt like if he came back with a plan and if [pitching coach] Jimmy [Belanger] helped him the way he has, that things would work out for him and he would get a better chance to make it to the back end."
It's hard to pass up an offer to play pro ball.
"When it comes down to it, I just wanted another season here with these guys, these coaches and a chance to get closer to getting my degree," Stinnett told the Post. "I just thought it was the best thing for the team and the best thing for myself overall, and I couldn't be happier with my decision."
It paid off. This year, Stinnett posted a 7-6 record and 2.65 ERA in 16 games (15 starts) for Maryland, striking out 130 and walking 27 over 112 innings. He leads the ACC in strikeouts and ranks third nationally, and now holds Maryland's single-season strikeout record.
He helped Maryland sweep the Columbia Regional, and the Terps face Virginia in their first Super Regional appearance this weekend.
"This is what you play for right here," Stinnett said about the tournament. "This program has just taken big leaps since I've been here. I've always had faith in the team and always thought we had talent every single year and always thought we were going to make the tournament."
Carrie Muskat is a reporter for MLB.com. She writes a blog, Muskat Ramblings, and you can follow her on Twitter @CarrieMuskat. This story was not subject to the approval of Major League Baseball or its clubs.