Slugging first baseman rounds out Day 1 selections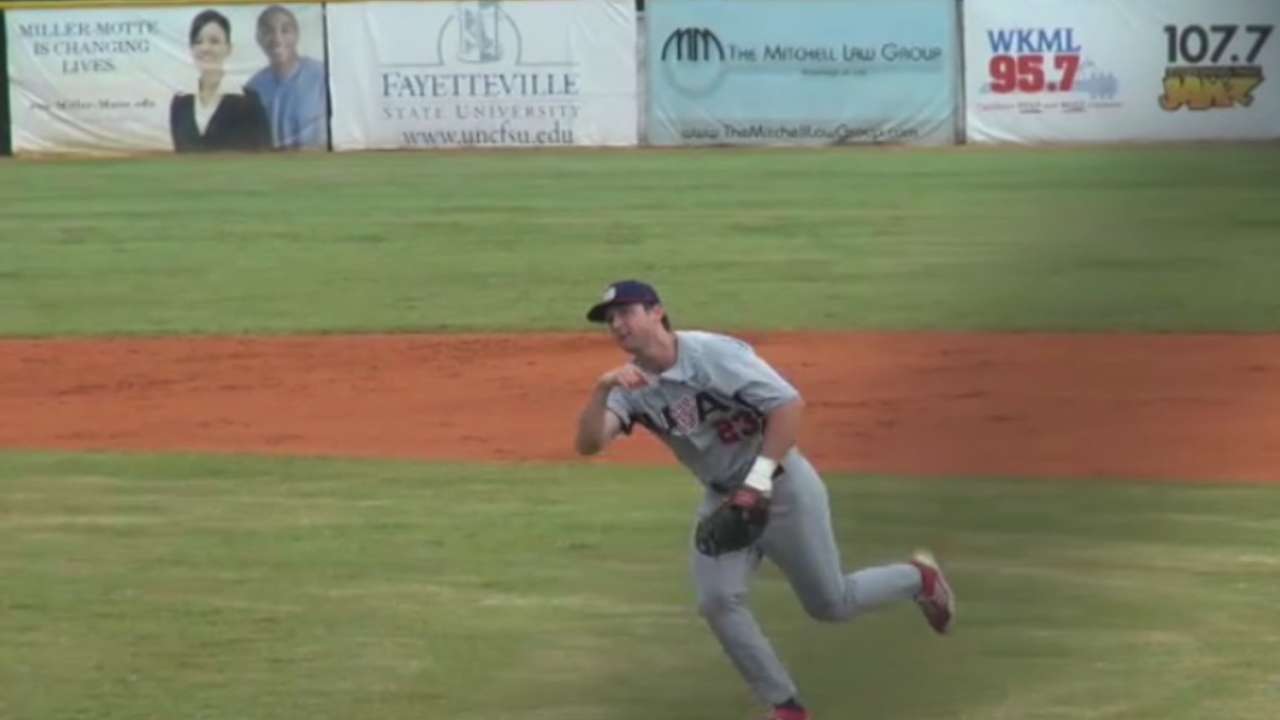 BOSTON -- Sam Travis might look like a classic contact hitter when he takes batting practice, deftly hitting the ball to all fields. But he also has a second gear, one which leads to fans in the outfield collecting souvenirs.
The Red Sox took Travis, a right-handed first baseman from the University of Indiana, with the 67th overall pick of the First-Year Player Draft.
"Travis is an interesting one, because when you go watch him in BP, from a power perspective, he goes into a BP session and can spray the ball around the field, but then his last round, he'll really let it go," said director of amateur scouting Amiel Sawdaye. "He's another guy that's really going to use the Monster well and then also put some balls onto Lansdowne Street."
Travis was originally drafted by the Reds out of high school in 2011, but he pursued a collegiate career at Indiana instead.
One attribute that definitely intrigued the Red Sox about Travis is his ability to control the strike zone.
"The hit tool is very advanced," said Sawdaye. "Excellent recognition skills. He's a guy that can ambush a first-pitch fastball. If he sees it, he's going to be an aggressive hitter, but also has really good plate discipline. He's an interesting one, because, obviously, playing in the Big Ten for Indiana, you don't think of the Big Ten as a major baseball conference. But Indiana played a tough schedule, he faced a lot of really good pitching, and he handled it really well.
Travis hit .347 for Indiana this season -- his junior year -- with 12 homers, 58 RBIs and a .415 on-base percentage. He was named the Player of the Year in the Big Ten.
"This is a guy who performed for three years," said Sawdaye. "We've seen him since he was a freshman and been a lot of history with him. We really, truly believe that his tool as a power tool was fairly advanced."
He committed just two errors on the season for a .997 fielding percentage.
With their first pick on Thursday -- and 26th overall -- the Red Sox took infielder Michael Chavis. Though Chavis is a high schooler, he shares some hitting similarities with Travis.
"They're both big raw power guys. They both have loft," said Sawdaye. "They both have the ability to backspin a baseball. The most interesting thing is they're both really, really strong kids. We're excited to get them. They're good hitters. We look forward to getting them out in a Red Sox uniform."
In 2013, Travis showed his toughness by playing in all 65 games despite suffering a broken hamate bone during the season.
Travis hails from the Chicago suburb Orland Park.
Ian Browne is a reporter for MLB.com. Read his blog, Brownie Points, and follow him on Twitter @IanMBrowne. This story was not subject to the approval of Major League Baseball or its clubs.