UYA players will again be well-represented in Draft
Outfielder Wilson poised to follow early-round Compton picks in recent years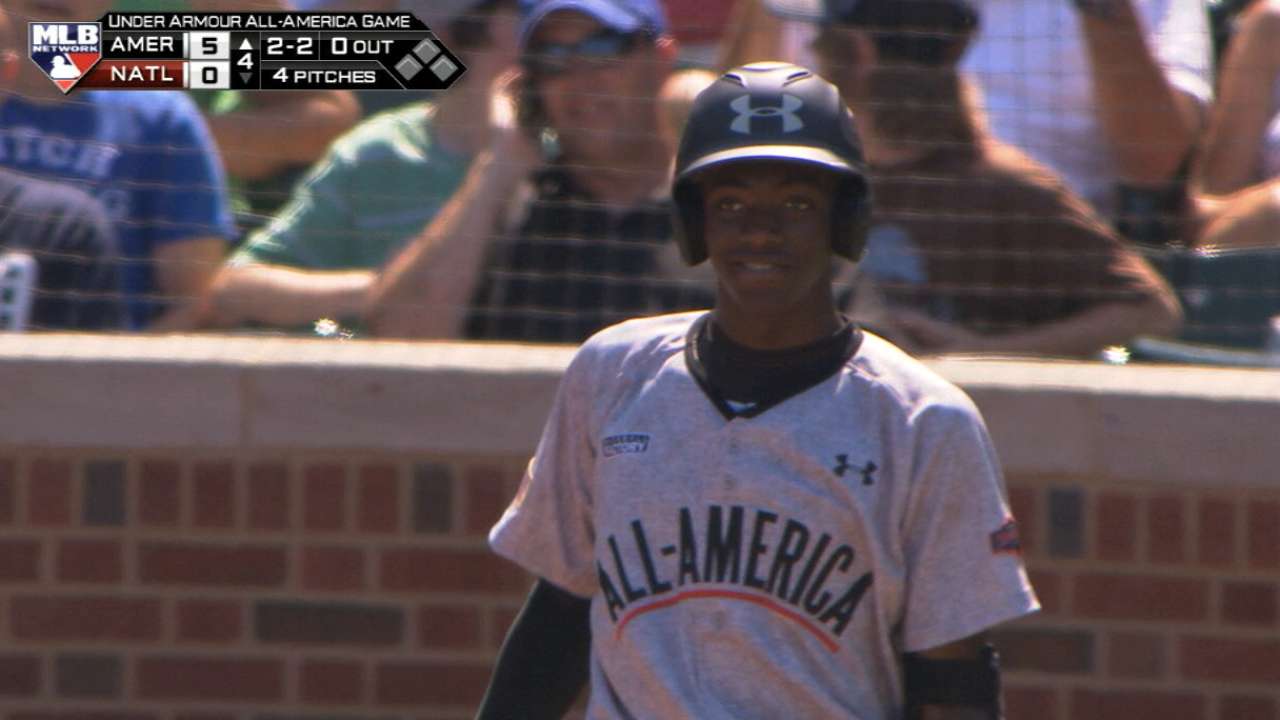 The Urban Youth Academy is poised to have another banner Draft class.
The facility in Compton, Calif., produced two first-round selections -- Dominic Smith and J.P. Crawford -- in the 2013 First-Year Player Draft, and Marcus Wilson seems poised to follow in their tracks.
Wilson, an outfielder at Junipero Serra High School in Gardena, Calif., even comes from the same school as Smith, who is now playing in the Mets' organization. Smith, a first baseman, was drafted No. 11 overall last year, and Crawford, a shortstop, was taken five picks later by the Phillies.
Both players are thriving in their respective leagues, and they're part of a growing Urban Youth Academy presence in the Minor Leagues and in the college ranks. Several UYA players -- such as Anthony Gose, Trayvon Robinson, Aaron Hicks and Efren Navarro -- have made it to the Major Leagues.
Wilson, ranked No. 35 in the MLB.com Top 200 Draft Prospects List, might be the next one to watch. A speedy outfielder who may hit for power in the future, Wilson could hear his name called in the first round of Thursday's Draft -- and if not, then soon after in the compensatory round.
Another player with ties to the Compton Urban Youth Academy, Josh Morgan, could hear his name called on the Draft's first night. Morgan, a shortstop from Orange Lutheran High School, is ranked No. 85 in the MLB.com Top 200, and he comes from the same school as 2011 No. 1 overall Draft pick Gerrit Cole.
Morgan has moved around a bit during his prep career, playing a season at third base and catcher before returning to shortstop, his natural position, as a junior and senior. A right-handed hitter, he has committed to play college ball at University of California at Los Angeles.
And while those are the best prospects coming out of the Urban Youth Academy this season, there will undoubtedly be several players who will go in the later rounds. Three players went in the second round from the Compton academy last season, and several others went later in the Draft or committed to college.
The Compton academy has produced the most success thus far, but Major League Baseball hopes to see similar gains from the newer facilities in Houston and New Orleans in coming seasons. Two new facilities -- one in Philadelphia and one in Cincinnati -- are expected to open later this summer.
Spencer Fordin is a reporter for MLB.com. This story was not subject to the approval of Major League Baseball or its clubs.