Tanaka wins ninth as Yanks snap skid vs. A's
Right-hander fires six strong innings; Gardner belts decisive home run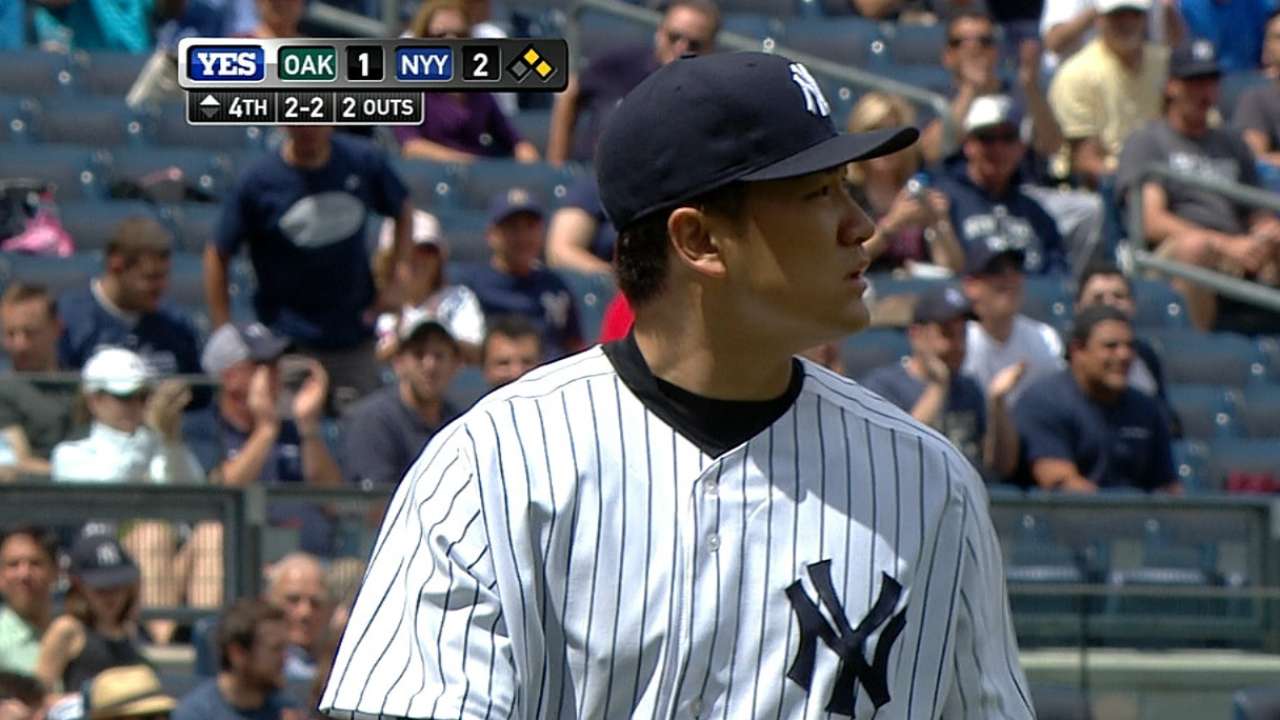 NEW YORK -- Over the past week, Masahiro Tanaka has deflected and deferred one question: "Are you the ace of this staff?" After the Yankees' 2-1 victory over the Athletics on Thursday afternoon, Tanaka, who improved to 9-1 with the win, was the pitcher of record for both of the club's wins during a 2-5 homestand as the Yanks snapped a four-game skid.
Quickly becoming the team's stopper, Tanaka may finally have to answer that question in the affirmative. Until he does, his first baseman did the honors.
"That's what a true ace is," Mark Teixeira said. "A true ace stops losing streaks. There's not another guy we want out there after losing a few in a row than Tanaka."
Tanaka battled through six strong innings and a bruised Yankees bullpen that had contributed to recent blown leads supplied three scoreless innings to secure a much needed victory.
The humble right-hander was named AL Pitcher of the Month for May after compiling a 5-1 record with a 1.88 ERA over six starts. "He's the most experienced," manager Joe Girardi said. "What he's done in Japan and what he's been able to do here, he's stepped up for us and kind of assumed that [ace] role."
It wasn't Tanaka's most dominant performance, but it was gutsy. He surrendered the A's only run just two batters in, when catcher John Jaso pulled a first-pitch offering into the first row of the right-field seats in the second deck. Tanaka went on to retire the next 10 hitters before allowing hits to Brandon Moss and Yoenis Cespedes.
"I don't think it was my best performance for the season," said Tanaka through translator Shingo Horie. "But given the fact that our team was in a little bit of a funk, and that we were facing one of the best teams in the league right now, I'm really happy to contribute to the team's win."
The feisty A's battled Tanaka in the fourth and fifth innings, forcing him to throw 52 pitches -- 26 each inning -- drawing out long at-bats with foul balls and sporadic singles. But the Japanese rookie bore down, eventually grinding through 104 pitches. He allowed five hits and one walk.
"It was a tough game," Tanaka said. "I think the Athletics were really resilient."
Dellin Betances took over in the seventh inning and did not allow a baserunner, while Adam Warren followed by escaping a jam in the eighth.
The ninth was a bit trickier.
Closer David Robertson allowed a one-out hit to Stephen Vogt. After pinch-runner Craig Gentry stole second base, Alberto Callaspo lined a ball off Robertson's left foot that ricocheted to Teixeira, who flipped to the closer at first base for the second out. Robertson then caught Derek Norris looking at strike three to end the game, notching his 13th save in 15 opportunities.
"I was probably the happiest guy in the stadium that the ball hit me," said Robertson. "I felt even more fortunate that we get an out of it."
"It's important for our club," said Girardi regarding the bullpen's performance. "And I think it's important for them as well. It's not like we're giving them a huge margin of error, but I thought they did a great job again."
The Yankees' offense continued to sputter against lefty Drew Pomeranz even with the return of Carlos Beltran, who went 0-3, as the designated hitter. Brett Gardner broke a 1-1 tie in the third inning, turning on a first pitch fastball and sending it a few rows further than Jaso's second-deck blast.
New York plated its first run in the second on an RBI single from Alfonso Soriano, who snapped his 0-for-16 skid at the plate with a poke to right-center. That scored Brian McCann, who had singled and advanced to second on a misplay by left fielder Moss.
Pomeranz had his best outing of the year, throwing a season-high seven innings and limiting Yankee hitters to just six hits and one walk on two runs (one earned). After surrendering a solo homer to Gardner, he retired the next 10 batters before hitting Jacoby Ellsbury with a pitch in the sixth.
The A's had their best chance to rally in the eighth when Coco Crisp and Jaso led off with back-to-back singles. But Warren struck out Josh Donaldson after he could not execute a bunt and retired Moss thanks to a nice running catch from Ichiro Suzuki in right field. Warren struck out Cespedes on a 96-mph fastball to end the threat.
"We're just trying to hold leads for this team and trying to be a strength for this team," Warren said. "We've had a couple rough days, but we're a group down there, so we're taking it on ourselves to come out and have strong outings."
It was a big victory for a Yankees team that's consistently struggled to score runs and keep leads in recent games as they embark on a 10-game road-trip in the spacious ballparks of Kansas City, Seattle, and Oakland.
"It's important to try and build on it," Girardi said. "I think it's really an important win before we go out on the road. We've played pretty well on the road and hopefully that can continue because we've got a long road trip."
Jake Kring-Schreifels is an associate reporter for MLB.com. This story was not subject to the approval of Major League Baseball or its clubs.