A's can't solve Tanaka, win streak ends at five
Pomeranz fires seven solid innings after slow start in series finale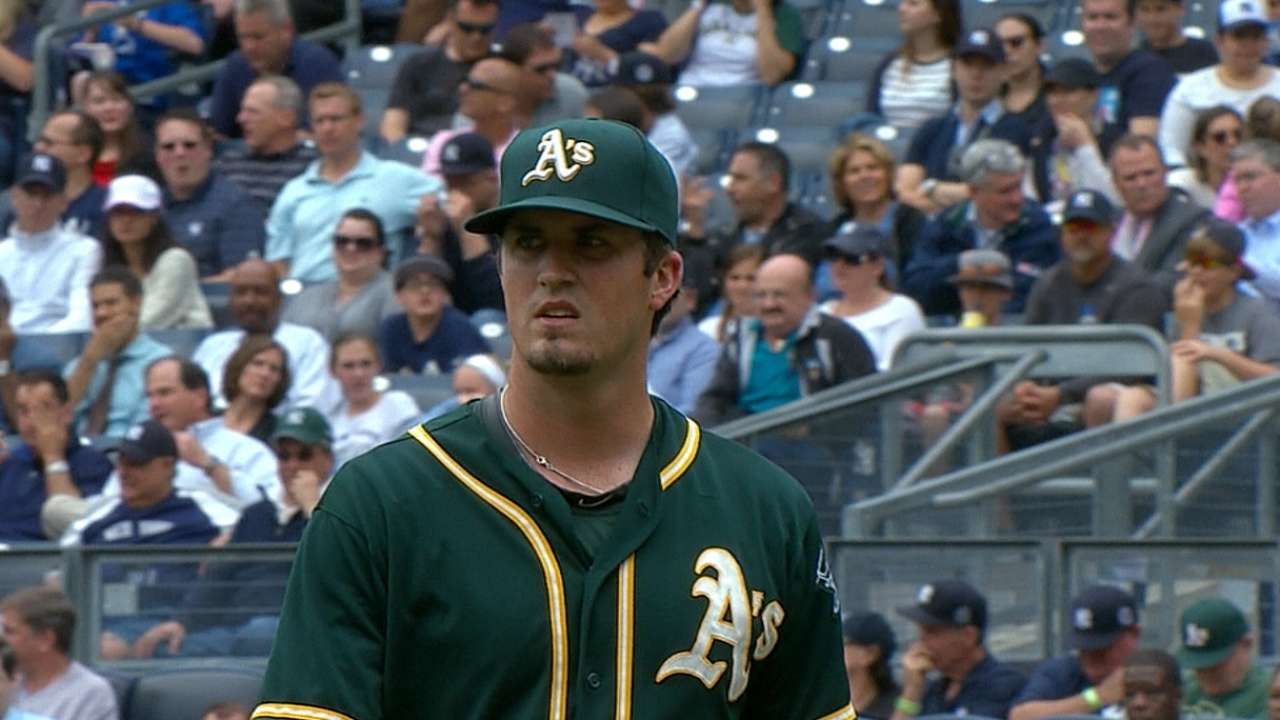 NEW YORK -- As challenges go, the A's faced a lofty one on Thursday afternoon against Yankees starter Masahiro Tanaka, one of the best pitchers in the American League.
You can give the A's credit for this: They were not deterred. They welcomed the chance to face Tanaka. They even orchestrated, and executed, their much-successful philosophy at the plate: They ran Tanaka's pitch count up to 104.
The strategy though yielded just one run as the A's saw their five-game win streak snapped with a 2-1 loss in the series finale at Yankee Stadium. The last time the A's, who won the series, two games to one, scored only one run was on May 25, when the Blue Jays completed a three-game sweep.
"He has a good splitter," Brandon Moss said of Tanaka, who fired six gutsy innings to improve to 9-1. "He threw a lot of offspeed pitches. He's just one of those guys that it's hard to string together a lot of hits against."
Tanaka, who has a 2.02 ERA, threw darting fastballs, sinking splitters and sliders that seemed to disappear just as they reached the plate. Many A's left the batter's box frustrated, and few were able to reach base. Nothing came easy.
Several of Tanaka's pitches went from being in the strike zone to down and out of the zone by the time A's swung their bats. Jed Lowrie, who challenged Tanaka in a nine-pitch at-bat, experienced that disappointment in the fourth inning when he struck out on a slider with two runners on base.
The Yankees took the lead in the third inning when Brett Gardner smashed a four-seam fastball from A's starter Drew Pomeranz's into the second deck for a solo homer.
"I was trying to find my rhythm those first couple of innings," Pomeranz said. "I was missing middle with a lot of stuff. It was just a mistake pitch."
The A's had a chance to rally in the eighth inning. Coco Crisp and John Jaso started the inning with back-to-back singles and moved up a base on a wild pitch from Yankees reliever Adam Warren, who retired Josh Donaldson and Moss in the interim. But Warren struck out Yoenis Cespedes with a fastball to end the threat.
"We had a really good chance there," Moss said. "With two outs you've got to have a hit to score them. We did the best we could. We had good at-bats. It's just that things didn't happen for us."
In the ninth, Stephen Vogt singled to right, pinch-runner Craig Gentry stole second base, and reached third on a fielder's choice. Manager Bob Melvin inserted Derek Norris to pinch-hit for Eric Sogard with two outs. But Norris ended the game by looking at strike three against closer David Robertson.
"I thought it was outside," A's manager Bob Melvin said.
Norris agreed with Melvin.
"He had it as a different spot than I did," Norris said of home-plate umpire Tom Hallion.
In the first inning, Jaso didn't wait to see Tanaka's collection of pitches. Jaso swung at the first pitch he saw and belted a solo homer over the right-field wall.
"I think he was just throwing a fastball to get strike one because I'm a guy with a reputation of seeing a lot of pitches," Jaso said. "It was just reaction. I saw the ball and my hands went on their own."
Pomeranz turned in his best performance of the season in a losing effort. The lefty did his best to match Tanaka inning for inning and became more effective with his changeup as the game went on. Pomeranz retired 10 consecutive Yankees at one point -- logging seven strong innings, while allowing two runs (one unearned) and recording seven strikeouts.
"It's a lot easier when you stay ahead of guys and get groundballs," Pomeranz said. "I threw some good changeups. For the most part, I settled."
The A's usual reliable defense helped the Yankees score their first run in the second inning. Moss committed an error in left field when he couldn't corral a slicing single from Brian McCann. Moss let the ball get past him, which allowed McCann to reach second base.
Alfonso Soriano tied the game with a single to center that drove in McCann.
"That's never how you want things to go, especially with the way Drew threw," Moss said. "He threw the ball great. He deserved better."
Nate Taylor is a contributor to MLB.com. This story was not subject to the approval of Major League Baseball or its clubs.