Pipeline preview: Top picks from '13 Draft set for action
Bryant to face Gray in Double-A; Appel scratched from Class A Advanced start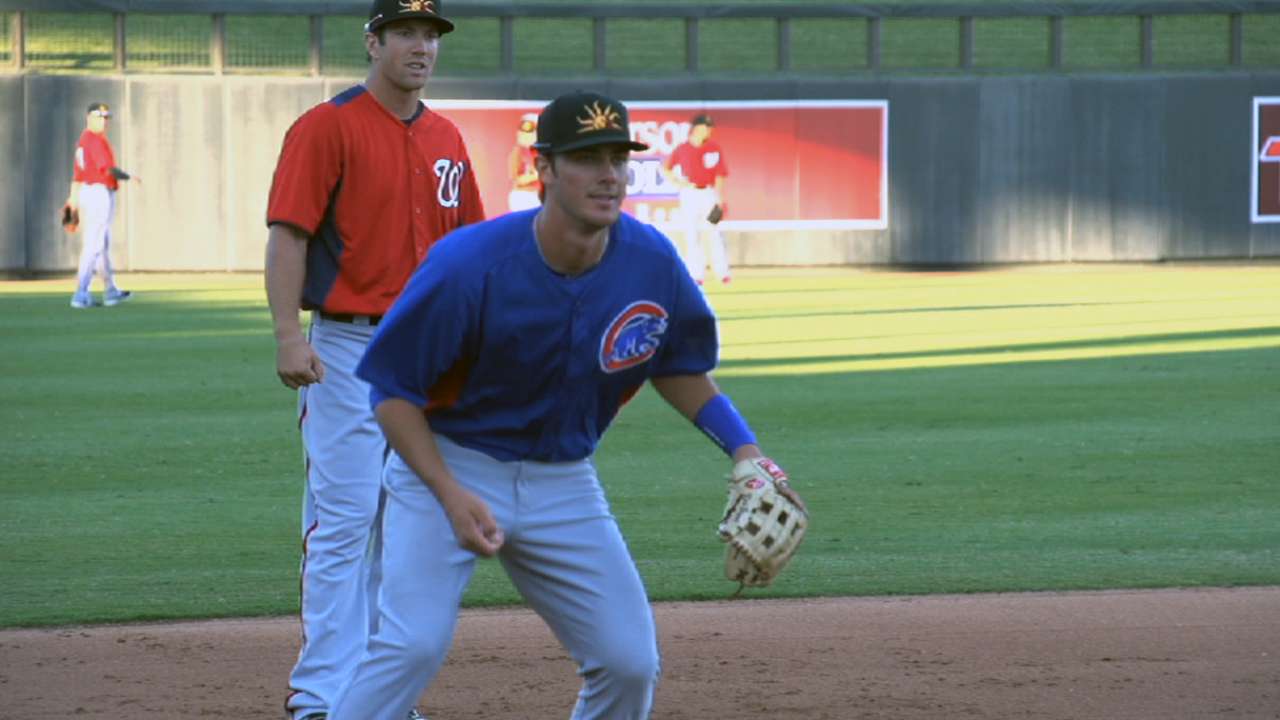 As the 2014 First-Year Player Draft gets underway Thursday night at 7 p.m. ET, the top three picks from 2013 are all scheduled to be in action around the Minor Leagues. Kris Bryant and Jon Gray, last year's second and third overall picks, will take the field at about the time Commissioner Bud Selig is announcing that the Astros are on the clock for the first pick of this year's Draft. Mark Appel, Houston's top pick last year, was scratched from his scheduled start.
The night begins at 7:05 p.m. ET when Bryant and Double-A Tennessee visit Jacksonville and Gray and Double-A Tulsa take on Northwest Arkansas. Fans can watch Bryant and Gray on MiLB.TV.
Appel, ranked No. 14 on MLBPipeline.com's Top 100 Prospects list, has struggled in his first full professional season. The Astros' No. 2 prospect has an 11.95 ERA in five starts with Class A Advanced Lancaster, and he spent a month working in extended spring camp to build up his stamina. Thursday was to be his second start since returning from extended spring camp, but Appel was scratched from the start to give him more time to recover.
Bryant, ranked No. 8 on the Top 100 list, saw his seven-game hitting streak snapped Wednesday against Birmingham, and he will try to start a new one Thursday. The Cubs' No. 2 prospect still leads the Southern League in all three Triple Crown categories (.348 batting average, 19 home runs and 51 RBIs), as well as on-base percentage (.456), slugging percentage (.690) and runs (50).
Gray, ranked No. 13 on the Top 100 list, is looking to bounce back after allowing a season-high eight runs and eight hits in 5 1/3 innings in his last start. Overall this season, the Rockies' No. 1 prospect is 5-3 with a 3.86 ERA and 46 strikeouts in 53 2/3 innings.
In addition to last year's top Draft picks, Thursday's Minor League schedule is highlighted by the return of Mets' No. 1 prospect Noah Syndergaard. The right-hander has been on the disabled list at Triple-A Las Vegas for two weeks due to a mild flexor-pronator strain. His MRI came back clean and doctors simply recommended he do more shoulder stretching exercises.
Syndergaard, ranked No. 10 on the Top 100 list, will make his first start since getting the good news when Las Vegas hosts Fresno at 10:05 p.m. ET in a game that can be seen on MiLB.TV.
Top prospect probables
Cody Anderson (Indians' No. 3), Akron at New Britain
Christian Binford (Royals' No. 11), Wilmington vs. Potomac
Parker Bridwell (Orioles' No. 15), Frederick at Salem
Alex Colome (Rays' No. 5), Durham vs. Pawtucket
Jonathon Crawford (Tigers' No. 4), West Michigan vs. Great Lakes
Chase De Jong (Blue Jays' No. 13), Lansing vs. South Bend
Anthony DeSclafani (Marlins' No. 6), New Orleans vs. Round Rock
Ryan Eades (Twins' No. 20), Cedar Rapids at Wisconsin
Michael Feliz (Astros' No. 9), Quad Cities at Burlington
Drew Gagnon (Brewers' No. 16), Huntsville vs. Mobile
Amir Garrett (Reds' No. 19), Dayton at Bowling Green
Grayson Garvin (Rays' No. 19), Montgomery vs. Pensacola
Alex Gonzalez (Rangers' No. 6), Myrtle Beach at Lynchburg
Jon Gray (Rockies' No. 1), Tulsa at Northwest Arkansas
Ismael Guillon (Reds' No. 9), Dayton at Bowling Green
Kyle Hendricks (Cubs' No. 15), Iowa vs. Colorado Springs
Lars Huijer (Mariners' No. 19), Clinton at Kane County
Jason Hursh (Braves' No. 3), Mississippi vs. Chattanooga
Jake Johansen (Nationals' No. 12), Hagerstown at Greensboro
Mike Kickham (Giants' No. 17), Fresno at Las Vegas
Matthew Koch (Mets' No. 20), St. Lucie at Dunedin
Trevor May (Twins' No. 12), Rochester at Charlotte
Ariel Pena (Brewers' No. 17), Nashville at Memphis
Zach Petrick (Cardinals' No. 16), Memphis vs. Nashville
Alex Reyes (Cardinals' No. 5), Peoria at Beloit
Tyler Skulina (Cubs' No. 18), Kane County vs. Clinton
Blake Snell (Rays' No. 8), Charlotte at Tampa
Zeke Spruill (D-backs' No. 10), Reno vs. El Paso
Teddy Stankiewicz (Red Sox's No. 17), Greenville at Rome
Noah Syndergaard (Mets' No. 1), Las Vegas vs. Fresno
Julio Urias (Dodgers' No. 3), Rancho Cucamonga vs. Visalia
Drew VerHagen (Tigers' No. 12), Toledo at Buffalo
Teddy Cahill is a reporter for MLB.com. Follow him on Twitter at @tedcahill. This story was not subject to the approval of Major League Baseball or its clubs.