Rough fifth, lack of offense sink Kendrick, Phillies
Righty allows three runs in frame as Philadelphia drops sixth straight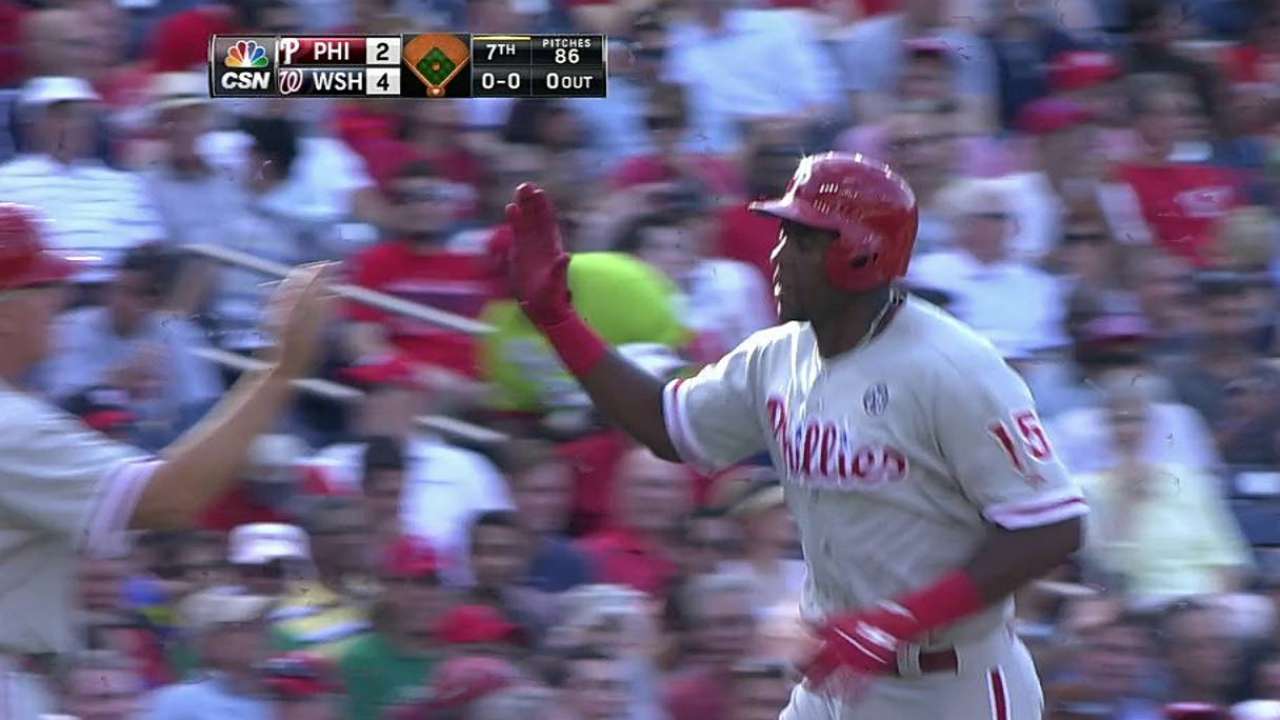 WASHINGTON -- Starting in 2007, the Phillies reached the postseason five straight seasons, winning one World Series championship. Many of those title-winning players remain, but the 2014 version isn't at that pennant-raising level. It hasn't been for most of the last 2 1/2 seasons, certainly not during the current six-game losing streak.
The latest setback, a 4-2 loss to the Nationals on Thursday afternoon at Nationals Park, capped Washington's three-game series sweep. Beyond concerns over the offense and inconsistent starting pitching, it also led to postgame questions about how much longer the skidding can go before the organization's decision makers decide it's time to break up the roster.
"It's getting out of control now," said shortstop Jimmy Rollins, who had one of Philadelphia's four hits against Washington starter Doug Fister and two relievers. "We have a chance to go out there and change that [Friday at Cincinnati]. If not, then that's a decision [management is] going to make either way.
"We'd like to put a streak together going in the other direction."
The skid is their longest since losing eight in row July 20-28 of last season. Since May 4, the Phillies are a National League-worst 9-20 and stand a season-low 10 games under .500.
Philadelphia has lost 11 of 15 to its NL East rivals. The Phillies weree outscored, 19-6, in the three-game sweep.
"I'm definitely frustrated," Phillies manager Ryne Sandberg said. "We haven't been able to put a game together with pitching and offense."
While the lineup had trouble solving Fister, Kyle Kendrick immediately relinquished a first-inning lead, then lost his way during a three-run fifth.
Philadelphia scored a run in the first and another one in the seventh against Washington on John Mayberry Jr.'s home run. It's what took place in between that kept the Phillies on their losing path.
Kendrick (1-6) surrendered four runs on six hits, including Adam LaRoche's two-run homer, with two strikeouts and a season-high five walks over seven innings. The righty is 0-1 with a 5.53 ERA in two starts since notching his first win of the season May 26.
The Phillies jumped out to a 1-0 lead in the first on Chase Utley's RBI single, but the Nationals tied the score in the bottom of the inning on Ryan Zimmerman's run-producing hit. Kendrick has allowed 12 first-inning runs in 12 starts this season.
"KK has had problems with that in numerous starts as far as putting up a zero right away," Sandberg said. "To put up a zero there and let us try and add on there, that would be key."
Denard Span led off the fifth with a double off the wall in right. He took third on Anthony Rendon's fly ball to the center-field warning track and scored on Jayson Werth's lined single.
LaRoche then provided the inning's biggest blast by sending what Sandberg called an "elevated fastball" into Washington's bullpen in right for a 4-1 lead.
"It wasn't good enough," Kendrick said of his outing. "We lost, so it wasn't good enough. Walk five guys, that's not good. My command wasn't great."
Making his second career start against the Phillies, Fister allowed two runs over seven innings, including Mayberry's fourth home run and second in two games. He struck out five and did not walk a batter en route to his fourth straight win.
Tyler Clippard pitched a spotless eighth inning for Washington and closer Rafael Soriano worked the ninth for his 12th save.
Philadelphia's bottom four spots in the lineup finished 0-for-12.
In the three wins, starters Fister, Jordan Zimmermann and Stephen Strasburg had 20 strikeouts and issued only one walk.
"Sometimes it can be [a case] of getting too much plate, and they get a hit out of it. But I'd rather them earn it than give it away," Fister said of his approach.
For a proud team 10 games under .500, it's clearly time to starting earning some wins.
"I don't look at it, honestly," Rollins said of the team's record. "I know we're not winning. We haven't been winning. It really doesn't matter how far below .500 you are if you're not winning. You're going in the wrong direction."
Ben Standig is a contributor to MLB.com. This story was not subject to the approval of Major League Baseball or its clubs.