Carpenter's fifth hit picks up Cards in extras
Wainwright takes shutout into ninth inning before Royals rally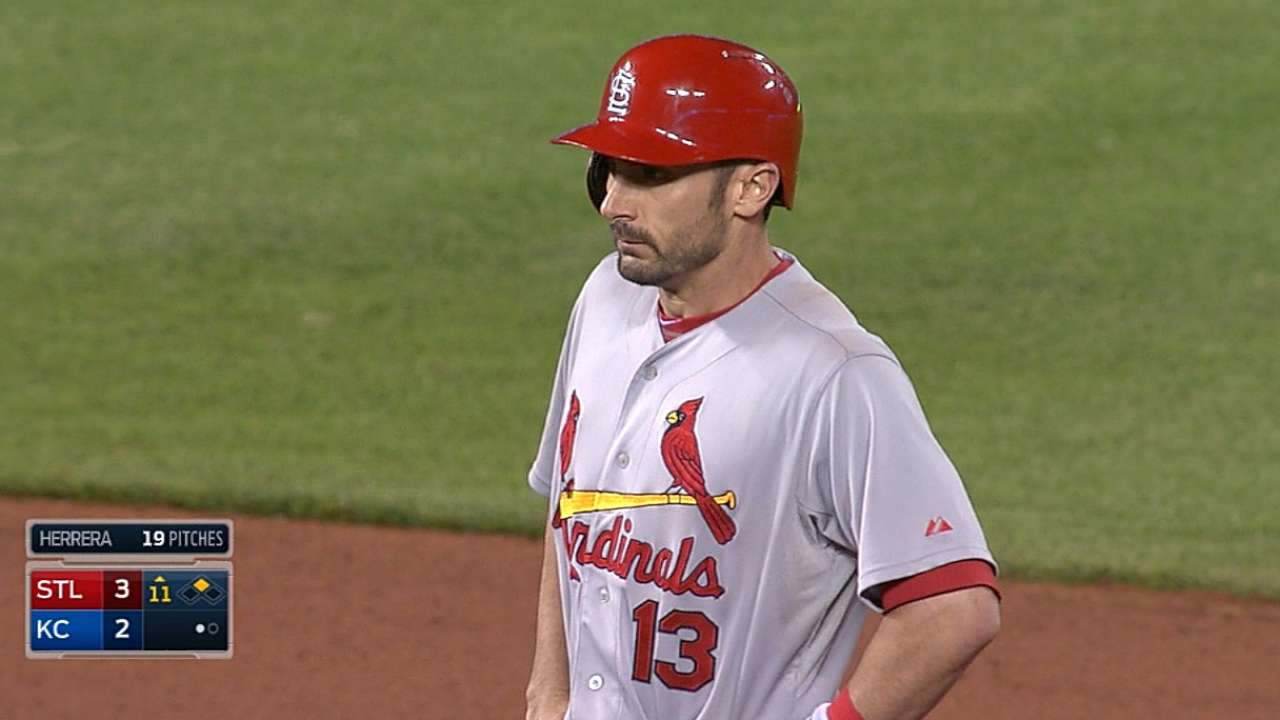 KANSAS CITY -- Three weeks ago, people were wondering what was wrong with Matt Carpenter.
Now, they're wondering if he'll ever get out.
Carpenter capped a perfect night at the plate Wednesday with a go-ahead RBI double in the 11th inning of the Cardinals' 5-2 win over the Royals at Kauffman Stadium.
He finished with a career-high five hits, including two doubles, and also drew a walk. With two hits and two walks Tuesday, St. Louis' third baseman has reached base in 10 straight plate appearances.
"Tonight's one of those special nights where things are falling into place," Carpenter said. "I was seeing the ball well, and putting good swings on it, and they were able to fall into hits. Sometimes you can take the same swings and hit them right at people."
Carpenter's 11th-inning double scored Peter Bourjos to break a 2-2 tie and rescue St. Louis after the bullpen blew its second lead in as many nights.
Allen Craig tacked on a two-run single to push the lead to 5-2, then Pat Neshek, who blew the save in the Cardinals' 8-7 loss to the Royals the previous night, pitched a perfect inning to notch his first career save.
This was all after a brilliant start from Adam Wainwright went south in the ninth inning, with Kansas City forcing extras.
"You can't really put into words how big that [win] is for us," Cardinals manager Mike Matheny said. "Once you get in that situation, you lose the lead with a start like that from Waino, there are a lot of teams that will roll over in that situation."
Wainwright breezed through eight innings, allowing just three hits and entering the ninth with an opportunity to secure his seventh start of zero runs this season -- and his third shutout. Instead, it all went awry.
Eric Hosmer started the inning with his fourth strikeout against Wainwright, but the ball skipped between the legs of Cardinals catcher Yadier Molina and Hosmer beat the throw to first. Billy Butler followed with a single to put two on with no outs.
Matheny summoned closer Trevor Rosenthal.
Rosenthal walked his first batter to load the bases. The Royals then pushed across two runs on an RBI groundout and Lorenzo Cain's RBI single to knot the score at two.
Matheny acknowledged the tough situation Rosenthal inherited.
"That, once again, didn't work how we wanted to," Matheny said. "But we know he can handle that spot, and we know he will."
It marked the second straight rough outing for Rosenthal, who allowed a ninth-inning go-ahead single to Hosmer in Tuesday's 8-7 loss in the second meeting at Busch Stadium of the four-game I-70 Series.
That loss dropped St. Louis to 2-7 on its recent homestand. On Wednesday, the Cardinals started a seven-game Interleague road trip that spans three American League cities in eight days.
"Sometimes it takes an emotional victory like this to kind of jumpstart a team and maybe this will be the one for us," Carpenter said.
After a scoreless 10th inning, Bourjos drew a one-out walk, then swiped second base with Carpenter at the plate.
Carpenter battled flame-throwing reliever Kelvin Herrera, fighting off his 100-mph heat multiple times before serving the eighth pitch of the at-bat into the right-center gap to plate Bourjos.
"I'm not really doing anything different, just really sticking to the same approach I've had all season, and things are starting to happen for me," Carpenter said.
On May 17, with Carpenter's batting average at .256 and slugging percentage at .315, there was general concern for the All-Star second baseman.
He's been on a tear ever since.
Carpenter built a 14-game hitting streak that helped improve his new, shiny batting line to .307/.395/.395 after Wednesday.
"I see him not trying to do too much. And it looks a lot like what we've seen the last couple seasons," Matheny said. "He's seeing the ball better now, that's really the difference from what you saw early on."
The offense backed Wainwright with an RBI single by Carpenter in the second inning and an RBI groundout from Matt Holliday in the seventh. Molina smacked a pair of singles, snapping a hitless streak of 18 plate appearances.
Wainwright's dominance in the early going was evidenced by his first five innings, in which he allowed one baserunner: a walk to Alex Gordon.
Not only did Kansas City fail to collect a hit through five innings, it hardly came close.
Of Wainwright's first 15 outs, 12 came either via the strikeout (five) or on the ground (seven). Only two balls left the infield.
Wainwright worked out of minor jams in the seventh and the eighth innings, and entered the ninth at 104 pitches.
"Right there we're in a spot where, we're going to look at our ace, and that's his game until he gets into a spot where he needs help. Obviously that didn't work, but that's the guy we want on the mound," Matheny said.
Jackson Alexander is an associate reporter for MLB.com. This story was not subject to the approval of Major League Baseball or its clubs.