Aramis homers in return, but Brewers fall
Slugger hits three-run blast in first game back from disabled list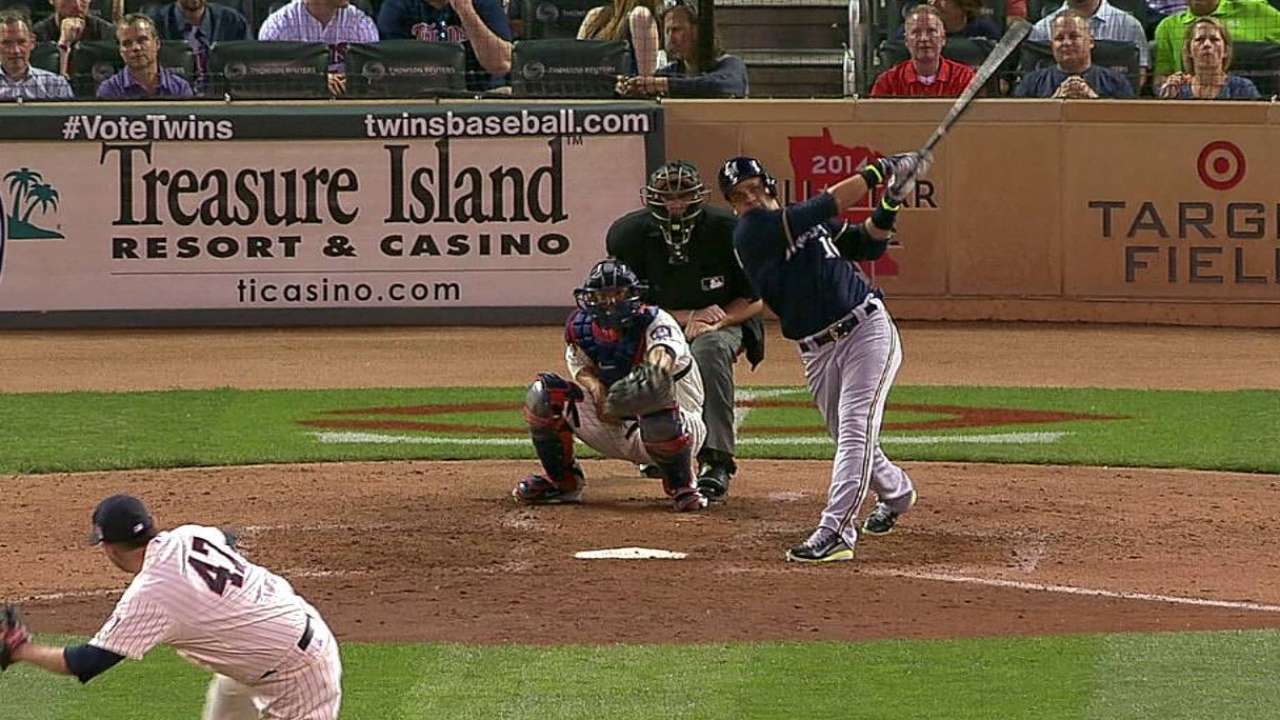 MINNEAPOLIS -- When the Brewers needed a big out on Wednesday night, they went to one of their most reliable sources.
But despite plenty of evidence to the contrary seen in the past two months, Will Smith is not perfect. And a rare slip-up in the seventh inning stymied the Brewers' pursuit of a come-from-behind victory.
Aramis Ramirez returned to the lineup with a home run, but Oswaldo Arcia stole the show with a three-run homer and what turned out to be the winning RBI off Smith as the Twins knocked off the Brewers, 6-4, at Target Field.
The Twins' go-ahead rally came on the heels of Ramirez almost saving the day for the Brewers. In his first game back from the disabled list, Ramirez hit his sixth home run of the season, a three-run shot off Ricky Nolasco (4-5). He blasted a fastball to dead center on a 1-0 count, a 413-foot drive that drove in Jonathan Lucroy and Carlos Gomez, who had singled to open the seventh inning.
"That's what I'm here for, to drive in runs and help the team," Ramirez said. "I was looking fastball. He made a mistake."
But the 4-4 tie did not hold up. With two outs in the bottom of the inning, Josh Willingham doubled off Rob Wooten (1-3). Smith was brought in to face the lefty Arcia, who had hit a three-run homer in the fourth inning to put the Twins on top.
Smith battled Arcia to a 2-2 count with a wicked slider that Arcia swung through weakly. But Smith's next pitch caught too much of the plate, and Arcia slapped it into right field to drive home Willingham.
"You can't make perfect pitches every time," said Smith, who has pretty much done just that this year. "Obviously it's frustrating, because you give up ([Wooten's] run, which you don't want to do, and in a tie ballgame right there we had the momentum on our side. It just kind of stinks to give it up."
Entering the game, Smith had inherited 18 runners this season and allowed only three of them to score. Add that to his 0.35 ERA and 36 strikeouts in 26 innings before Wednesday, and it is easy to see how expectations were raised.
"You can't expect the guy to be perfect; he's thrown the ball great, and he'll continue to throw the ball great," manager Ron Roenicke said. "He just left a slider up a little bit, and Arcia did a nice job of hitting. He hurt us tonight. Against Will Smith, not many left-handers are going to hit his breaking ball."
Arcia advanced to second on the throw home and scored an insurance run on Trevor Plouffe's single.
The Brewers struck first when Rickie Weeks and Mark Reynolds hit back-to-back two-out doubles to get them on the board in the second inning. To that point, Nolasco had retired his first five batters of the game, and after Reynolds' double he set down the next 13 until the Brewers rallied in the seventh. Nolasco lasted seven innings, giving up four runs on six hits with seven strikeouts and no walks while mixing his pitches effectively to keep hitters off-balance.
"The slow curveball really baffled us," Roenicke said. "He mixes in the fastball, he throws a nice slider down in the zone, but the curveball got us out of whack."
The Twins went up, 3-1, on Arcia's blast high off the foul pole against Marco Estrada, then tacked on a run in the fifth inning thanks to a bit of wildness from Estrada. Eduardo Escobar led off with a single, then moved to second on a dribbler back to the mound by Danny Santana.
Estrada then drilled Brian Dozier with a pitch, walked Joe Mauer to load the bases and walked Willingham to drive in the run. Estrada got ahead of Willingham, 1-2, before losing him on two low fastballs just outside the zone. Willingham was able to lay off them, and Estrada was saddled with the walk.
"It was frustrating. Maybe at times I let it get to me," said Estrada, who nevertheless retired Arcia and Plouffe to leave the bases full. "When I asked the umpire if it was close, he just gave me a complete, 'Ball.' There's nothing you can do about it. You've still got to make your pitches. … Obviously in tough situations like that you feel like you made the perfect pitch, and it just doesn't go your way. It's unfortunate."
Estrada allowed four runs on six hits with three walks and four strikeouts over six innings. He has pitched at least five innings in each of his 12 starts this season. He finished Wednesday night with a no-decision after Ramirez's home run.
"We did a great job of coming back," Roenicke said. "I think with our pitching and where it is we need to score some runs to be able to hold on and get some wins. I think our pitching is going to keep us in games, and they did again. I thought Marco -- I know he was behind in some counts -- but he did a nice job."
Patrick Donnelly is a contributor to MLB.com. This story was not subject to the approval of Major League Baseball or its clubs.