Cingrani's roll halted by Giants' homers in loss
Reds starter cruises through five innings before pair of dingers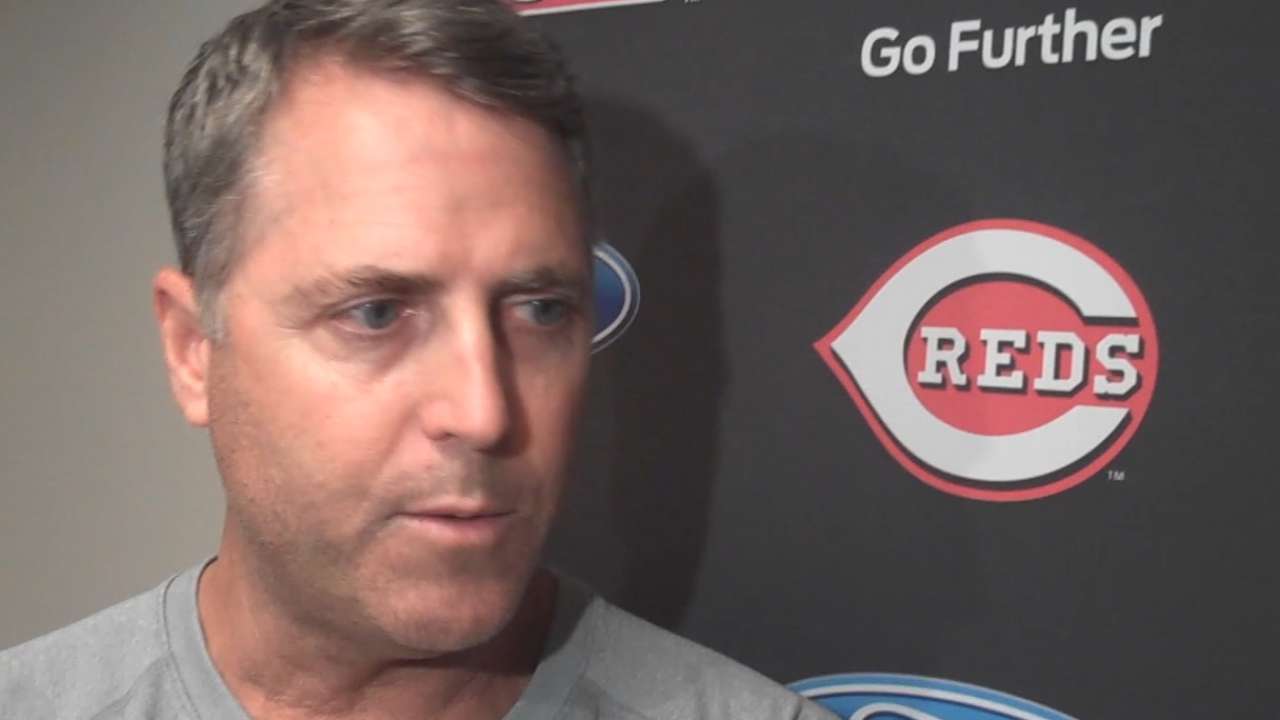 CINCINNATI -- It was important for Tony Cingrani to pitch well Wednesday night with Mat Latos' possible return to the Reds nearing, and he was very good through the first five innings in his start against the Giants. But a two-out San Francisco rally in the sixth ended Cingrani's evening -- and the Reds' season-best four-game winning streak -- as Cincinnati fell, 3-2, at Great American Ball Park.
With Latos rehabbing at Triple-A Louisville following surgeries on his right elbow and left knee, Cingrani is hoping to stay in the starting rotation when it comes time for the Reds to make decisions regarding the rotation's makeup going forward. His performance early in the game Wednesday was a step in the right direction, as the southpaw allowed only two hits through the first five frames, walking two and striking out seven.
But with two outs and nobody on in the sixth, Michael Morse homered to left, and following a Brandon Hicks single, Juan Perez hammered a first-pitch fastball from Cingrani into the seats in left to put San Francisco ahead, 3-2.
"I was ready to swing at the first pitch, be aggressive with the fastball," Perez said. "... I put a good swing on the ball."
It was the second time this season Cingrani has allowed two homers in the same inning. He also gave up two against the Phillies in Philadelphia on May 18.
"I had my old mechanics back," said the left-hander, who was on the disabled list from May 1-17 with left shoulder tendinitis. "I felt pretty good. My arm felt pretty strong. There were a couple of positives that came out of it. I threw a couple of good sliders in there and then a couple of bad pitches. I lost the ballgame."
Reds manager Bryan Price said it looked like the Morse home run may have affected Cingrani and could have played a role in the subsequent single and go-ahead homer.
"He started the sixth inning with 82 pitches, two quick outs and a solo homer," Price said. "No big deal, he's still got good stuff, he's still around the plate. I think the homer affected him. I don't know if he questioned the pitch selection; I think it was a changeup that Morse hit out. But it looked like it stayed with him a little bit and may have affected his focus going into the next series of hitters."
Cingrani, who is 0-4 with a 5.16 ERA since returning from the DL, said the first home run didn't affect him going forward, but that he simply made bad pitches.
"I was just trying to beat him with a fastball," Cingrani said of Perez, who came into the contest 1-for-21 on the season. "Hicks got the single and then I just threw a slow fastball up there and he put a really good swing on it. I don't even know who that guy was. I tried to get ahead of him. Obviously, it backfired terribly on me."
The Reds opened the scoring in the third, when with one out and nobody on, Todd Frazier lined his team-leading 11th homer of the season off the left-field foul pole. Brandon Phillips and Jay Bruce followed with back-to-back doubles to make it 2-0.
But Cincinnati might have had more had Billy Hamilton not been caught trying to steal third after reaching second on an infield single and throwing error by Giants catcher Buster Posey.
"That was a situation where with nobody out and [Giants starter Ryan] Vogelsong, who had been under one second to the plate already ... the distraction is more important than the stolen base, so that wasn't a situation where we wanted to steal third base simply because there's nobody out," Price said. "He's already in scoring position; [Frazier's] just got to touch the ball and get it into the outfield and [Hamilton is] going to score."
The Reds were unable to manage a hit after the fourth, as Vogelsong and San Francisco's bullpen retired 15 of the final 16 Reds hitters, the only exception being Phillips reaching first in the eighth inning on a fielding error by Giants shortstop Brandon Crawford.
"They did a good job," Price said of San Francisco's pitching staff. "We know they can match up situationally extremely well. They've got a very efficient bullpen. Vogelsong did a nice job. It looked like we had him on the ropes in the third and he fought his way through it, got the big out to end the inning, and then rolled and continued to pitch well."
The loss was only the Reds' third in their last 12 regular-season games against the Giants dating back to 2012.
Manny Randhawa is an associate reporter for MLB.com. This story was not subject to the approval of Major League Baseball or its clubs.