Perez's homer boosts Vogelsong, Giants to win
Right-hander strikes out career-best nine; Morse belts solo shot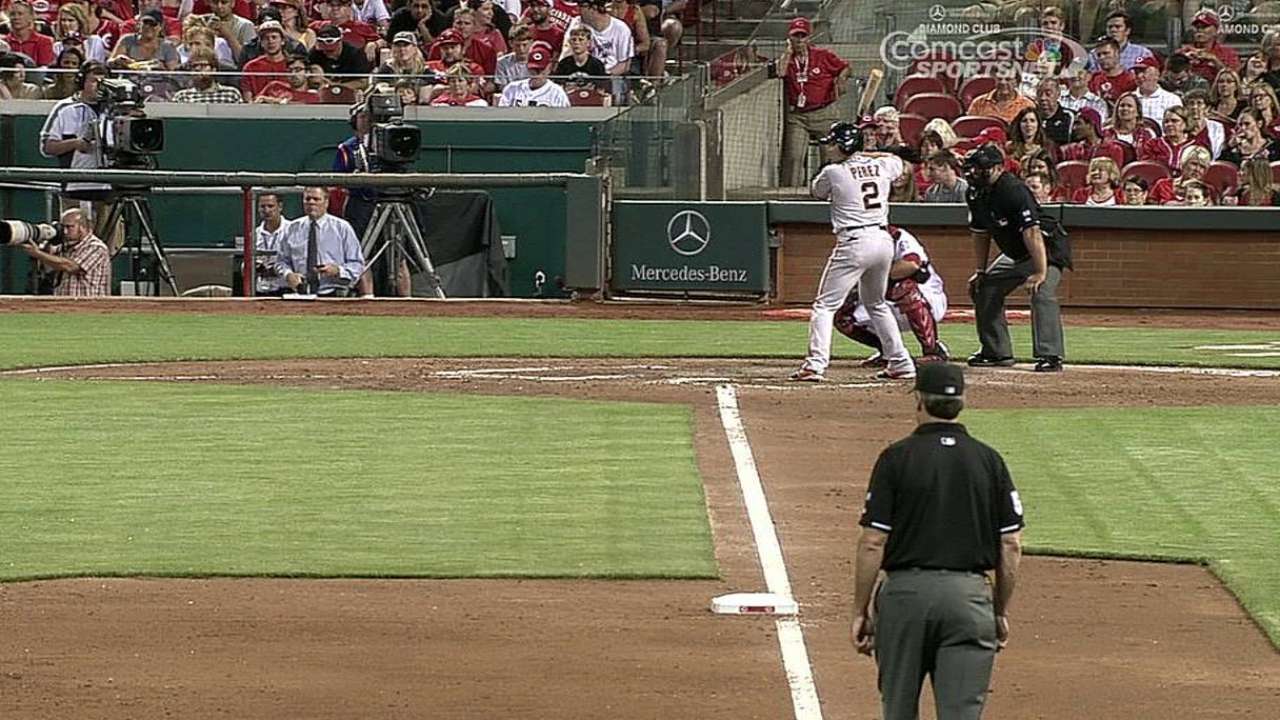 CINCINNATI -- Giants coach Shawon Dunston did his best to motivate Juan Perez. "Remember Yankee Stadium," Dunston told Perez before Wednesday night's game against the Cincinnati Reds. It was a reference to an Interleague series last September, when Perez went 6-for-11 playing in his Bronx hometown.
As one of the Giants who appears destined to bounce between Triple-A Fresno and the Majors this year, Perez needs no incentive to try to capitalize on the scattered opportunities he receives. But, as Dunston urged, Perez indeed summoned the productivity that has eluded him this year. Perez's two-run homer capped a three-run, sixth-inning surge that lifted the Giants over the Cincinnati Reds, 3-2.
The decision clinched a winning trip (4-2) for the Giants, whose two-city, seven-game sojourn ends here Thursday, and ended Cincinnati's four-game winning streak.
Having lost 11 of their previous 12 regular-season games at Great American Ball Park, the Giants reversed their luck with a characteristic effort. Ryan Vogelsong (4-2) struck out a career-high nine while allowing two runs and seven hits in 6 1/3 innings. Relievers Juan Gutierrez, Javier Lopez, Jean Machi and Sergio Romo, who secured his 18th save, contributed 2 2/3 hitless innings. The Giants didn't do much offensively, but it sufficed.
"Everybody here just cares if everyone does well," Romo said. "No one wants to be the superstar. No one cares for the spotlight. It's all about the team."
The Giants trailed, 2-0, when they again demonstrated their knack for two-out scoring. Reds starter Tony Cingrani (2-6), who lost his fourth consecutive start, blanked San Francisco for five innings and was one out away from extending that spell to six innings. Then Michael Morse pounded his 12th homer of the season to prolong the inning for Brandon Hicks, who singled.
Up came Perez, who entered the game batting .048 (1-for-21). He lined Cingrani's first-pitch fastball into the left-field seats for his second big league homer.
Perez doubled in his initial at-bat when he got the first-pitch fastball he expected from Cingrani, who threw mostly fastballs all evening. Perez took a called third strike in his next plate appearance when he anticipated an offspeed delivery and received yet another fastball.
Therefore, Perez said, "I just went back to the plan. Next time he gave me a first-pitch heater. I put a good swing on the ball."
You might say it flew into the left-field stands in a New York minute.
Cingrani was extremely self-critical.
"I just threw a slow fastball up there and he put a really good swing on it," he said. "I don't even know who that guy was. I tried to get ahead of him. Obviously, it backfired terribly on me."
Asked if he was aware of Perez's modest statistics, Cingrani replied, "I saw his batting average. It went up. And he had zero home runs and now he has one. That's how it goes. It's baseball."
The same could be said of in-betweeners such as Perez, who twice has made round trips between the Giants and Triple-A since beginning the season on the active Major League roster. He has Minor League options remaining, so he has accepted that he could be a frequent passenger on the Fresno-San Francisco shuttle all year.
Said Perez, "I have to go down there, work on the stuff I have to get better at, and come back and every time I get a chance to play, do whatever it takes to win the game."
For the Giants, winning this game meant conquering the specter of Billy Hamilton, Cincinnati's leadoff batter who virtually terrorized them in Tuesday's series opener. The Giants at once fell prey to Hamilton's speedy skills and held him in check.
Hamilton singled in each of his first three at-bats and forced two wild throws -- Vogelsong's first-inning pickoff attempt and catcher Buster Posey's peg to first base following Hamilton's third-inning chopper in front of the plate. Yet Hamilton never scored. Vogelsong pitched out of jams in the first and fifth innings with Hamilton aboard and Posey threw out the speedster on an attempted steal of third base in the third.
Vogelsong adjusted his technique to cope with Hamilton.
"I'm usually pretty quick to the plate, but I just tried to be a little extra-quick with the concept of still making pitches," Vogelsong said.
He made enough of those pitches to amass his personal-best strikeout total in five innings. Vogelsong credited his cut fastball in particular and his overall stuff in general.
"It's way better than it was last year. No question. I feel like at this point right now, I'm throwing the ball better than I did in 2012," he said, citing the year when he led Giants starters with three postseason victories. "My stuff's better now than it was then."
Chris Haft is a reporter for MLB.com. Read his blog, Haft-Baked Ideas, and follow him on Twitter at @sfgiantsbeat. This story was not subject to the approval of Major League Baseball or its clubs.