Marlins hold off Rays in game of key miscues
Solano homers after Longoria error; Tampa Bay can't capitalize late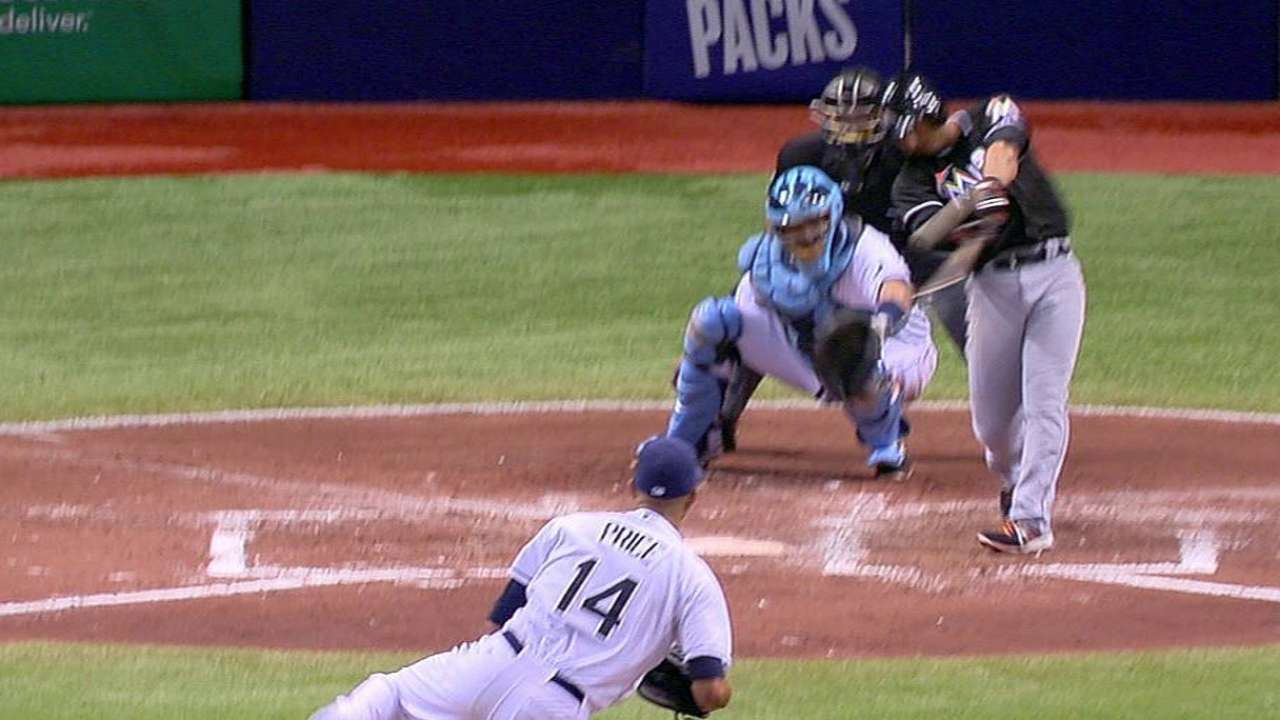 ST. PETERSBURG -- While the Rays' opportunities were evaporating into the Tropicana Field catwalks, one extra chance was all the Marlins needed on Wednesday night.
Miami (31-28), which moved to within a half-game of National League East-leading Atlanta, took full advantage of a two-out, third-inning error by Evan Longoria and beat Tampa Bay, 5-4, sending the American League-worst Rays (23-27) to their ninth straight loss. The Marlins will have a chance to take their fourth straight in the Citrus Series on Thursday -- which would be the first time they would sweep the season series against the Rays since 2005.
Miami put up a four-run third inning after Longoria's miscue. With runners on second and third and two outs, Jeff Baker bounced a slow chopper to third. Longoria tried to tag Marcell Ozuna going from second to third, but the third baseman dropped the ball and a run scored. On Tampa Bay starter David Price's next pitch, Donovan Solano cracked a three-run homer to left.
"It's huge. Believe me, we've been on the other end of that a few times this year, where we've given a team an extra out and it's cost us," Miami manager Mike Redmond said. "That's the name of the game, is when you get extra opportunities, to try to take advantage of them. Sometimes you do, sometimes you don't. Tonight we were able to do it."
The Rays had plenty of chances of their own, but the Miami defense -- and a mysterious baserunning decision by Kevin Kiermaier in the ninth inning -- erased them.
The Marlins turned inning-ending double plays on Ben Zobrist in the fourth, Desmond Jennings in the fifth and Longoria in the seventh. Then, with Miami holding a 5-3 lead entering the ninth, an Ed Lucas error, a chopper double down the right-field line and a walk loaded the bases with nobody out against closer Steve Cishek. But a David DeJesus RBI groundout was all the Rays got.
It looked like they would be able to tie the game when Zobrist followed DeJesus with a slow, high chopper to first, but Kiermaier, the runner on third, froze.
"We all know the game came down to my baserunning mistake at third base," Kiermaier said. "I saw [Garrett] Jones playing in on first base. It was one those things where on a ground ball hit to first, you can't push right there. But a high chopper -- I have to read that. And I have to score right there."
It was the difference in the game -- even when the Marlins gave the Rays an extra out, Tampa Bay couldn't capitalize, and after the one extra out the Rays gave away, Solano made them pay immediately.
"Maybe we gave them an extra opportunity, too," Redmond said. "I guess it comes down to the bigger hit, and we were able to get the bigger hit tonight."
That one big hit off Price was enough to get the win for Marlins starter Tom Koehler (5-5, 3.33 ERA), who pitched five innings and gave up three runs -- even though he was largely outpitched by Price, who dropped to 4-5 despite a 7 1/3-inning, 11-strikeout performance. Only one of the five runs the lefty gave up was earned.
Miami's Casey McGehee started the scoring in the top of the first inning, grounding an RBI single down the right-field line to score Giancarlo Stanton for a 1-0 lead. Stanton had doubled with two outs off Price, ripping a line drive off the top of the left-center-field wall.
But the Marlins didn't have the lead for long, as Koehler surrendered two big hits of his own -- back-to-back home runs in the bottom of the first. Zobrist parked a two-run shot into the right-field seats, and Longoria followed with a rope just inside the left-field foul pole to put Miami in a 3-1 hole.
That score stood until Solano came up, and as Redmond said, gave his team the bigger hit -- even if he didn't intend for it to be as big as it was.
"I'm trying to get it in the middle of the field -- I just wanted to get a base hit to bring in that run. You've got to put a swing on that curveball he threw me in the last at-bat," Solano said. "The first at-bat, he threw it to me on the last pitch and got a strikeout, so it was reaction. I try to get ready for any pitch -- I try to get ready for the fastball, and just react to that pitch."
David Adler is an associate reporter for MLB.com. This story was not subject to the approval of Major League Baseball or its clubs.