Arcia's four RBIs fend off Aramis-fueled Crew
Critical homer, single boost Nolasco to victory at Target Field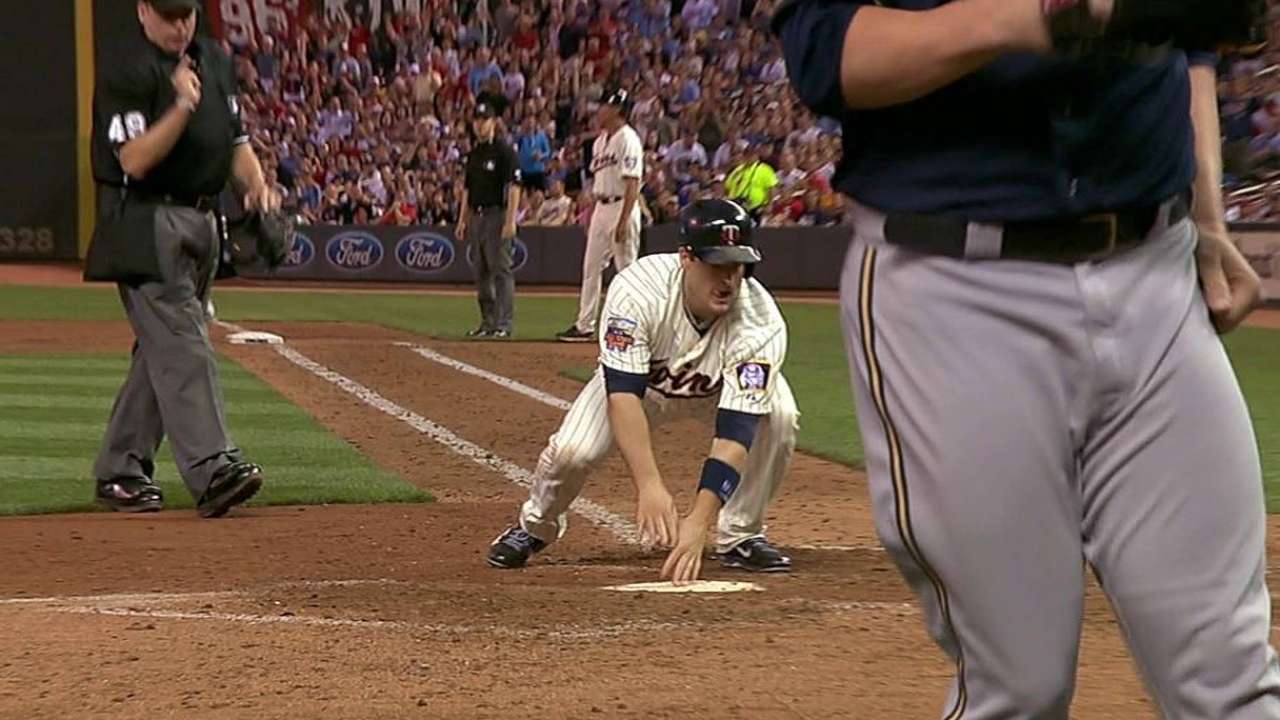 MINNEAPOLIS -- After Oswaldo Arcia led all American League rookies with 14 homers in 97 games last year, the Twins believed he was due for a breakout sophomore campaign this season.
But Arcia sustained a strained right wrist the first week of the season, and he did not return to the Twins until May 26, missing 43 games.
Arcia, though, has been a swinging a hot bat since his return, and he broke out in a big way on Wednesday night as he drove in a season-high four runs, including a three-run homer in the fourth inning and the go-ahead single in the seventh, to help carry the Twins to a 6-4 win over the Brewers at Target Field.
Twins manager Ron Gardenhire seemed impressed by Arcia's towering shot off the foul pole in the fourth but came away even more encouraged by his two-out single in the seventh against left-hander Will Smith, who had struck out 18 of 37 lefties he had faced this year before Arcia's go-ahead single.
"It was a nice swing," Gardenhire said of the homer, "but the better one came against the lefty. He hung in there after two fastballs were up and in on him and after a couple tough breaking balls. But he left that one over, and he stayed on it and drove it for a big RBI. That's a great at-bat against a very tough lefty."
With the game tied in the seventh, Josh Willingham started the rally with a two-out double off the wall in right-center field to set the stage for Arcia's hit to right field. The single came on a 2-2 slider after Arcia was badly fooled on a 2-1 slider from Smith.
"I knew Smith was a tough lefty," Arcia said through a translator. "So I was patient and looked for the pitch I could drive in the run."
The Twins added an insurance run with Trevor Plouffe sending home Arcia from second with a single of his own to right field.
It made right-hander Ricky Nolasco the winner, even after he gave up a tying three-run homer to Aramis Ramirez in the top of the seventh. Nolasco went seven innings, giving up four runs on six hits and no walks with seven strikeouts to improve to 4-5 with a 5.65 ERA.
"I went out there and for the majority of the time I thought I threw the ball well," Nolasco said. "Sometimes you're just going to get beat. This is the big leagues. Aramis has been doing this for a long time. I'm not going to let one pitch ruin my night. I'd like to take it back, but he's a proven power threat in this game."
The Brewers scored their first run against Nolasco with back-to-back doubles from Rickie Weeks and Mark Reynolds with two outs in the second. But he settled down after that, retiring 13 in a row before running into trouble in the seventh inning.
Jonathan Lucroy and Carlos Gomez both singled with nobody out before Ramirez launched a home run to center field in his first game back after missing more than three weeks with a strained left hamstring.
"We didn't do anything really until we got the three-run homer," Brewers manager Ron Roenicke said. "I know what [Nolasco's] numbers are this year, but we've seen him before and he's been good. He knows how to pitch, and we chased some balls out of the zone, which hurt us again. But he did a nice job pitching."
Ramirez's three-run blast tied the game at 4, taking Brewers right-hander Marco Estrada off the hook. Estrada was headed for a loss after giving up four runs on six hits and three walks over six innings, but he instead took a no-decision.
The Twins scored three runs on one swing of the bat from Arcia in the fourth inning for his third homer of the year. The ball hit off the foul pole in right field and came on a 2-1 fastball, scoring Brian Dozier and Willingham -- a duo that reached base a combined seven times on the night.
"He hit it a long ways," Gardenhire said. "The ball was tight in, and he pulled his hands in and just spun on it. He kept it fair, which is not easy to do with a ball inside that much."
Minnesota added another run in the fifth on a bases-loaded walk from Willingham with one out. But the Twins left the bases loaded with Arcia and Plouffe each grounding out to end the inning. The Twins went just 2-for-9 with runners in scoring position against Estrada.
But Arcia was able to come through in the seventh to help the Twins to their second straight victory over the Brewers. Reliever Casey Fien threw a scoreless eighth before handing it over to Glen Perkins, who picked up his 16th save with a scoreless ninth.
"Our bullpen came in and did a wonderful job," Gardenhire said. "It was a good way to start this homestand."
Rhett Bollinger is a reporter for MLB.com. Read his blog, Bollinger Beat, and follow him on Twitter @RhettBollinger. This story was not subject to the approval of Major League Baseball or its clubs.