Garcia's first career homer secures series victory
Dunn also goes yard while Danks surrenders just two hits, one run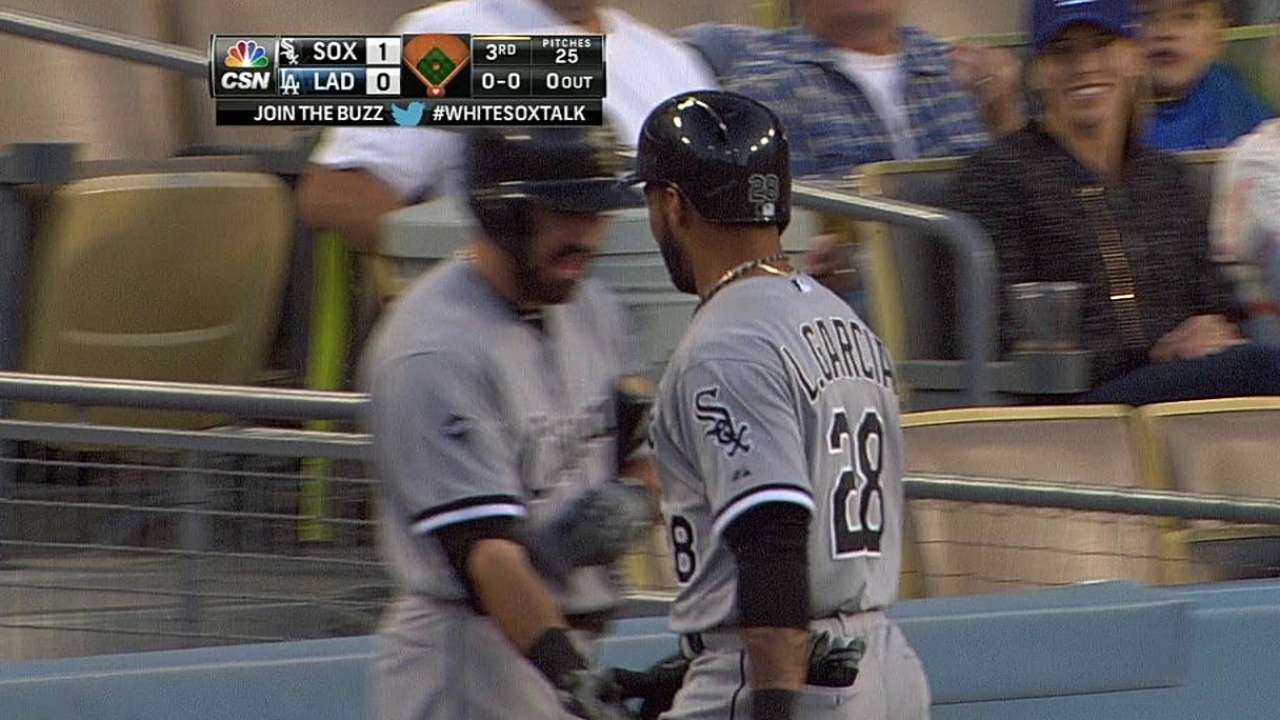 LOS ANGELES -- The logical first question following the White Sox 2-1 victory over the Dodgers on Wednesday night didn't have to do with John Danks' mound dominance or another shutdown performance from the bullpen.
It didn't focus upon the White Sox moving to 31-30 and just three games behind the American Central-leading -- but struggling -- Tigers. It didn't even center on Adam Dunn going deep for the 449th time of his career.
Instead, the postgame inquiry explored the following. What was more surprising: Leury Garcia's first career home run coming on the first pitch of the third from Josh Beckett (3-3) and carrying out to straightaway center field or Danks' second career hit in the sixth, which also was his second career hit at Dodger Stadium.
"Wow. That's a pretty good question actually," Dunn said. "Hitting a homer to center here is pretty good, but John Danks getting a base hit is pretty special, too. Flip a coin."
Both of those moments made for a little White Sox levity, although Garcia's homer was essential in the outcome. However, they really were just two important pieces in another total team victory for the South Siders.
Aside from his hitting prowess via that infield single, Danks (4-5) turned in a third straight dominant start. He allowed Dee Gordon's bunt single as the first batter faced Wednesday and didn't allow another hit until Gordon's short-hop double past Garcia at third with one-out in the eighth as his last batter of the night.
Danks walked three over 7 1/3 innings, hitting Scott Van Slyke twice and striking out five. Danks has yielded 13 hits and three earned runs over his last 22 1/3 innings, including just one home run and four walks to go against 13 strikeouts. His tireless work to correct minor mechanical flaws through numerous bullpen sessions since a May 18 start in Houston has paid major dividends.
"I felt like I was able to make a pitch when I needed to," said Danks, who threw 63 of his 107 pitches for strikes. "I wasn't as sharp as I'd like, but I guess you could call it effectively wild. It's not an easy lineup and I knew I had to be good going against Josh. Caught some breaks, they hit some balls at some guys and I'm happy we got the win."
"He kept us off-balance all night," said Gordon of the strong effort from Danks. "Just mixing his pitches, going to his strengths."
Los Angeles (31-30) threatened in the eighth, with Yasiel Puig walking after Gordon's double and steal of third. But Zach Putnam, who replaced Danks and walked Puig, retired Hanley Ramirez on a run-scoring fielder's-choice grounder to third, and Scott Downs set down Adrian Gonzalez on a grounder to shortstop Alexei Ramirez.
Robin Ventura was ejected in the eighth, marking his second ejection this year and the ninth of his career. So he wasn't around to watch Ronald Belisario lock down his fifth save with another perfect ninth, using five ground-ball outs to retire six straight batters over the last two contests.
Dunn's drive to right leading off the fourth tied him with Vladimir Guerrero and Jeff Bagwell for 36th place on the all-time list. Garcia's blast leaves him just 448 homers behind his teammate.
Having never gone deep before in his career, Garcia's home-run trot became more of a sprint.
"As soon as I hit it, I was running hard. I [thought] it was a triple, maybe, and then the ball was gone," said Garcia, who got the ball from his first homer and received his first career intentional walk in the fourth. "I was surprised. It was my first homer ever. I had no idea, but it was awesome."
Wednesday's win gives the White Sox a series victory in the first leg of this six-game California road trip. They also moved within their shortest distance from the top since they were three games out on April 30.
As of May 18, the White Sox were nine games out of first place. Despite injuries to key players such as Avisail Garcia and Matt Lindstrom, this group won't give up and won't use those absences as an excuse.
"What we got is what we got," Dunn said. "Obviously getting Jose [Abreu] back is huge. But yeah, we continue to offensively, we are not clicking obviously, but that's a testament to the guys we are kind of running into. If we continue to win, who cares?"
"Through all the stuff they've gone through, the way you compete, you go out and guys are pitching well, the bullpen comes in and does a good job getting out of the eighth," Ventura said. "With the at-bats, guys grind and different guys coming through every day. It really takes a whole roster to win games, and different guys are doing it. That's a good feeling."
Probably the same sort of good feeling on par with Garcia's first career homer or Danks' hit, although he couldn't figure out why he got the baseball for career single No. 2.
"Even a blind squirrel finds a nut. That [hit] is pure luck right there," said Danks with a broad smile. "It has been fun so far. We know there is a long way to go, but I've enjoyed it and I expect to see the same the rest of the way out."
Scott Merkin is a reporter for MLB.com. Read his blog, Merk's Works, and follow him on Twitter @scottmerkin. This story was not subject to the approval of Major League Baseball or its clubs.