Offensive malaise continues in Dodgers' loss
Beckett taken deep twice, but offense manages just two hits in finale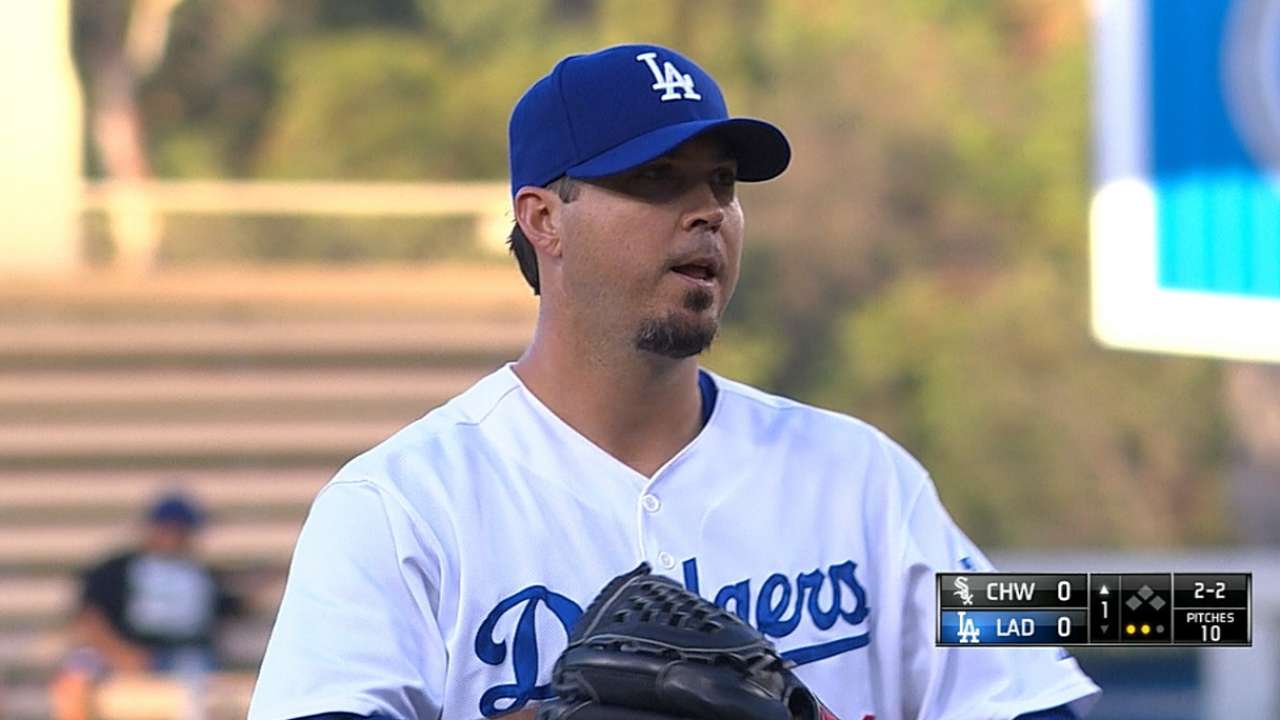 LOS ANGELES -- Today's managers usually take the heat for their players' failings, until they won't. Then they sound like Don Mattingly did after the Dodgers' lackluster 2-1 loss on two hits to the White Sox on Wednesday night.
"Really, I think you should talk to them," Mattingly said, kicking the blame to the players responsible for falling a season-worst eight games out of first place. "I'm tired of answering questions, honestly."
Mattingly's honesty went even further; too far, in fact, to be quoted here in describing his club's play. But he followed up with a cleaner translation -- "Not that good." Before the game, Mattingly suggested club chemistry was a problem, saying his players weren't "pulling in one direction."
A pregame argument on the field Tuesday between reliever Kenley Jansen and shortstop Hanley Ramirez, within media earshot, was just the latest sign of discontent for a team that hasn't justified its $235 million payroll.
Three position starters -- left fielder Carl Crawford, third baseman Juan Uribe and catcher A.J. Ellis -- are on the disabled list. Others are clearly unhappy, among them former Gold Glove center fielder Matt Kemp after being moved to left field; and Ramirez, who never got the contract extension he wanted. Andre Ethier and Mattingly exchanged words in the dugout last week.
When the Dodgers underperformed last year, a slew of injuries became the convenient alibi, and Yasiel Puig's arrival the primary antidote. But the current plight has occurred while Puig has had an MVP start.
The Dodgers not only couldn't hit White Sox starter John Danks, they were closed out for the second consecutive game by Ronald Belisario, cast off by the Dodgers over the winter as a non-tender and relishing the chance to beat them.
They head off to Colorado after falling to 13-19 at home after a 4-6 homestand, but Mattingly said the location of the games isn't the problem.
"We're just not getting it done," he said. "Simple as that, right? Just not getting it done. We need to win, pretty much. We need to win."
Mattingly was so annoyed, he wouldn't comment on the death of Don Zimmer, with whom Mattingly coached on Joe Torre's New York Yankees coaching staff.
The players' reaction to their manager's reaction?
"I don't know what to say," said Ramirez. "We're not doing anything right now, so we've got to start playing better. Everybody is unhappy with the way we're playing."
The Dodgers scored their only run on Ramirez's fielder's-choice grounder in the eighth that scored Dee Gordon, who doubled with one out and stole third during a walk by Puig that led to the ejection of White Sox manager Robin Ventura by home-plate umpire Kerwin Danley. The walk extended Puig's streak of consecutive games reaching base to 36.
Two starts after throwing a no-hitter, Josh Beckett (3-3) allowed a pair of home runs in six innings and kept the Dodgers close enough while losing a duel with Danks (4-5), who in 7 1/3 innings allowed two hits -- both by Gordon -- a bunt single and double.
"Guys are frustrated," said Gordon. "We've got talent, and we're not winning games. I mean, there's talent everywhere. It's just frustrating for everyone."
"Obviously, it's frustrating," said catcher Drew Butera. "No one here is happy with what we're doing, but you can't put your head down and cry about it. You have to keep grounding it out."
Jose Abreu ended any no-hit drama with a two-out double in the first inning, and No. 8 hitter Leury Garcia spoiled the shutout by smashing Beckett's first pitch of the third inning over the center-field wall for his first Major League home run.
"I was surprised," said Garcia. "It was my first homer ever. I feel happy."
Adam Dunn doubled the lead with another shot leading off the fourth inning for the White Sox, a liner into the right-field pavilion.
"A boneheaded pitch," Beckett said.
Ventura successfully challenged third-base umpire Gary Cederstrom's safe call on Adrian Gonzalez returning to third base when the White Sox blew a fourth-inning rundown play. The call was overturned on review, Gonzalez ruled out at third to complete a 4-3-6-5 double play.
A crew-chief review in the fifth went the Dodgers' way when Danley awarded a walk to Dunn to load the bases with one out when the count was only 3-2. Brought back to the plate after the count was corrected, Dunn struck out and Alexi Ramirez then bounced into a force.
Ken Gurnick is a reporter for MLB.com. This story was not subject to the approval of Major League Baseball or its clubs.