Tigers miss huge opportunities in loss to Jays
Detroit has bases loaded in fourth and sixth innings but can't score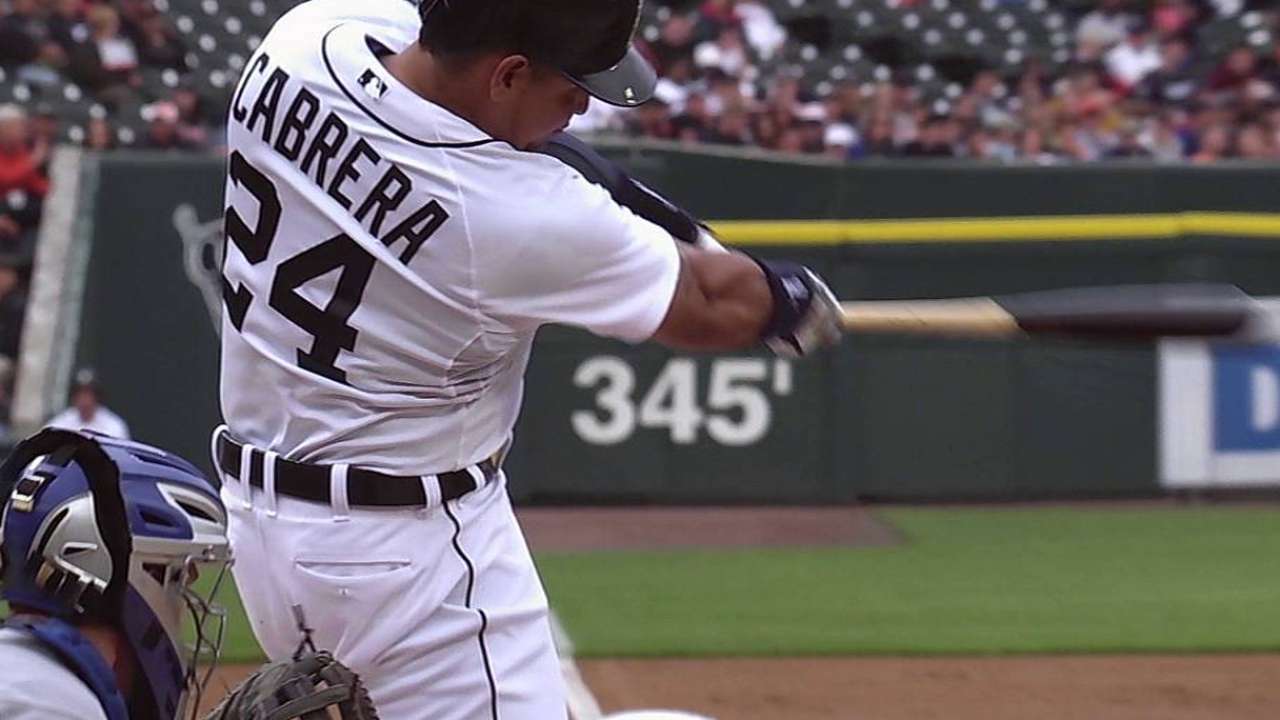 DETROIT -- One big swing was enough to cost Rick Porcello. The lack of a good swing was enough for the Tigers to let R.A. Dickey and Aaron Loup out of two bases-loaded jams in a one-run game.
The swing was barely recognizable by the time the Blue Jays were done adding on runs for an 8-2 Detroit loss. It was still characteristic of how the past two weeks are going for what was once baseball's hottest team.
Just when the Tigers seem to stabilize their rotation, getting quality innings from Porcello and Anibal Sanchez against one of baseball's scariest lineups, they lose the big hit from their arsenal.
Hours after manager Brad Ausmus talked about needing to get runners on base from the bottom of the order, his bottom four hitters recorded four hits and three walks and scored no runs.
Hours after Ausmus reiterated his faith in closer Joe Nathan, there was no save situation. Detroit's bullpen struggled, giving up three runs in the eighth and two in the ninth, but it never had a lead to protect in the first place.
"I think the issue is that these things have run together," Ausmus said. "We went from starting pitching struggling to hitting struggles. It's run together. If you have the starting pitching struggling, and then it clears itself up in a few days and you're back to normal, then you don't notice it. Then maybe in August, you have hitting struggles. It's completely separate.
"It's kind of run together. I think the important thing, really, is to make sure that the players don't start to think this is the type of team they are, because they're a much better team than what we've done in the last two weeks or so."
They could break it down several more ways. At the moment, the Tigers are just trying to survive a stretch that has seen a team that opened the season 27-12 lose 12 of its last 16 games.
"Baseball is like life," Torii Hunter said. "You have storms in your life, troubles in your life, and the only way you can get over them is just keep moving, keep working and keep doing what you have to do. Through every storm, there's always a rainbow at its finish.
"In baseball, you have those trials and troubles, and that's what we're going through right now. But we have to keep working hard, keep fighting through, making adjustments at the plate, working on things behind the scenes. That's weathering the storm. If we can do that, I think we're going to see some sunshine soon."
It wasn't so much a lackluster Tigers offense as it was one that wasn't opportunistic. Detroit homered twice against Dickey, including Miguel Cabrera's 11th of the year on a no-doubt drive to left in the opening inning, but both came with the bases empty.
Dickey (6-4) gave up seven hits and four walks over five-plus innings, putting 11 of the 26 batters he faced on base. A line drive into the outfield would've netted two runs with the bases loaded in the fourth and sixth innings, and a single would've plated two runs in the eighth. Instead, the Tigers went 1-for-8 with runners in scoring position, stranding 11 men on base.
"Tonight I guess was one of those lucky nights where you kind of pull a rabbit out of your hat," said Loup, who stranded the bases loaded in the sixth.
Earlier in the year, by contrast, the Tigers weren't letting pitchers reach into the hat like that.
"We had some opportunities. We were unable to come up with the big hit tonight," Ausmus said. "The converse is, [Adam] Lind came up with the big hit for them. That was kind of the turning point for the game."
The one hit with runners in scoring position was Rajai Davis' single in the fourth, loading the bases with two outs. Up came Ian Kinsler, whose leadoff homer in the third had built the lead. It was just his second hit in eight at-bats against Dickey, but both had left the park.
Kinsler took a first-pitch knuckler for a strike, then popped out to right on a fastball, just his second out in five at-bats with the bases loaded this season.
Porcello held the lead into the middle innings by retiring 12 Blue Jays in a 13-batter stretch. The one hit he allowed, Jose Bautista's infield single leading off the fourth, he erased with a Lind double play. He was still clutching the 2-1 advantage when the middle of the lineup came back around with two outs in the sixth.
Melky Cabrera's two-out double into the right-field corner and Bautista's four-pitch walk left Porcello needing to get Lind again. His first-pitch strike set up a sinker. The sinker got up enough for Lind to hit it to the depths of center field and clear the bases.
"I thought I made a good pitch," Porcello said. "It kind of leaked back towards the plate a little bit. I have to tip my cap to him. He put a really good swing on it."
The Tigers needed that kind of swing in the bottom half. Dickey still had the lead, but not the ball, having walked Austin Jackson and Nick Castellanos with an Alex Avila single in between.
Out came Dickey for the sidearming left-hander Loup to face three consecutive right-handed hitters. Loup, who has held right-handed hitters under a .200 average this year after they hit .295 off him in 2013, escaped without a ball hit out of the infield, striking out pinch-hitter J.D. Martinez before Davis popped up his first pitch just behind home plate.
"I think I just missed it," said Davis, Loup's ex-teammate in Toronto. "If that ball's a little bit more over the plate, maybe we've got a different ballgame. But he made a good pitch, a quality pitch. I made a good swing, wasn't able to connect."
Once Kinsler popped out to Lind in foul territory behind first base, the Tigers' opportunity slipped.
"It's kind of one of those situations where you're almost thinking you're bound to give up at least one, possibly two," Loup said, "but you try to limit the damage as much as possible. Tonight I guess was one of those lucky nights."
It was another one of those nights for the other side.
Jason Beck is a reporter for MLB.com. Read Beck's Blog and follow him on Twitter @beckjason. This story was not subject to the approval of Major League Baseball or its clubs.