Get a whiff of this: Strasburg fans 11 in seven innings
Nationals pound Burnett behind big games from Espinosa and Rendon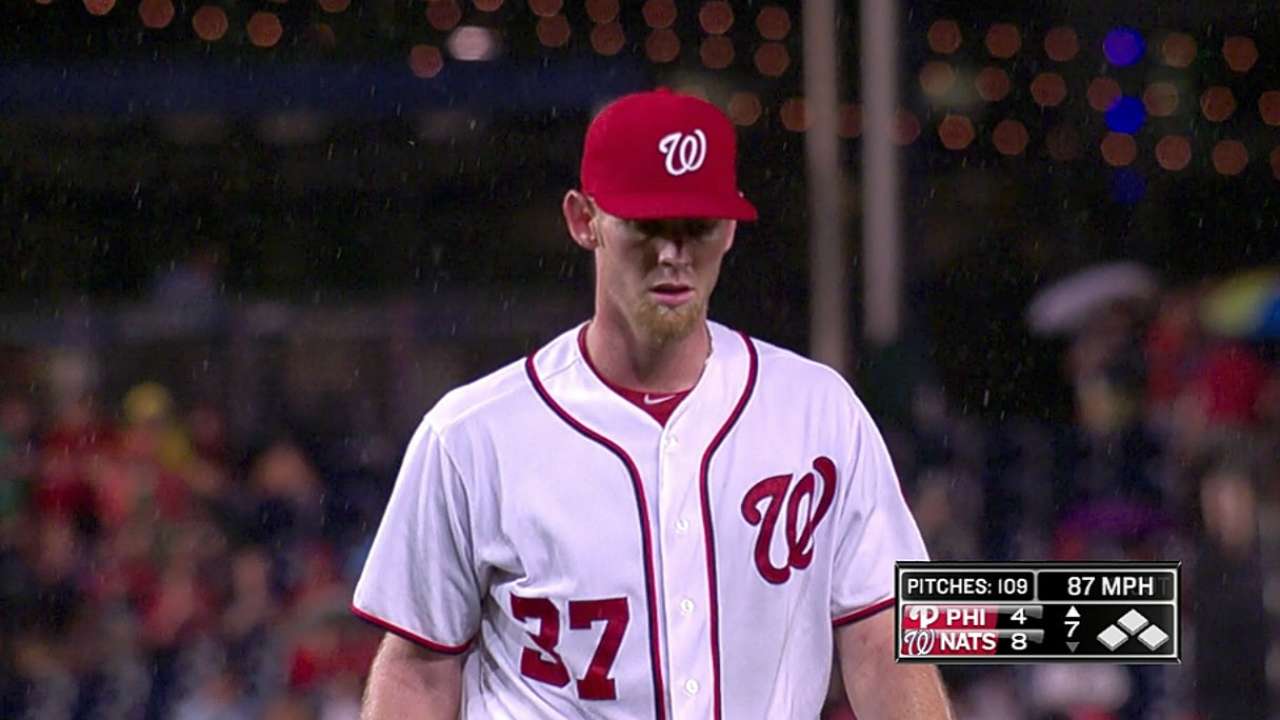 WASHINGTON -- What a difference a month makes. On May 3, the Nationals couldn't touch Phillies right-hander A.J. Burnett. But it was a different story Wednesday night as the Nationals pounded the Phillies, 8-4, at Nationals Park in a game delayed almost two hours because of rain in the seventh inning.
For three innings, it was a pitchers' duel between Burnett and right-hander Stephen Strasburg, but that ended in the fourth inning as the Nats scored four runs. Danny Espinosa opened the scoring with a two-run double with the bases loaded. Espinosa ended up going 2-for-4 in the game with two runs scored.
"With two strikes, he's just trying to square it up and [Espinosa] got a ball up in the zone that he was able to do the job and hit the ball to the outfield," manager Matt Williams said. "He got a little extra tonight. But I'm happy for him. He's working hard."
In the same inning, Strasburg helped himself with an RBI single, while Espinosa scored on a fielder's choice by Denard Span.
An inning later, Philadelphia cut the lead in half because of sloppy defense from the Nationals. After he hit a leadoff single, Domonic Brown went to second on an error by first baseman Adam LaRoche, who couldn't catch Strasburg's pickoff throw. Brown then scored on a double by Reid Brignac. The ball hit by Brignac should have been caught by left fielder Ryan Zimmerman, who misjudged it as it went over his head. Williams defended Zimmerman on the play.
"You know, it's opposite field, short-hopped the wall," Williams said. "That's a tough play. It's a tough play for anybody. The ball ran away from him. Anytime a guy hits the ball to the opposite field, it's going to run away from the fielder. And so he took a little ... step in or a little step toward the plate and then retreated. If he didn't take that step, could he have caught it? Potentially. But I think he had a fine route. He was there. It was just a little too far from him."
Three batters later, Jimmy Rollins hit a hard shot down the first-base line. LaRoche backhanded the ball, but Strasburg couldn't handle the throw and was charged with an error as Brignac scored.
Washington then poured it on against Burnett, who allowed one run in six innings in a 7-2 victory in that game last month. In the fifth, Anthony Rendon swung at an 0-1 pitch and hit a monster home run to the back of the left-field bullpen. It's was Rendon's eighth home run of the season, a career high.
"I thought he lost a little bit of command, so he started to get behind some guys," Williams said about Burnett. "And that's the secret to pitching effectively -- getting ahead. And hitting effectively is taking advantage of a mistake behind in the count. That's the way the games are played out every day. We got ourselves into a position to score some runs, and guys took care of it, so that's good."
The Nationals added three more runs an inning later. Rendon highlighted the scoring with a two-run single.
The run support was good enough for Strasburg, who pitched seven innings, allowed four runs (two earned) on seven hits and struck out 11 batters. It marked the fourth time this season Strasburg struck out 10 or more batters in a game. The two earned runs were scored on two-run homer by pinch-hitter John Mayberry Jr. in the top of the seventh inning. After that half-inning, the game was delayed for one hour and 48 minutes.
"With Strasburg, we had some good approaches and some hard-hit balls for outs. About eight or nine," Phillies manager Ryne Sandberg said. "Chase [Utley] had four himself. We had numerous good, solid contact for outs against Strasburg."
Once play resumed, Strasburg was out of the game and Aaron Barrett and Jerry Blevins blanked the Phillies the rest of the way. Strasburg was pleased with his start, but he admitted that he looked at the scoreboard a little too much.
"Fastball command was really good. I was throwing it down in the zone all night and throwing some good fastballs in," Strasburg said. "So once you start pounding them in, you can open up the outside corner of the plate.
"Guys came up big again tonight. It makes it much easier. I think I made the mistake with Mayberry of looking at the scoreboard a little bit, pretty much just throwing a fastball down the middle and seeing how far he could hit it. And he hit it pretty far, so I've just got to do a better job of staying to the game plan and not really changing my approach depending on the score."
The Nationals won their second straight game and are now a game over .500 with a 29-28 record. They are only 1 1/2 games behind the first-place Braves. It helps that the Nationals are hot with the bats. In the last five games, the Nationals are hitting .306 with 34 runs scored.
"The last couple of days, we've scored a lot of runs, which is great," Williams said. "The offense has really kicked it back in and guys are swinging well. ... So that's always a good thing. Good starting pitching, too, so all of those things are positives. Tough one tomorrow, too, quick turnaround, so we'll have to be ready."
Bill Ladson is a reporter for MLB.com and writes an MLBlog, All Nats All the time. He also could be found on Twitter @WashingNats. This story was not subject to the approval of Major League Baseball or its clubs.