Pujols to benefit from productive Hamilton?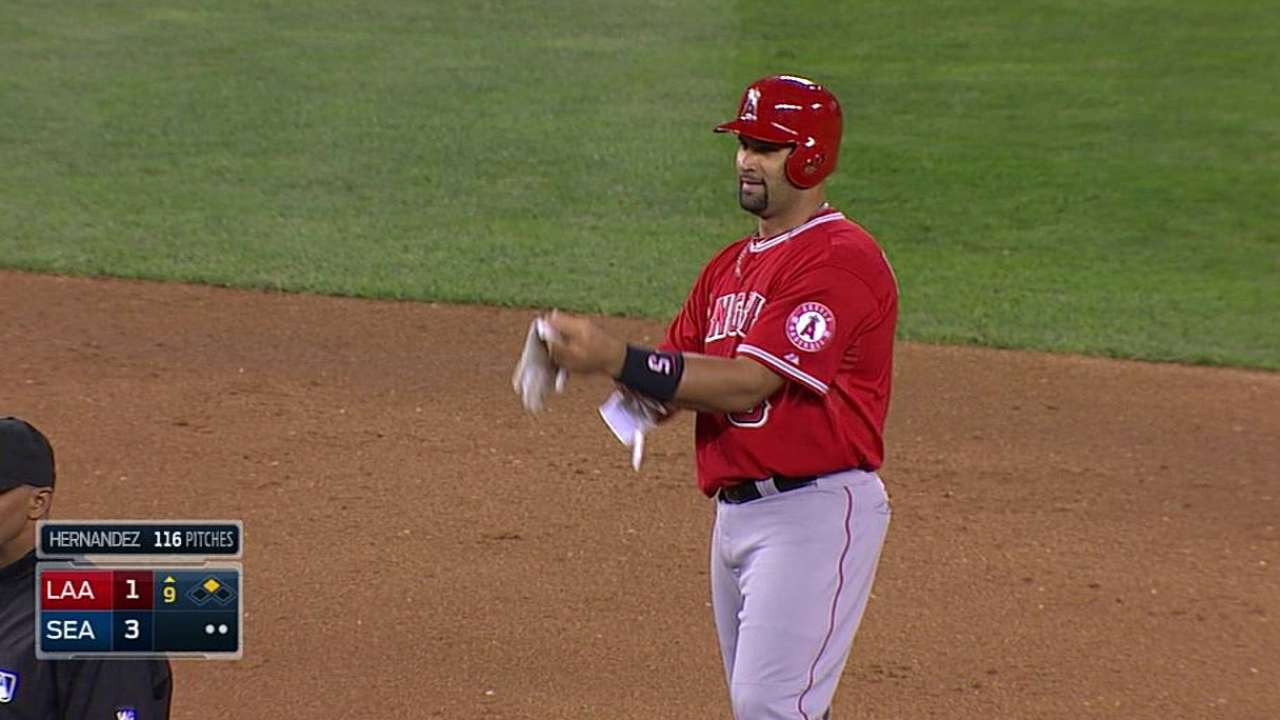 HOUSTON -- Albert Pujols' struggles with runners in scoring position have been about as pronounced as they've been unseemly, his slash line at .167/.288/.288 in those situations heading into Wednesday's contest.
Can Josh Hamilton's presence help?
Will having a healthy, and productive, Hamilton batting behind him on an everyday basis translate to Pujols getting better pitches to hit with men on base or, at the very least, ease some of the pressure off him when it comes to driving in runs?
"I don't look at it like that," said Pujols, a career .328/.462/.619 hitter with runners in scoring position. "To me, it doesn't matter who's behind me or in front of me. The pitchers are going to be tough against me. They're not going to give me anything down the middle.
"I have to study and do my homework, too, and they're doing their homework. It doesn't matter. I've had great hitters my whole career hitting behind me. I need to execute. That hasn't happened this year so far, but I look forward to things turning around quickly here."
The Angels had a revolving door in the No. 4 spot during the eight weeks that Hamilton recovered from surgery in his left thumb, going with the likes of Howie Kendrick, David Freese and Raul Ibanez while getting a cumulative .691 OPS -- a mark that ranked 20th in the Majors with regard to cleanup hitters.
Pujols has still been getting strikes, with 47.2 percent of the pitches he's seen falling within the strike zone, a mark that's higher than his career rate of 46.7. And he's swung at 31.1 percent of pitches out of the zone, which is currently his lowest rate in four years.
But it still hasn't translated into prolonged success.
His overall slash line was .253/.312/.502 heading into Wednesday's game, and his batting average was .188 dating back to May 7.
"I think Josh in the middle swinging it well will have some sort of spill-over affect," Angels manager Mike Scioscia said. "But to be totally honest with you, Albert is pretty independent."
Alden Gonzalez is a reporter for MLB.com. Read his blog, Gonzo and "The Show", and follow him on Twitter @Alden_Gonzalez. This story was not subject to the approval of Major League Baseball or its clubs.