Bruce reflects on 500th RBI, hitting slump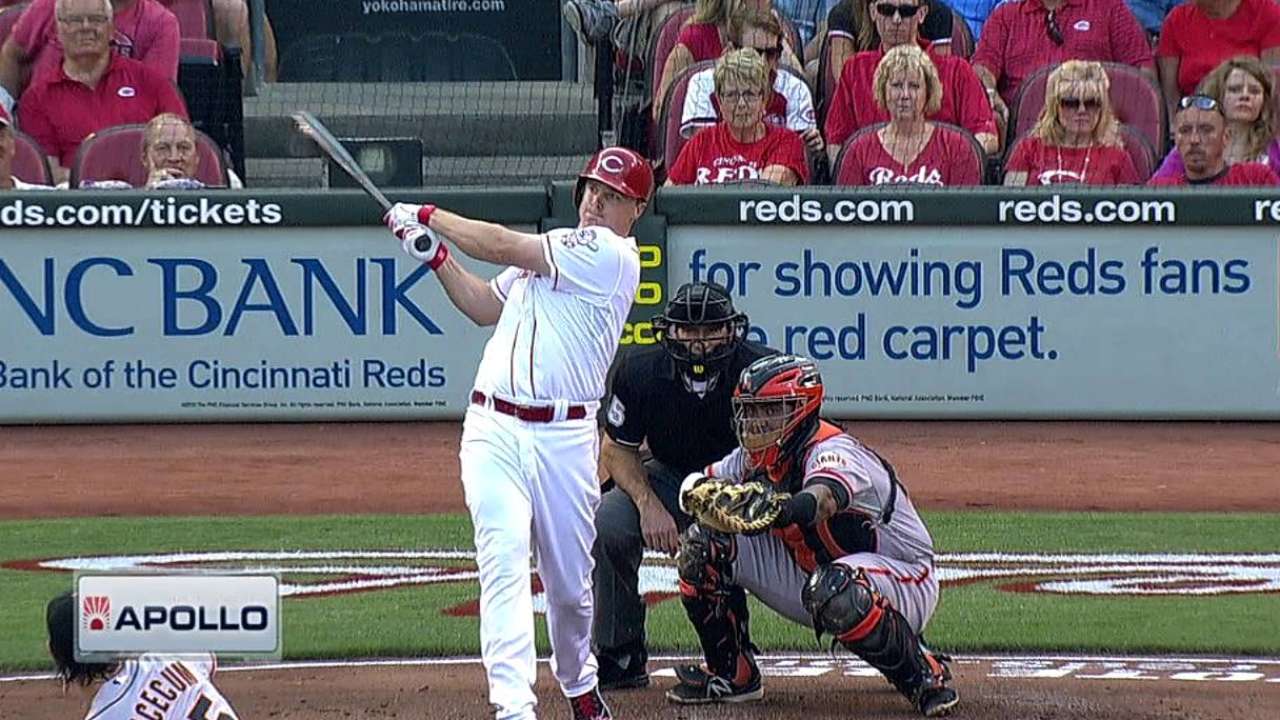 CINCINNATI -- When Reds right fielder Jay Bruce hit a double to right field that scored Todd Frazier in the first inning Tuesday for his 500th career RBI, it did not go unnoticed.
Bruce joined Johnny Bench, Frank Robinson, Vada Pinson and Adam Dunn has the only players in Reds history to reach 500 RBIs by age 27 or younger.
"It means that I've at least been semi doing my job since I've been here," Bruce said. "It's humbling at the same time. You see the guys that are on that list, some of them had 800 RBIs by this point. You know where you are on the totem pole. It's a checkpoint for me and hopefully it's No. 500 of a lot more."
Until his 2-for-4 game in Tuesday's 8-3 victory over the Giants, Bruce has had a humbling stretch at the plate. He was in a 4-for-30 slump in the previous eight games since he returned from the disabled list after having surgery to repair torn meniscus in his left knee May 5.
Hitting .206 entering Wednesday with three home runs and 16 RBIs, Bruce wasn't hot before the surgery, either. What made Tuesday promising was he was making hard contact. His best contact came on an out in the seventh when he lined sharply to center field.
"It's been a process coming back," Bruce said. "The biggest deal is to not try and catch up from what I missed in a game or a week or even a month. It's a full season. It's a long season. There is time left. I just have to continue to build a strong foundation that's going to allow me to be successful all year and not try to force things to happen. I need to be in a position to create them when the opportunities to arise."
Bruce did not go out on a rehab assignment in the Minors before his activation May 21, which might have affected his ability to come off the DL in any type of groove.
"Before I got activated, I told myself I would not use that as an excuse," Bruce said. "Not going on a rehab was a decision between me and the organization. I felt I was ready to come back and help the Major League team. Quite frankly, I haven't been since I've been back."
Mark Sheldon is a reporter for MLB.com. Read his blog, Mark My Word, and follow him on Twitter @m_sheldon. Manny Randhawa is an associate reporter for MLB.com. This story was not subject to the approval of Major League Baseball or its clubs.