D-backs' late surge tips scale in wild slugfest
Goldschmidt, Montero combine for 10 RBIs as part of 21-hit outburst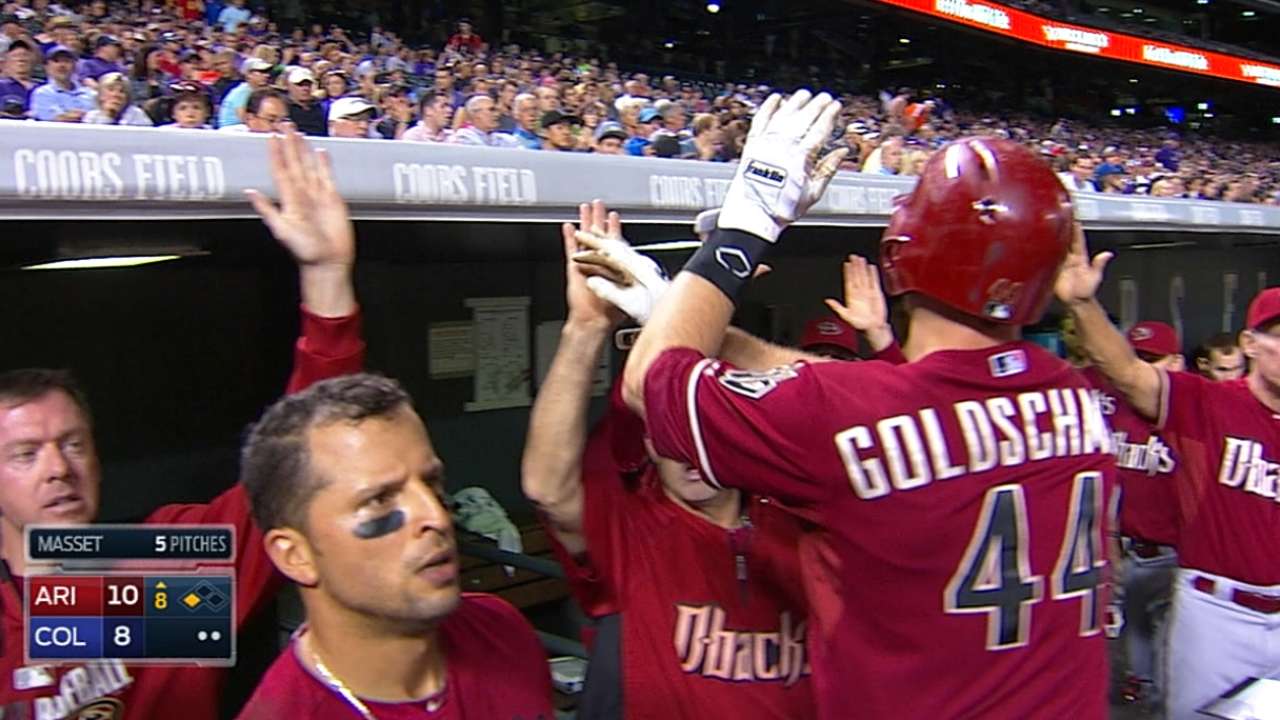 DENVER -- It was one of those classic Coors Field games that give rise to pitchers' ERAs and leave managers in gastric distress.
In the end, though, it was Kirk Gibson and his D-backs that were smiling as they defeated the Rockies, 16-8, in a back-and-forth slugfest Wednesday night.
"We learned that this is a baseball field where you never know," D-backs third baseman Martin Prado said.
The game started off well for the D-backs with Josh Collmenter looking like he might follow up his first career shutout with another strong outing as he held the Rockies scoreless through the first four innings while his offense got cranking early.
Didi Gregorius led off the game with a home run to right and the D-backs managed to score two more runs in the inning off Jordan Lyles to go up 3-0.
The D-backs added another run in the fourth and seemed to be in command, but this is Coors Field and four runs is simply not enough to feel comfortable.
"You never really have enough runs in this ballpark," Gibson said.
Indeed, things started to shift in the fifth.
The Rockies managed to score four in the frame to tie the game in what would be Collmenter's final inning of work.
Then it was the D-backs turn as they scored a run in the seventh to take a 5-4 lead.
The Rockies, though, answered right back, capitalizing on a D-backs fielding miscue to score four more runs to take an 8-5 lead.
If there is such a thing as momentum, it clearly had swung to the home team's dugout, but the D-backs did not seem fazed.
"Obviously it's hard," Miguel Montero said of losing the lead. "We know we've got a good club and it was hard, but we still had two chances to go up and hit again. We can't give up. We've got no room to give up."
Colorado reliever Rex Brothers allowed four straight singles to open the eighth and allowed a bases-loaded walk to Gerardo Parra before departing with an 8-6 lead, no outs and the bases still loaded.
Three of the four hits off the lefty Brothers were by left-handed hitters and so was the walk.
"All the guys just put really good at-bats together, especially the lefties against Brothers, and we came up big," Montero said.
Paul Goldschmidt quickly unloaded the bases when he hit the first pitch Nick Masset threw down the left-field line for a three-run double.
"You're just looking for something you can hit hard," Goldschmidt said. "Fortunately I was able to get it down the line and get it by him and score a few runs."
Said Gibson, "Goldy's a very smart hitter, sometimes he takes and sometimes he jumps it. He's very good at looking in areas that he wants to see the ball and he jumped on it and pulled it down the line and cleaned it up."
The D-backs wound up scoring six runs in the inning to go up 11-8.
They would put the game away in the ninth as they tacked on five more runs, highlighted by Montero's three-run homer giving him six RBIs on the night.
"I need a few RBIs," Montero joked. "I've been a little slow in my production."
In fact, before the game Montero talked to assistant hitting coach Henry Blanco about just that.
"I told Henry in batting practice, 'Man, when am I going to get one of those crazy days where you get six, seven RBIs?'" Montero said. "And boom here it goes today, six. I guess I called it."
The win was the second in a row for the D-backs, who will go for their first series sweep of the season Thursday night.
"The Diamondbacks have fought their way back," Rockies shortstop Troy Tulowitzki said. "They started off awful, but they're starting to get hot and playing good baseball. Those guys still have some fight in them.They kept on having an answer and we didn't have the last one."
Steve Gilbert is a reporter for MLB.com. Read his blog, Inside the D-backs, and follow him on Twitter @SteveGilbertMLB. This story was not subject to the approval of Major League Baseball or its clubs.