Hamilton showing off strong outfield defense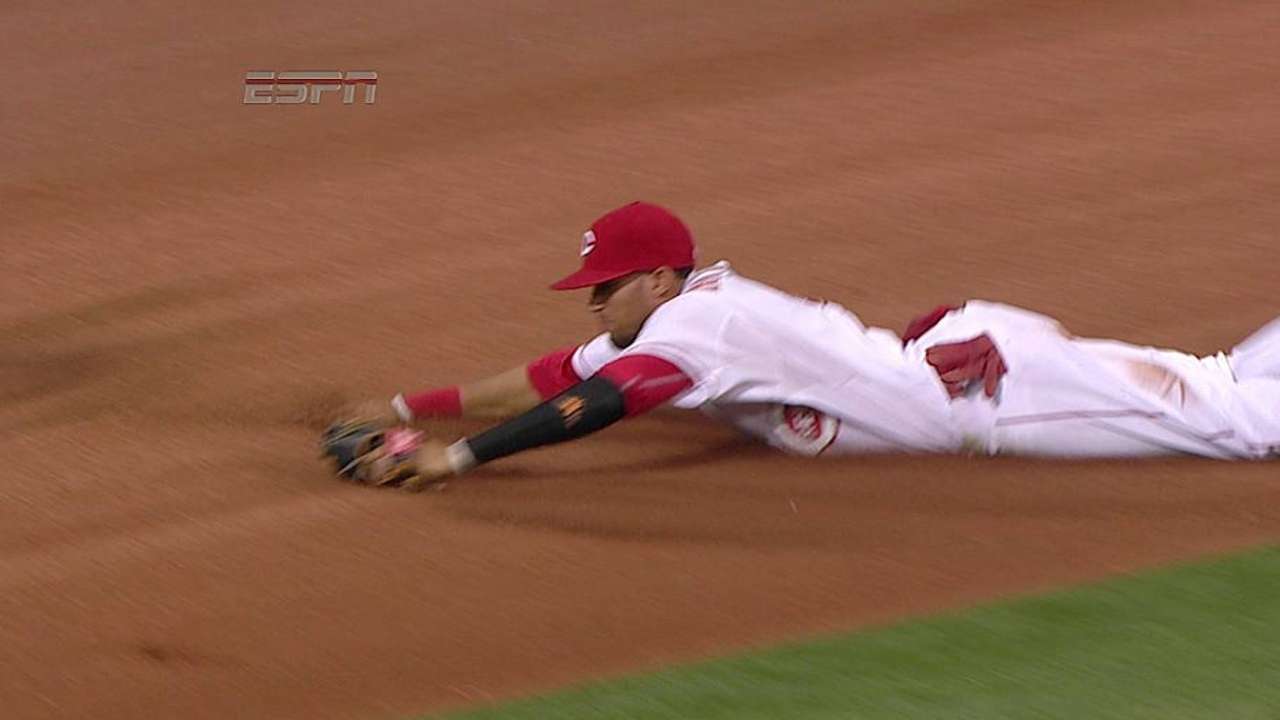 CINCINNATI -- Billy Hamilton is well-known for his lightning-quick speed on the basepaths and his ability to distract pitchers and catchers to force errors that lead to runs for the Reds. But something that is getting less attention is his defensive prowess in center field.
Entering Wednesday's game against the Giants, Hamilton was ranked second among center fielders in the National League with a 6.2 ultimate zone rating, an advanced metric that measures how many runs a player saves with his defense.
"His defense is already prolific," manager Bryan Price said Wednesday. "It's not the diving catches; it's all the ground he covers and his throwing arm and his throwing accuracy."
Hamilton displayed that arm strength and accuracy on a throw he made from deep center field on a fly ball that D-backs outfielder A.J. Pollock tagged up on in Saturday's game in Arizona, making it a close play. Hamilton missed a game to rest his elbow, which was sore after the throw, but the showcase was impressive nonetheless.
"I didn't know this, even coming into Spring Training, that his arm was as accurate and as strong as he's shown us this year," Price said.
Hamilton said that while he is more known for his speed on offense, he takes pride in being a good defensive center fielder.
"Defense is what I try to do my best at as of right now," he said. "I know my hitting is going to come so I feel confident at the plate, but I just had that transition to the outfield and I feel like if my offense is not going, I can go out and play defense and make a defensive play."
Hamilton came up through the Minors as a middle infielder, but in his first full season in the Majors, he has made a successful transition to the outfield.
"He's a very instinctive player, and for a guy that was a middle infielder, he's been doing this now for a couple years, and it's very special that he's been able to not just be able to play the position, but excel at it," Price said.
"That's what pitchers like about me, that I'm there and I don't like any balls to drop in the outfield," Hamilton said. "If it's inside the field of play, I feel like I've got to catch it."
Mark Sheldon is a reporter for MLB.com. Read his blog, Mark My Word, and follow him on Twitter @m_sheldon. Manny Randhawa is an associate reporter for MLB.com. This story was not subject to the approval of Major League Baseball or its clubs.