Myers dealing with first significant injury of pro career
Outfielder addresses right wrist injury, says time off will let left wrist heal as well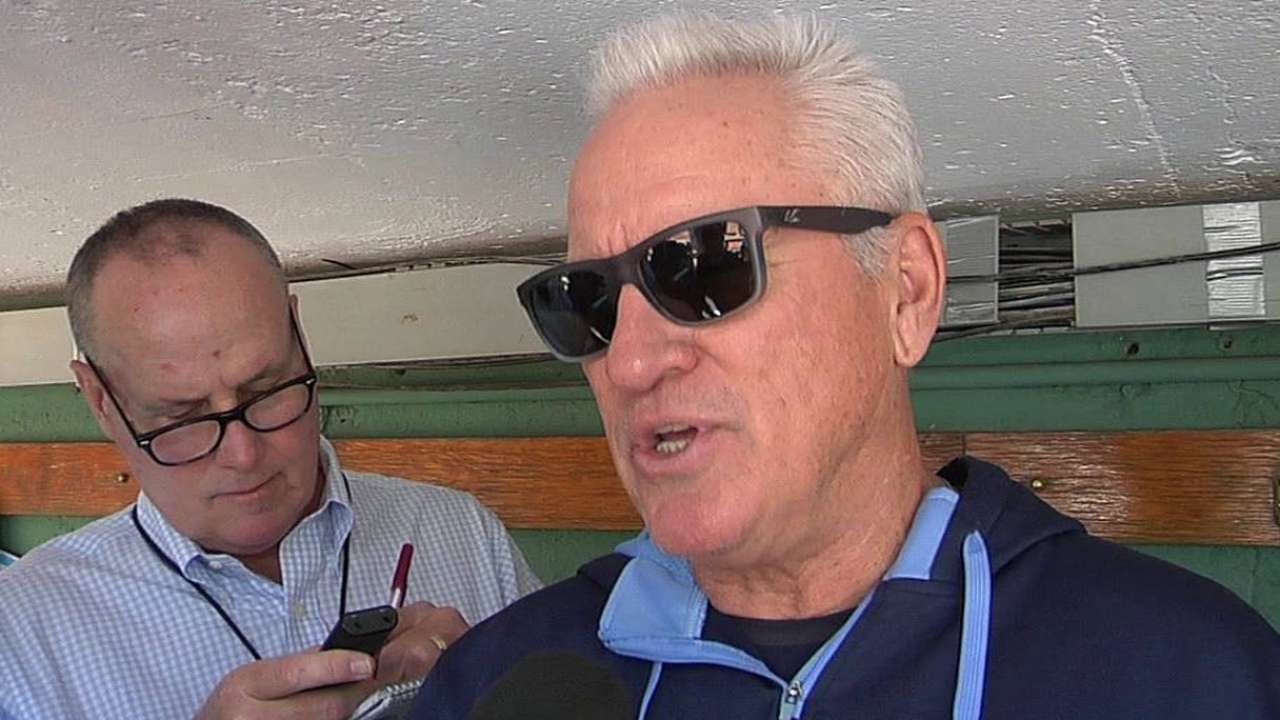 ST. PETERSBURG -- Wil Myers addressed the media Wednesday afternoon while wearing a blue cast over his right wrist.
On Tuesday, the Rays announced that Myers suffered a stress fracture. The reigning American League Rookie of the Year will not have to have surgery, but he will be in a cast for five to six weeks. Once the cast is removed, he will have an MRI exam and be re-evaluated. If that goes well, Myers will begin his rehab before returning to the team.
"This is really the first time a baseball-related injury has happened to me," Myers said. "I know in 2011 in Double-A I had something. But to miss six weeks is different for me. Five to six weeks, so it's going to be different."
Myers allowed that his injury was tougher to take, given the way the Rays have played of late.
"Yeah, it's definitely tough," Myers said. "Obviously the team is struggling. But hopefully we can get some guys up here that can contribute."
Myers injured his right wrist when he collided with Desmond Jennings in the bottom of the 10th inning of the Red Sox's 3-2 win over the Rays on Friday night at Fenway Park. The Rays outfielders were trying to run down a ball hit by A.J. Pierzynski that dropped for a game-winning triple. Initially, Myers had no idea that the injury was as severe as it has turned out to be.
"I felt something," Meyers said. "It was throbbing walking in from center field, but I definitely didn't think this. It continually got worse. But that night, I didn't really sleep much because of the pain. But I didn't expect to be out this long."
Myers has had a tough season, hitting .227 with five home runs and 25 RBIs.
"I've not been myself all year," Myers said. "I'm kind of battling through some things with my other wrist. Just one of those years that's tough to go through."
Myers elaborated about his left wrist by saying he hurt it when sliding earlier this season.
"Kind of been battling it all year," Myers said. "And it's gotten worse swinging."
Myers believes that injuring his right wrist will afford him an opportunity to allow his left one to heal.
"We talked about doing something [for the left wrist]," Myers said. "But having six weeks off from swinging, I think that's going to fully recover. ... Now I've got some time to get everything healed."
Bill Chastain is a reporter for MLB.com. This story was not subject to the approval of Major League Baseball or its clubs.