Phillies' slide continues in the rain
Burnett roughed up, bats fan 11 times against Nationals' Strasburg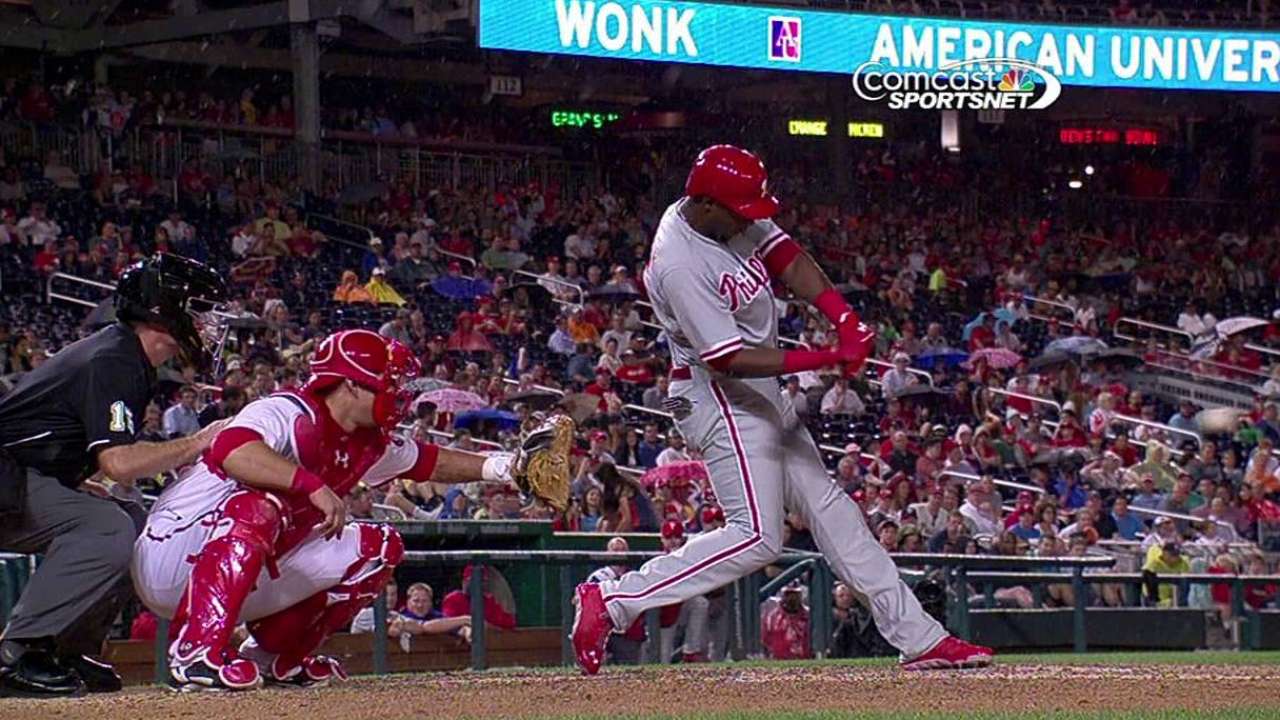 WASHINGTON -- The Phillies keep coming to the ballpark, hoping that one afternoon or one night something will change.
But change hasn't come.
The Phillies lost a rain-delayed game to the Nationals on Wednesday night at Nationals Park, 8-4, to extend their losing streak to a season-high five games and fall to 9-19 since May 4. They have the worst record in the National League and the second-worst record in Major League Baseball in that span.
"We've got another game tomorrow, that's the good thing," Phillies right-hander A.J. Burnett said. "It's not over. The sun is going to come up, believe it or not. It might be a little cloudy, but we've got another game tomorrow. We've got a chance to get a W tomorrow and to get back on the right foot. So that's the way I look at it."
Nearly everybody has played a role in the Phillies' slide to the bottom of the National League East.
The Phillies stood a game over .500 on May 4, the last time they had a winning record. Burnett played a big part in that modest success, posting a 2-1 record with a 2.06 ERA in seven starts through May 3. But Burnett is 1-4 with a 7.25 ERA in six starts since, which included Wednesday, when he allowed 10 hits, eight runs, four walks and struck out three in six innings.
Burnett has allowed 45 hits, 32 runs (29 earned runs), 22 walks, five home runs and has struck out 32 in 36 innings in that stretch.
The Phillies are 2-4 in those games.
The Phillies already had a tough night ahead of them facing Nationals right-hander Stephen Strasburg. He had not allowed an earned run against the Phillies over 21 innings in his last three starts, and had allowed just one earned run over 29 innings in his last four.
He allowed seven hits, two earned runs and struck out 11 in seven innings Wednesday.
"We had some good approaches and some hard-hit balls for outs," Phillies manager Ryne Sandberg said. "About eight or nine. Chase [Utley] had four himself. We had numerous good, solid contact for outs against Strasburg."
Strasburg got a lead in the fourth inning and never lost it. Burnett allowed a double to Adam LaRoche and walked Wilson Ramos, who was hitting .230, and Ian Desmond, who was hitting .227, to load the bases with one out. Danny Espinosa, who was hitting .208, followed and just missed a grand slam when he ripped a double near the top of the right-field wall.
LaRoche and Ramos scored to make it 2-0.
"I don't pitch around people. I don't care if there's a base open," said Burnett, who was bothered by those walks. "That's not me. That's putting me in passive mode. That's my fault. I've got to go after hitters. I don't care if the base is open. I don't care who's up. That's not who I am. I'll take six aggressive walks over boo-boo walks, 3-0 sliders or 3-0 curveballs or whatever it is. I mean, come on."
Strasburg, who had just one hit and 15 strikeouts in his previous 29 at-bats, then singled up the middle to score Desmond to make it 3-0. Denard Span's fielder's choice led to the inning's fourth run to make it 4-0.
The Nationals would not lose the lead.
The Phillies scored a couple runs in the fifth to make it 4-2. Domonic Brown singled and Reid Brignac doubled to score the inning's first run. Jimmy Rollins reached on a two-base error by Strasburg to score the inning's second run.
But Burnett extended the Nationals lead in the fifth when he allowed a homer to Anthony Rendon to make it 5-2. Burnett allowed three more runs in the sixth to make it 8-2.
The homer to Rendon also bothered Burnett.
"For somebody who harps on shutout innings, I've been pretty [bad] at it," Burnett said. "Sorry about the language, but I have been. I will be better. Guys throw up runs, you have to put up zeros after that. That's how you stop it. That's how you get the momentum on your side, and that wasn't done."
John Mayberry Jr.'s pinch-hit home run made it 8-4, but it would not be enough. And to add insult to injury, a heavy rain caused a 1-hour, 48-minute rain delay in the middle of the seventh inning.
It has been a long five days for the Phillies. They have had one 14-inning game, one 11-inning game, one nine-run loss, one shutout loss and one loss that ended just before midnight because of rain.
"That's part of the game," Sandberg said. "We would have liked to scrap out a couple of wins in those extra-inning games. Other than that, that's a baseball season. That's not that abnormal."
Todd Zolecki is a reporter for MLB.com. This story was not subject to the approval of Major League Baseball or its clubs.