Asdrubal's HR walks off Tribe past Sox in 12 innings
Indians complete sweep of Boston, win ninth straight home game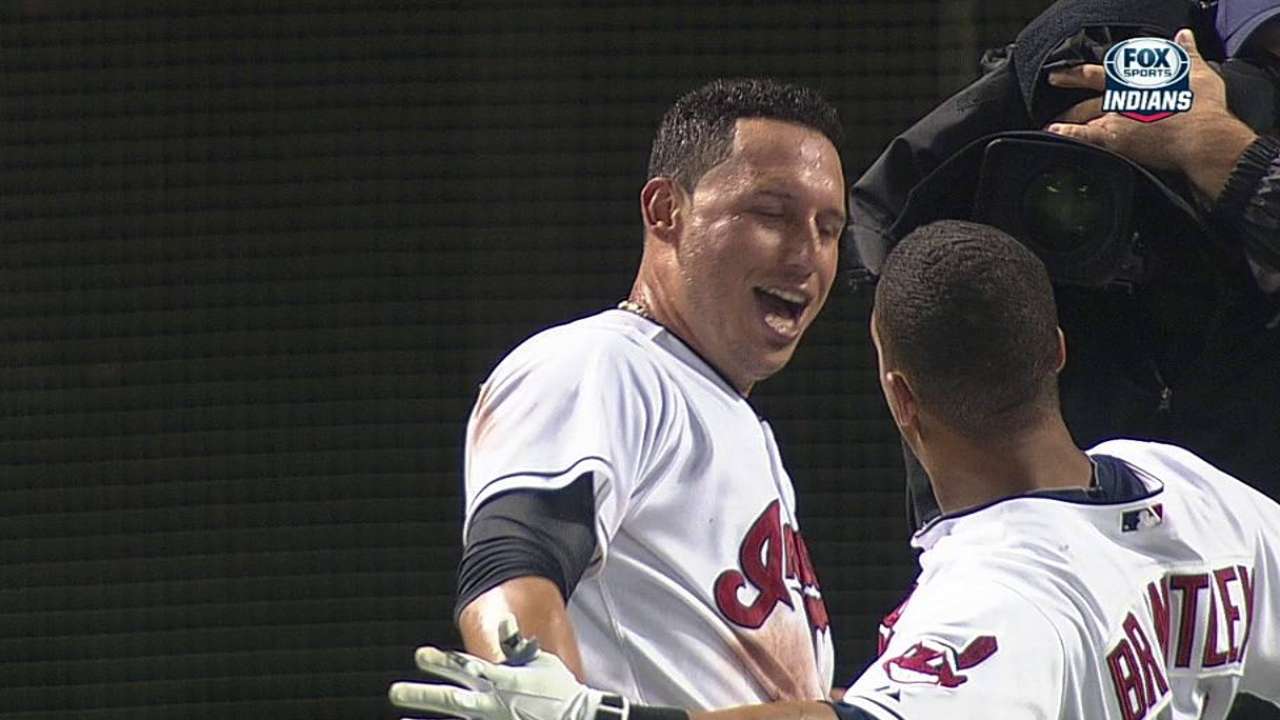 CLEVELAND -- After waiting six weeks to climb back to the break-even mark, it took the Indians two days and extra innings to finish the one game necessary to achieve that standing again. Cleveland more than earned its upcoming off-day given the way things finished.
What began on Wednesday night ended in the 12th inning at 2:02 a.m. ET Thursday morning, when Asdrubal Cabrera drilled a pitch from Red Sox reliever Edward Mujica over the wall in right for a walk-off, three-run home run in Cleveland's 7-4 win. Fireworks popped over Progressive Field and Cabrera was mobbed at the plate by a group of tired, but relieved teammates.
Was the win worth the wait?
"Oh my God, yeah. That was a long day for us," Cabrera said with a laugh. "It was really good to win a game like this."
The late finish was the result of a rain delay that postponed the first pitch for two hours and 28 minutes. With a steady rain falling, the teams weighed whether to make the scheduled tilt up in August or wait out the storm. Both the Indians and Red Sox had an off-day Thursday, but Boston had a daunting stretch of 20 straight games starting on Friday. Boston had the right not to play on the off-day.
Around 9 p.m., the rain began to lighten and the clubs saw their window. At 9:33 p.m., the first pitch from Indians starter Corey Kluber was thrown to Red Sox leadoff man Brock Holt.
"It was a hard call. We were going back and forth," Indians manager Terry Francona said. "I thought the communication was really good. I talked to the umpires and to [Red Sox manager John Farrell] and those guys over there. When we went out at 8:30, it wasn't really raining, so it was getting close to where you try to be fair to the fans and fair to the teams. It's a hard one."
The win was the sixth in a row for Cleveland (30-30), which last had a .500 record on April 24, when the team was 11-11. The victory also helped the Indians pull to within 3 1/2 games of the first-place Tigers in the American League Central, after the Tribe sat 10 1/2 games back of Detroit on May 18.
"I think that kind of falls into the taking-it-day-by-day line of thought," Kluber said. "I think if you start worrying about your record in May, you're kind of fighting an uphill battle. There's so much of the season left that, maybe if you kind of stay the course and continue to play good, you're capable of getting on a roll like we have this homestand, and things can turn out in your favor."
After his incredible showing in May, when Kluber posted a 2.09 ERA and struck out 60 batters in 43 innings, the right-hander endured his worst outing since April 19. That said, it was still a solid effort from Kluber, who logged 6 1/3 innings, struck out four and hit the showers after being charged with four runs on five hits with two walks and two hit batsmen.
"If that's him not at his best, that's pretty good," Francona said.
In the sixth inning, following a stretch of 16 consecutive batters with no hits allowed, Kluber flinched against Boston slugger David Ortiz. On an 0-2 count, the starter left a pitch over the middle of the plate and Ortiz made him pay, crushing the offering into the right-center-field seats for a two-run home run to put Cleveland down, 2-1.
The Indians fought back in the bottom of the sixth, when Cabrera drew a leadoff walk -- one that irked Red Sox catcher A.J. Pierzynski to the point of being ejected for arguing with home-plate umpire Quinn Wolcott. Michael Brantley (already with an RBI single off Boston starter Brandon Workman in the first inning) then came though with a base hit to left.
With three more left-handed hitters due up for Cleveland, the Red Sox handed the ball to lefty Chris Capuano. Jason Kipnis followed with an RBI base hit, Lonnie Chisenhall loaded the bases with a bunt single down the third-base line, and David Murphy pushed the Tribe to a 4-2 lead by pulling a pitch from Capuano into right-center for a two-run single.
Cleveland's two-run lead was short-lived.
Kluber was allowed to return to the mound for the seventh, but the right-hander walked Stephen Drew and then gave up a single to Daniel Nava. After a sacrifice bunt from Jackie Bradley Jr. moved both runners up a base, Boston's Brock Holt pulled the contest into a 4-4 deadlock with a two-run single to center field, ending Kluber's night.
"I wasn't as sharp as I had been," Kluber said. "With the exception of the home run and then that walk [in the seventh], for the most part, it was just not being able to quite finish guys off."
From there, the Indians and Red Sox traded zeros. Cleveland's bullpen held Boston's lineup to two hits between the eighth and 12th innings, while the Red Sox relievers yielded just one hit across the seventh and 11th frames. Combined, the clubs toiled through 14 pitchers before the game's early-morning conclusion.
Finally, with a small gathering of loyalists still in the stands, Mike Aviles reached on an infield single against Mujica. Michael Bourn followed by pulling a ball through the right side and into the outfield for a single, putting runners on the corners with one out for Cabrera.
After a brief mound visit by the Red Sox, Cabrera crushed Mujica's 0-1 changeup, sending the Indians to the win column.
"I know Mujica," Cabrera said. "I know what kind of pitcher he is and what he likes to throw. He threw what I was looking for, and I hit it pretty good. ... I think we're playing really good games right now. This week here at home, we won all six games. That's a good start for getting back [on track]."
Jordan Bastian is a reporter for MLB.com. Read his blog, Major League Bastian, and follow him on Twitter @MLBastian. This story was not subject to the approval of Major League Baseball or its clubs.