Early lead erased as Yankees' skid reaches four
Club unable to score after Ellsbury's three-run HR provides 4-0 edge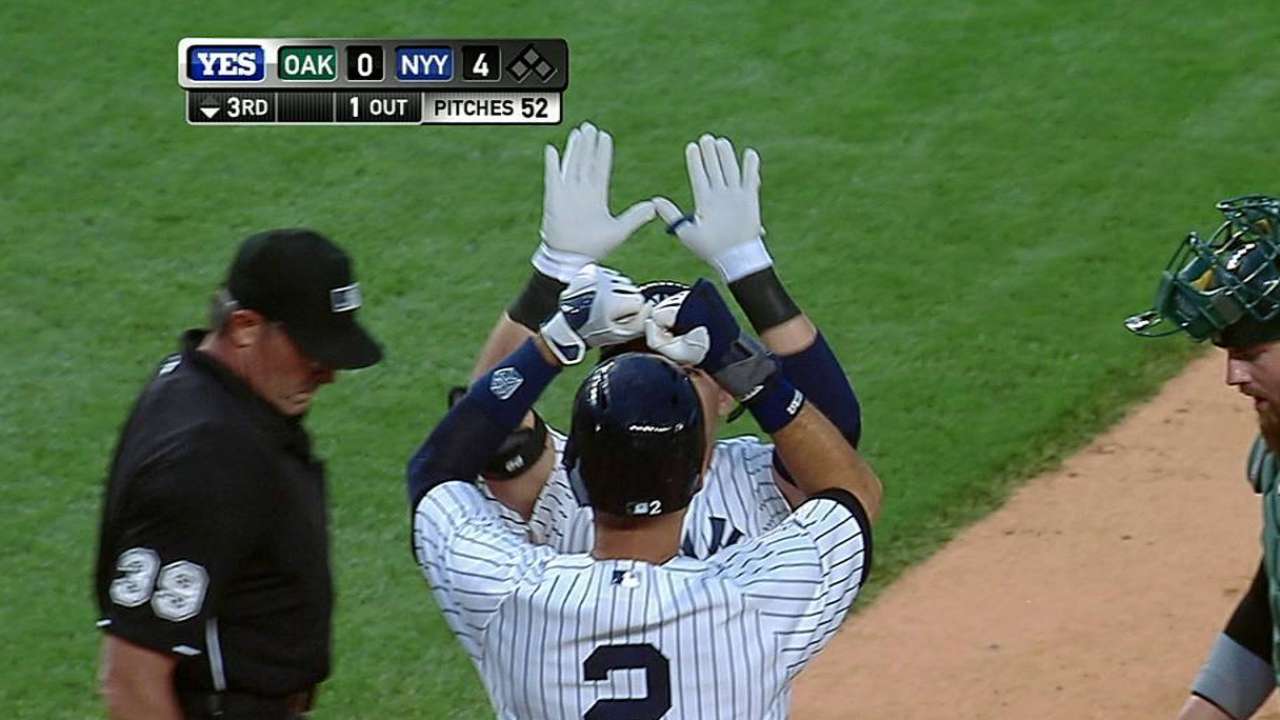 NEW YORK -- With the Yankees fighting to escape their offensive funk, a three-run homer seemed like a rare, exotic luxury. So as Jacoby Ellsbury's blast rattled around in the bullpen on Wednesday, his teammates seemed confident about the possibility of finally enjoying an easy night.
Alas, the third inning was far too early to celebrate that. The Yankees finished on the losing end for the fourth straight game, as Yoenis Cespedes homered twice and Josh Donaldson blasted a go-ahead shot in leading the Athletics to a 7-4 win over the Yankees on Wednesday at Yankee Stadium.
"I think we felt pretty good about it, but you know how this game goes -- you have to continue to tack on runs and just put pressure on them," Ellsbury said. "Unfortunately we didn't score any runs after that. Gosh, it seems like we've been close in these games, and that big hit maybe has eluded us."
Ellsbury's three-run homer was just one of three that the Yankees have enjoyed this season; Yangervis Solarte and Brian McCann can claim the others, and right now, they all feel like distant memories. The Yankees have lost three straight series and dropped back to .500 at 29-29, and will try to avoid a sweep on Thursday against the A's with ace Masahiro Tanaka taking the mound in a matinee game.
"When you're struggling as an offense, that's what happens," Yankees manager Joe Girardi said. "If you were getting big hits, you wouldn't be struggling. You're going to go through it, and we haven't hit the ball out of the ballpark much. It's hard to score a lot of runs when you don't do that."
The Athletics, winners of five straight, are enjoying the opposite trajectory. Donaldson cleared the left-field fence with a seventh-inning shot off rookie Jose Ramirez, who was making his big league debut after being promoted from Triple-A Scranton/Wilkes-Barre earlier in the day.
"This is my first time. I was a little bit nervous," Ramirez said through an interpreter.
Speaking of Ramirez, Girardi said, "The kid did OK." Girardi used Ramirez in that spot because he had intended to have Adam Warren serve as the closer for the night, with Dellin Betances and David Robertson both in need of a night off.
"It's a product of not having your bullpen set up the way you want," Girardi said.
A's starter Jesse Chavez scattered seven hits over six innings, walking two and striking out five. The Yankees weren't wowed by Chavez, but he hung in long enough to allow his lineup to catch up, and Oakland's bullpen did the job.
"When you get a chance to play the Yankees on a big stage in their ballpark, guys step up," said closer Sean Doolittle, who recorded his seventh save with a scoreless ninth. "They answered."
Donaldson's homer gave Oakland its first lead of the evening, as the A's chipped away at what was once a four-run lead by getting two runs off Vidal Nuno, who permitted six hits before departing at 92 pitches with two outs in the fifth.
"That's an attribute that a good team has," A's manager Bob Melvin said. "You get down here in this ballpark, you're down 4-0 early, and you haven't gotten too many good swings. But they know how to pass the baton here, move the line and get guys into position with guys on base so someone else can get a big hit."
Cespedes clobbered his first homer of the night to lead off the fourth, a shot that landed on the netting covering Monument Park in center field. Jed Lowrie flied out to the warning track in right field for a sac fly in the fifth, the final pitch Nuno threw.
"That cutter [to Cespedes], I didn't follow through where I wanted to, and he took advantage of it," Nuno said. "That was the damage right there."
In the sixth, Cespedes again led off with a homer, this time to right field off right-hander Matt Daley. Later in the inning, a Derek Jeter error allowed Derek Norris to reach base against Matt Thornton.
After a single and a walk, Norris came home on a sacrifice fly to the warning track in left field as Alberto Callaspo just missed a grand slam. Wade LeBlanc allowed two ninth-inning runs in his Yankees debut.
"The guys are doing everything they can, but right now we're just not getting it done," Girardi said.
The Yankees did all of their damage against Chavez in the third inning. Jeter legged out a run-scoring infield single that drove home Ichiro Suzuki with New York's first run. Ellsbury followed with his long ball as part of a three-hit night; a promising start to a night that ultimately brought an all-too-familiar finish.
"We still hit some balls hard, but it would be nice to still continue to tack on and continue to put more pressure on them and just give our pitchers a little more breathing room," Ellsbury said. "We had the lead, but it would be nice to go out there and just put one away."
Bryan Hoch is a reporter for MLB.com. Follow him on Twitter @bryanhoch and read his MLBlog, Bombers Beat. This story was not subject to the approval of Major League Baseball or its clubs.