Castro drives in three to carry Cubs over Mets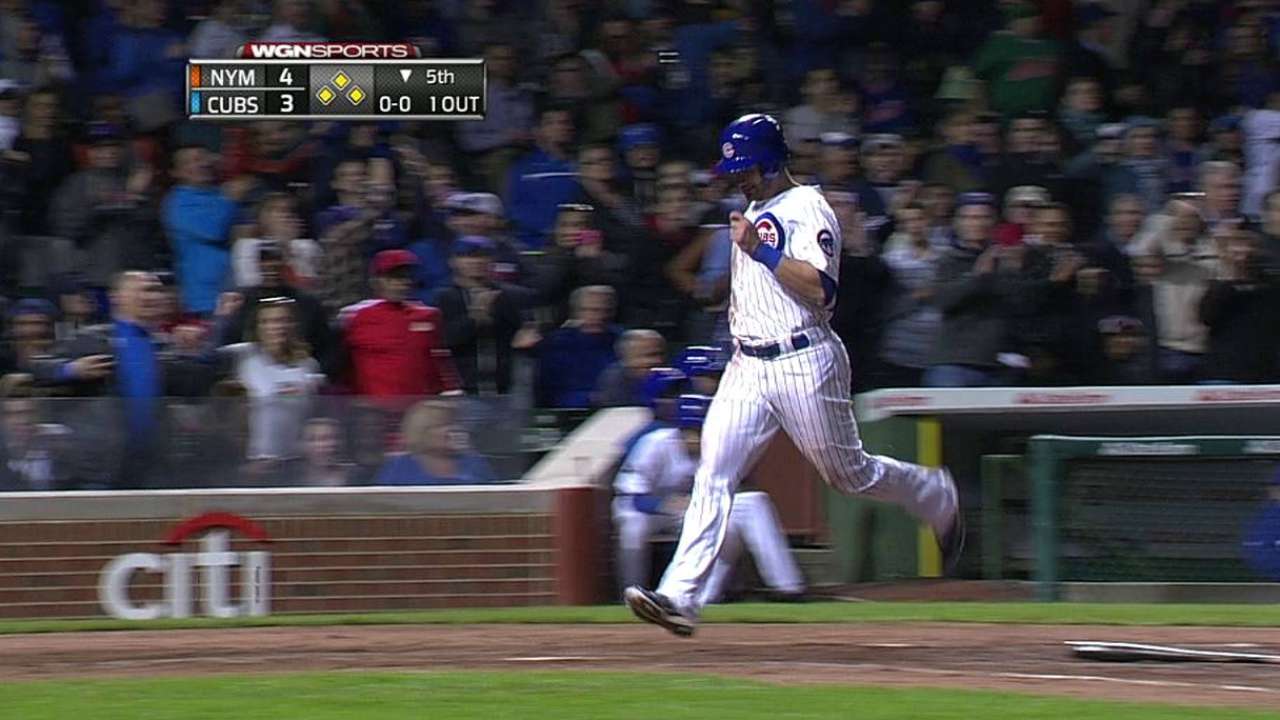 CHICAGO -- Starlin Castro was mad at himself for making an error in the first inning that led to three unearned runs, so he made up for it by driving in three himself.
Castro hit an RBI single in the first and a two-run single in the fifth to lift the Cubs to a 5-4, come-from-behind victory over the Mets on Wednesday night to clinch their second home series win of the season.
Edwin Jackson lasted long enough to pick up the win, but for the second straight game, a Cubs starter could not go deep because of a high pitch count. On Tuesday, Jake Arrieta threw 105 pitches over 4 2/3 innings. Jackson needed 110 pitches -- including 33 in the first -- to get through five innings. He walked five and gave up five hits while striking out four.
The right-hander did last longer than his manager, Rick Renteria, who was ejected with one out in the third for arguing a call with home-plate umpire Todd Tichenor. It's the fourth time Renteria has been tossed this season.
"I was just pointing out that I thought there were some good pitches," Renteria said.
New York had runners at first and third with two outs in the first when Bobby Abreu bounced a grounder up the middle that Castro swiped at but missed, allowing a run to score. Lucas Duda then hit a two-run double for a three-run lead.
"Nobody said everything was going to go perfect in games you throw," Jackson said. "You try not to think about them and try to keep the team close, and hopefully, they can come back and scrap together some runs and win, like we did tonight."
Said Renteria: "[Castro was] really upset he wasn't able to make the play on it, because he thought he should have made a play."
So Castro took matters into his hands.
"I just wanted to try to pick up my teammates," Castro said. "It's my fault that I made an error that scored three runs for Jackson. If I don't do it on defense, then I try to be aggressive at the plate and get those runs in for him."
The Cubs answered in their half of the first against Daisuke Matsuzaka. Justin Ruggiano doubled, Anthony Rizzo walked and Castro hit an RBI single. Nate Schierholtz then grounded out to Duda at first, and Rizzo scored to pull the Cubs within one.
Ruben Tejada made it 4-2 with his second home run of the season off a 2-0 pitch from Jackson with one out in the fourth.
Chicago had runners at first and second with one out in the fifth, and the Mets called on lefty Dana Eveland to face Rizzo, who singled to load the bases. Castro followed with a two-run single to tie the score. One out later, Chris Coghlan walked, and Eveland was pulled for Jeurys Familia. Rizzo scored on a wild pitch, Familia's second pitch, to put the Cubs ahead, 5-4.
Jackson was still the pitcher of record because he survived the Mets' fifth. The right-hander was at 86 pitches going into the inning when New York loaded the bases with two out, and Jackson got Anthony Recker to pop up to Rizzo and end the inning.
"As any hitting coach will tell you, in that situation the pressure's on the pitcher," Mets manager Terry Collins said of Recker's at-bat. "All you've got to do is have some patience at the plate. It sounds easy. It's not, obviously, because you want to do good and you want to be the guy that drives the runs in. But we've got to do a better job at that."
Jackson did not have a clean inning, and Carlos Villanueva started warming up.
"That was definitely a big inning," Jackson said of the fifth. "I was happy to have a chance to stay out there and finish it up. When the coaches have an opportunity to pull you out, and the guys in the bullpen are ready and they leave you out there, you feel like you owe it to the team, whatever the situation is, whatever the scenario is, to get through it. Fortunately, I was able to get through that."
Catcher John Baker felt that Jackson got sharper as the game progressed.
"I feel that Edwin is the kind of guy who, the more he throws inside of the game, the better he gets, especially on a day like today, when it's colder than it has been," Baker said. "He really did what [Arrieta] did yesterday -- made big pitches in big spots to get us out of the inning and give us a chance to win."
The Cubs' bullpen saved the day again, with Hector Rondon picking up his seventh save. Chicago's relievers now have a 1.70 ERA in their last 20 games.
"It's fallen into a balance," Renteria said of his relievers. "Right now, the way we've been using them, they've fallen into particular slots."
Carrie Muskat is a reporter for MLB.com. She writes a blog, Muskat Ramblings, and you can follow her on Twitter @CarrieMuskat. This story was not subject to the approval of Major League Baseball or its clubs.