Dominant Iwakuma leads Seattle to fifth straight win
Right-hander retires 12 straight at one point, boosted by few timely hits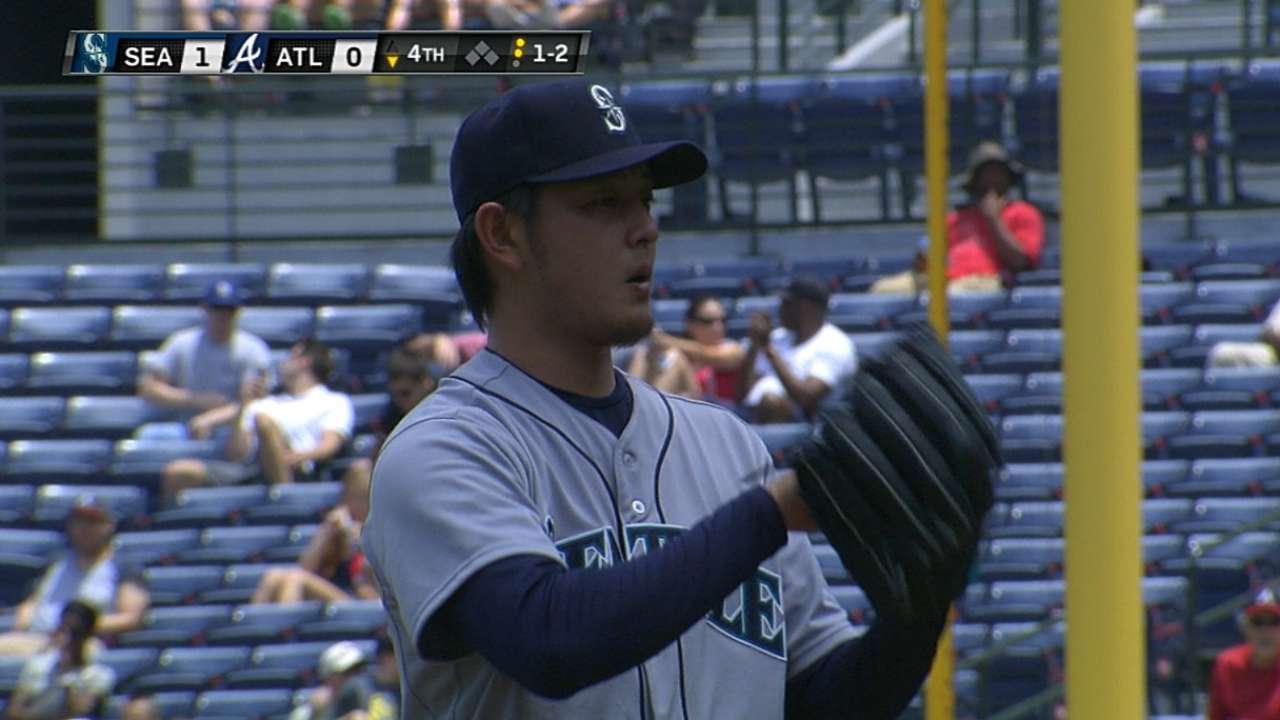 ATLANTA -- Mariners manager Lloyd McClendon knows he doesn't have a lot of big offensive guns at his disposal, but his club does have some high-powered arms, as was evident again in Wednesday's 2-0 victory over the Braves at Turner Field.
All-Star right-hander Hisashi Iwakuma threw seven shutout innings and the Mariners made it hold up for a 2-0 victory to sweep the two-game Interleague series and hike their win streak to five.
As for the offensive production? The Mariners got enough from unlikely sources once again, with left fielder Cole Gillespie and rookie right fielder Stefen Romero producing the timely hits, as Seattle improved to 31-28 overall and 3-0 on a seven-game road trip that concludes with a four-game series at Tampa Bay starting on Friday.
"Listen, we're not an ideal powerhouse," McClendon acknowledged. "We have to use our entire roster to do the best we can. We manage and our guys do a great job and go at it pretty good. We've got our BB gun. We dodge the bullets and shoot 'em between the eyes."
It helps to have a healthy Iwakuma now lined up alongside Felix Hernandez in the rotation, of course. With Iwakuma's win on Wednesday, the two aces are a combined 38-19 over the past two seasons, while the rest of Seattle's pitchers are 64-100.
On a muggy, mid-80s day, Iwakuma allowed six hits with no walks and seven strikeouts while throwing 96 pitches. The 34-year-old from Japan improved to 4-2 with a 2.66 ERA in seven starts after missing the first month of the season with a torn tendon in his right middle finger.
"I think my arm is starting to get better and better," Iwakuma said through translator Antony Suzuki. "I think the heat did help today, and this is my seventh start and it's starting to get a lot better. I was able to pitch low in the zone, and I felt I had more life low in the zone and was able to take advantage of some high four-seamers as well, so everything went well today."
The Braves, with only one starter -- B.J. Upton -- who had previously faced Iwakuma, barely knew what hit them. After allowing a couple of early singles, the right-hander zeroed in and retired 12 straight batters without a ball out of the infield before a leadoff base hit in the sixth.
Atlanta never advanced a runner past second after the second inning and recorded only one fly-ball out the entire day as Iwakuma kept the ball on the ground with his tough splitter.
"Usually it's sinker, slider from a right-handed guy," said Braves third baseman Chris Johnson. "But when he throws that split in there, it's [different]. He's a good pitcher, he didn't give us too much to work with today. I think that's what it's about. We just went up against a guy who is pretty darn good, and we weren't able to get anything going."
And that indeed is one of the Mariners secret weapons as they quietly go about piling up wins of late, with a 24-15 record since April 23.
"Iwakuma was just Iwakuma-esque," said Romero. "There's nothing more you can expect when Iwakuma gets on the mound than what he showed today."
The Mariners got another strong effort from their bullpen as well. Yoervis Medina replaced Iwakuma and threw a perfect eighth before Fernando Rodney came on for his second straight save and 16th on the season with a 1-2-3 ninth.
Seattle's relievers have thrown 15 straight scoreless innings, and the bullpen's 2.87 ERA is on pace to break the club record of 3.04 set in the 116-win season of 2001.
It's all added up to a nice run for a Mariners team that finds itself in the thick of the American League Wild Card race and has gone 22-17 against teams with winning records -- including the series sweep against an Atlanta squad that still leads the National League East at 31-27.
"I don't see why it can't [continue]," said catcher Mike Zunino. "We're feeling good as a team and have some confidence going. Guys are getting a good feel of what their roles may be, the bullpen is settling in and feeling good and we're still getting great starts from our starters. That's the key. We know pitching and defense are going to help us."
As for the offense, Gillespie continued his recent hot spell with a 2-for-4 day that included an RBI single in the fourth for the game's first run, while Romero tripled in the eighth to set up a run-scoring single by Kyle Seager that gave Iwakuma a two-run cushion.
Gillespie has gone 5-for-10 over his last three games to hike his batting average to .303 in 19 games since being called up from Triple-A Tacoma on April 24.
"I think there was a period where I wasn't getting in there that much, and sometimes that has to do with it," Gillespie said. "I'm getting a little more opportunity now and starting to get in a little bit of a rhythm here, not trying to do too much at the plate. But I know what I'm capable of doing, and I was just glad to be able to help out today and contribute to a win."
The former Oregon State standout drove in Robinson Cano in the fourth after Cano and Romero opened the frame with base hits. Batting cleanup for the first time in his career, Romero went 2-for-4, with both hits contributing to Seattle runs.
Cano went 1-for-5 and is now 5-for-13 in his first three games back after missing four days with a bruised left hand, putting his team-leading average at .330.
Greg Johns is a reporter for MLB.com. Follow him on Twitter @GregJohnsMLB as well as his Mariners Musings blog. This story was not subject to the approval of Major League Baseball or its clubs.