Minor fans 10, but Braves blanked by Mariners
Club's scoreless stretch at 16 innings; southpaw continues solid run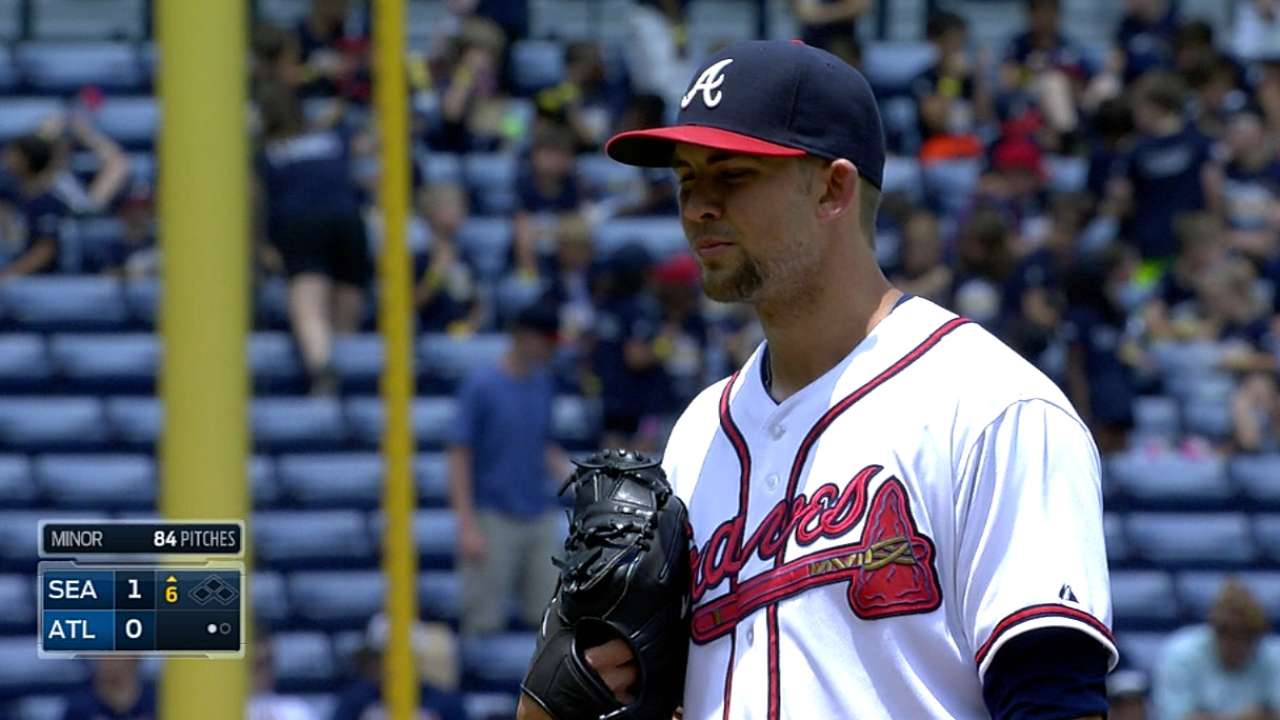 ATLANTA -- Instead of blowing yet another lead, the Braves once again proved they have the maddening ability to consistently help opposing pitchers halt their own struggles. Consequently, another of Mike Minor's impressive starts went to waste on Wednesday afternoon.
Minor was given no room for error as the Braves' offense proved lifeless against Hisashi Iwakuma in a 2-0 loss to the Mariners, who exited Turner Field with the satisfaction of taking both games of a brief two-game set that began inauspiciously for them.
"This is a team that shouldn't be shut out, because we're so talented offensively," Braves manager Fredi Gonzalez said. "You've just got to keep going. We haven't been able to put together a decent winning streak because our offense just kind of stumbles on us."
With their seventh shutout loss of the season, the Braves essentially killed all the momentum they had gained this past weekend, when they rebounded from four consecutive losses to the Red Sox to sweep a three-game road series against the Marlins. But it could also be argued that much of the energy created carried out of Miami evaporated on Tuesday night, when a four-run first-inning lead was squandered.
After tallying eight hits and five runs through the first two innings of the series opener, the Braves totaled eight hits and went scoreless over the final 16 frames vs. Seattle. The only out recorded by a Seattle outfielder on Wednesday came when Freddie Freeman opened the bottom of the ninth by flying out to deep left against Fernando Rodney.
"Good pitcher, [Iwakuma] didn't give us too much to work with today," Braves third baseman Chris Johnson said. "I think that's what it's about. We just went up against a guy who is pretty darn good, and we weren't able to get anything going."
This was the first time the Braves had faced Iwakuma, who used his sinker and split-finger fastball to notch seven strikeouts and 11 ground-ball outs during his seven innings. The Japanese right-hander had surrendered two home runs in each of his previous two starts. But he's now produced at least seven scoreless innings in three of his seven outings.
"I always feel like the pitcher has the advantage when you see him for the first time," Gonzalez said. "You can see all the videos and scouting reports you want. But until you face him, you don't really see what he has."
Minor notched a season-high 10 strikeouts -- his third career double-digit total -- and allowed just five hits over seven innings. But Cole Gillespie's two-out, fourth-inning single proved to be enough to doom the hard-luck Braves southpaw, who has earned just two wins despite allowing two earned runs or fewer in five of his first seven starts.
The Braves have scored fewer than two runs in four of Minor's starts. They also blew a two-run eighth-inning lead after he allowed one run in seven innings at Fenway Park last week.
"It's not a big deal for me," Minor said. "Maybe a few years ago, it would have been harder for me to pitch out there without a lead. But I just feel like it's me against the batter, and I'm trying to win each of those battles."
Minor cruised through the first two innings in perfect fashion and then pitched around Gillespie's leadoff single in the third. But he did not prove as fortunate when Robinson Cano and Stefen Romero began the fourth with consecutive singles. Cano scored the game's first run when Gillespie lined a two-out single to left field.
The Mariners added an eighth-inning insurance run when Romero tripled off Luis Avilan and scored when Kyle Seager followed with a single to right field.
"[Minor] threw pretty well," Romero said. "He was working both sides of the plate. His changeup had good depth and he was throwing low 90s, just spotting up when he needed to. Cole got that clutch hit, and that was a big run Seager drove in in the eighth."
The Braves got off to a promising start, as Jason Heyward and Justin Upton sandwiched singles around a pair of strikeouts in the first inning. But Iwakuma induced an Evan Gattis inning-ending groundout before retiring 12 consecutive batters after Johnson began the second inning with a single.
Heyward's leadoff single in the sixth provided the Braves with their first baserunner since the second. But Iwakuma escaped that potential threat unscathed and then got Johnson to ground into a double play after Gattis began the bottom of the seventh with a single.
"Usually it's sinker, slider from a right-handed guy, but when [Iwakuma] throws that split in there, it's [different]," Johnson said. "He's one of those guys where he's throwing 89-90 mph, but it's more like a 94-95-mph fastball. He keeps you so off balance."
Mark Bowman is a reporter for MLB.com. This story was not subject to the approval of Major League Baseball or its clubs.