Culberson's glove lands him Tuesday's start at third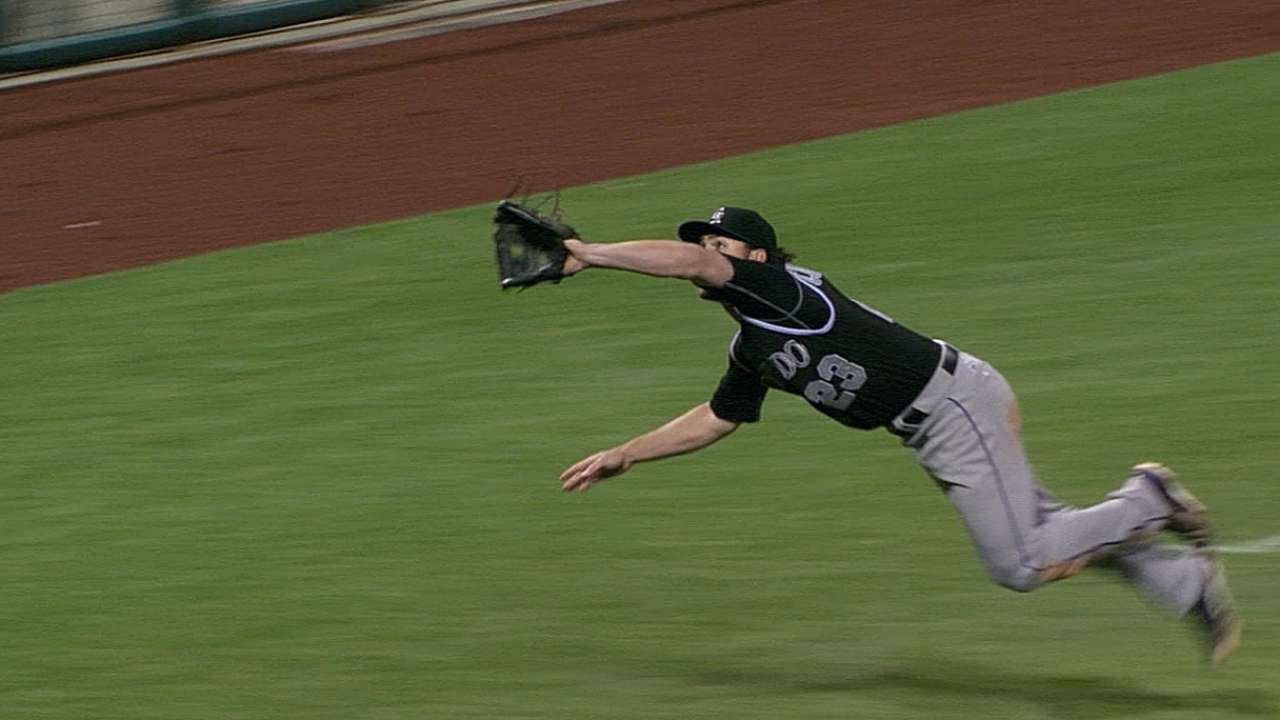 DENVER -- With the Rockies' strongest pitcher, lefty Jorge De La Rosa, starting Tuesday night against the D-backs in the opener of a 10-game homestand, manager Walt Weiss opted for the defense of Charlie Culberson at third base over the hot bat of Corey Dickerson.
Dickerson homered in the final two games at Cleveland and was one of few Rockies with decent offensive numbers on a 2-7 road trip -- .333 (6-for-18) with five walks, five runs, two homers, a double and three RBIs. He entered Tuesday's game in the top of the sixth, replacing injured outfielder Carlos Gonzalez.
But in Cleveland, the Rockies moved right fielder Michael Cuddyer to third base -- where the team is missing Nolan Arenado (broken left middle finger) possibly until late June -- for the final two games in an offense-oriented move. The Rockies are carrying six outfielders, including Dickerson, and Weiss could play five of them. Dickerson played designated hitter.
Cuddyer, who hadn't played the third since 2010, handled the job without incident. But Culberson is an infielder by trade, which could help De La Rosa. However, Culberson is hitting .185.
Weiss said the Cuddyer move was never meant to be permanent.
"It's something I'll mess around with a little bit; I'll mix and match," Weiss said. "'Cuddy' will get some time at third. I talked to him when Nolan went down, told him that was one of the options I was thinking about. It's not going to be every day but that will still be one of the options moving forward."
Dickerson (.341, seven homers, 16 RBIs in 37 games) believes he has a rhythm that he can maintain even if he doesn't start the occasional game.
"Those at-bats I got on the road trip, I got a good bit," Dickerson said. "I'm not at 100 at-bats [85 for the season] but I got a lot of solid at-bats in a row and I got to see a lot of pitches in Philly, walking some. I felt pretty good about it. That's just how it is right now. I feel I can play that role.
"I look at the future. I know I'll be an everyday guy sooner or later. Right now I'm just going to play my part and help this team win. The way I'm playing is pleasing to me. It's not whether I'm playing or not, it's picking up my teammates and dong the little things right."
Weiss said, "'Dickie' is gonna be in there, he's gonna get his at bats. There's going to be some different combinations, but 'Dickie' is going to get his at bats."
Culberson's has made some strong defensive plays but realizes he has to make offensive progress. He went 4-for-22 with eight strikeouts and one intentional walk in 23 plate appearances during the road trip.
"Striking out is never fun," Culberson said. "You're in the big leagues. You're going to face good arms. It's kind of coming down to swinging at good pitches, swinging at balls in the zone and trying not to do too much."
Thomas Harding is a reporter for MLB.com. Follow him on Twitter @harding_at_mlb. This story was not subject to the approval of Major League Baseball or its clubs.