Reds keep offense rolling in victory over Giants
Mesoraco homers; Hamilton provides spark with two stolen bases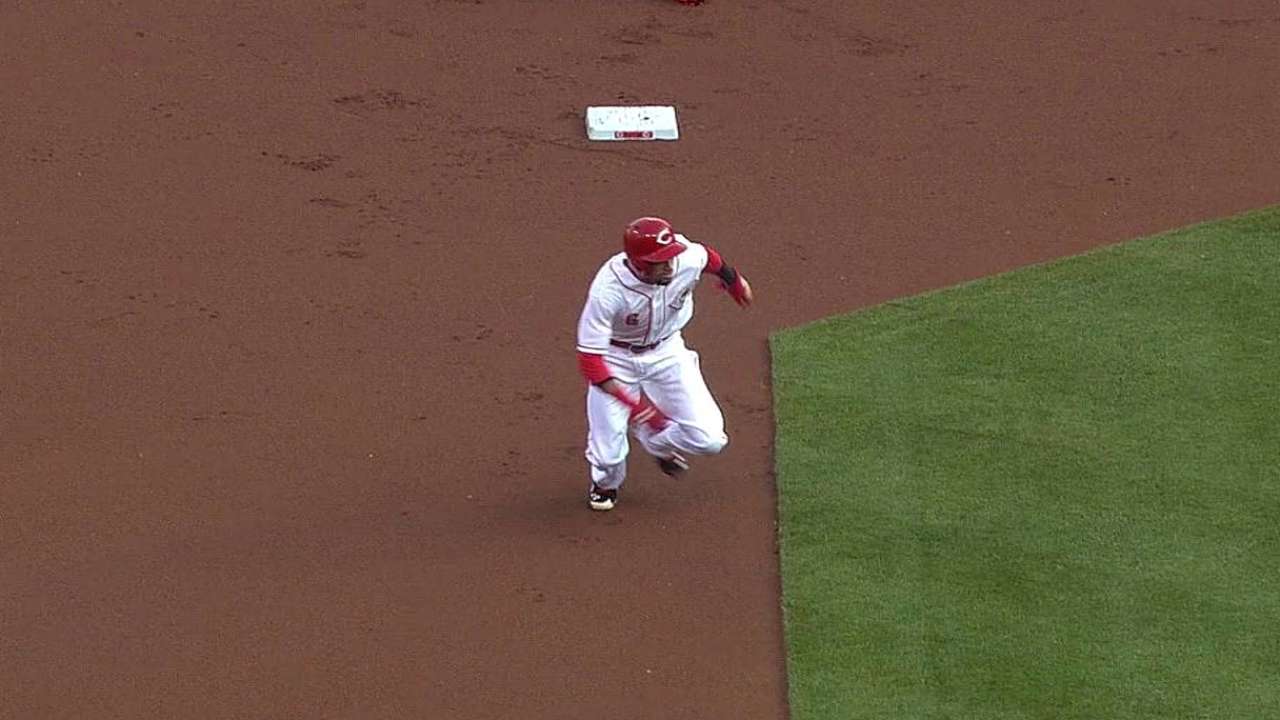 CINCINNATI -- The Reds have had a search party out all season to find tangible momentum. After winning the final three games of a four-game series at Arizona, the best litmus test yet was perhaps Tuesday against the Giants.
In an 8-3 victory for a season-high four-game winning streak, the Reds showed some offensive muscle once again. Since a six-game stretch -- with five losses -- where they couldn't score more than three runs in a game, they've scored four or more in each win of the current streak.
"I feel like the path we're on, everybody is coming together," said Reds center fielder Billy Hamilton, who was 2-for-5 with two steals and two runs scored. "We're starting to get everything going. I've said if we can get everybody healthy, I feel like we're going to do some great things."
This victory over San Francisco -- which arrived to Great American Ball Park with the best record in baseball -- came via a pair of four-run innings as Cincinnati scored four in both the first and fifth innings.
"It was a big team win for us. These guys came in really hot," Reds starter Homer Bailey said. "They've got a great record. For us to win four straight was big. The offense kept it up the whole entire game. They definitely gave me a lot of support early."
Bailey was indeed the latest beneficiary of the offensive surge as he allowed three earned runs and five hits over six innings for his third straight victory with one walk and seven strikeouts. Following a bad beginning to his season, Bailey has quality starts in seven of his last nine outings.
The last time Bailey faced the Giants and Tim Lincecum on July 2, he threw a no-hitter. Lincecum would throw his own no-hitter almost two weeks later at San Diego and actually threw five hitless innings in his last start vs. the Cubs before exiting with a blister.
On Tuesday, the no-hitter option was taken off the table quickly. Bailey's second batter of the game, Hunter Pence, reached high for an 0-1 fastball and pulled a home run into the left-field seats for a 1-0 Giants lead.
"I don't know how Hunter hit that ball. It was kind of at his neck," Bailey said.
In the Reds' first inning, Hamilton led off with a double to left field. As Hamilton broke to steal third base, Lincecum fired a pickoff throw into center field that allowed Hamilton to score on the error.
"When you have speed, it makes people do that," Hamilton said. "I knew if I could do one move and make him get the ball out of his hands, it'd be good. He ended up making a bad throw. That's what speed does. I'm glad God gave me the talent to have speed. ... It's fun being fast."
Following a Todd Frazier walk, Jay Bruce's one-out double to right field gave him the 500th RBI of his career. Devin Mesoraco hit a 1-0 pitch to left field for a two-run homer and 4-1 Reds lead.
"That was exciting. It was a big inning to take the wind out of the other team's sails and take the momentum," Mesoraco said.
San Francisco added a run in the second inning on a Joaquin Arias sacrifice fly. It became a one-run game in the third when Bailey issued a walk and a double before a Pablo Sandoval sacrifice fly. But Bailey kept the Giants at arm's length from there and retired 12 of his final 14 batters.
Lincecum retired nine in a row after Mesoraco's homer but was knocked out when the Reds jumped him in the fifth as nine came to the plate. Once again, Hamilton was the catalyst with an infield single to the shortstop. He stole second base and took third on catcher Hector Sanchez's throwing error. Following a Frazier walk, Brandon Phillips lined a two-run double down the left-field line. Bruce added an RBI single to center field, and he later scored on Brayan Pena's fielder's-choice grounder by beating the throw from Arias at second base.
"It's just great to see," Reds manager Bryan Price said. "The Pence homer to get things going for the Giants in the top of the first, and then to come back with our own inning was just absolutely huge for us and to give Homer some breathing room. Give the Giants credit for coming back and really putting the heat on us until we were able to create that separation with that second four-run inning. But yeah, that was really good to see some productive at-bats, guys taking advantage of some elevation pitches, and two four-run innings usually win you a ballgame."
Mark Sheldon is a reporter for MLB.com. Read his blog, Mark My Word, and follow him on Twitter @m_sheldon. This story was not subject to the approval of Major League Baseball or its clubs.