Offense struggling to keep up production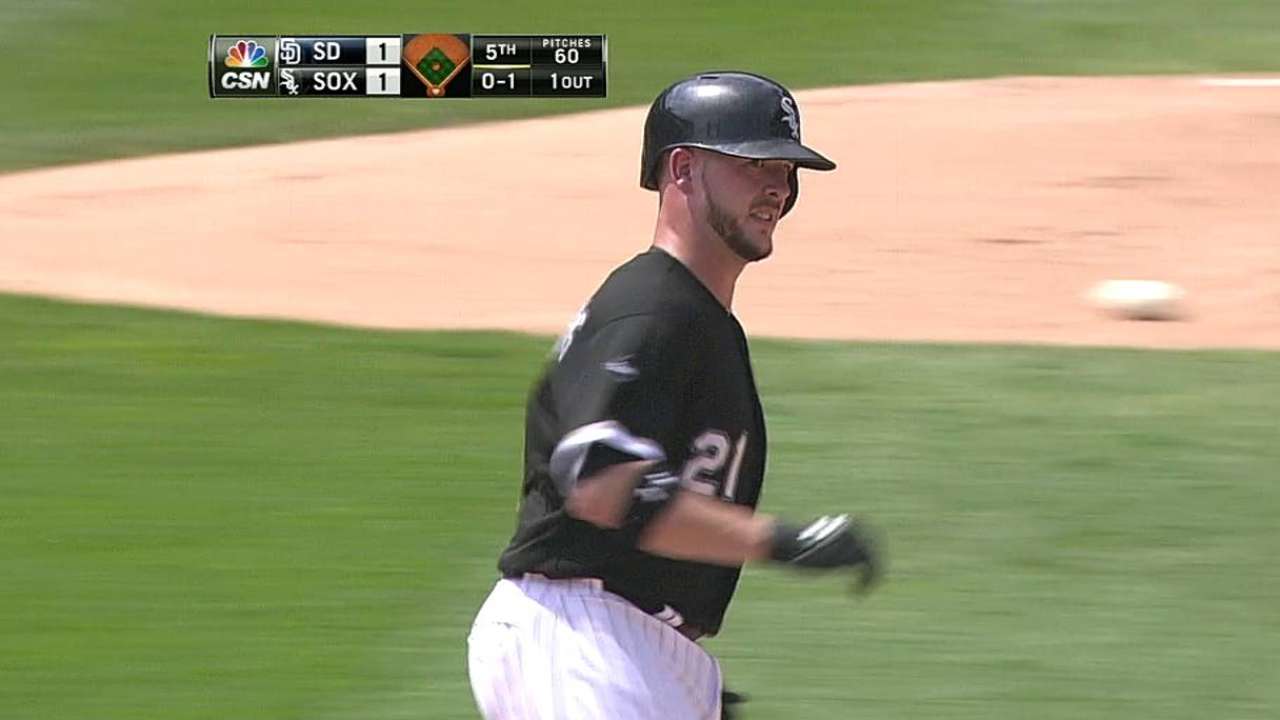 LOS ANGELES -- The White Sox offense, a one-time Major League leader in runs scored this season, has hit a collective rut.
Over the previous eight games, the team batted .206 with 21 runs scored. And some of the individual numbers entering Tuesday's contest at Dodger Stadium are a bit more startling.
Gordon Beckham was 3-for-16 in his last four games following a nine-game hitting streak. Alejandro De Aza was 5-for-51 over his last 20 games without a multi-hit effort. Adam Dunn featured a .180 average over his last 17 games, despite producing 11 RBIs and 16 walks.
Adam Eaton, the sparkplug at the top of the lineup, was 3-for-32 in his previous eight, while Tyler Flowers was 2-for-22 with one homer and one RBI in his last seven. Just as good hitting can become contagious, apparently so can offensive struggles.
"It's just a tough stretch right now and just probably a test for the group to stick with our gameplans," said Flowers, who mentioned the hitting in tough luck factor as part of the reason for the trouble. "Sometimes all it takes is a bloop here or a blast here and then all of a sudden that contagiousness carries on."
"That's just part of the game," said White Sox manager Robin Ventura of the team's slump. "The most difficult parts of the game is being able to keep your head, keep playing. You have to have thick skin. Offensively, you go through ruts and you have to ride it out."
Flowers, who homered in Tuesday's 4-1 victory, pointed to the Red Sox recent fall and more recent surge as an example of not getting too high with the highs or low with the lows. Ventura called that assessment words to live by, and pointed to the overall quality of at-bats being extremely important until the hits return.
Injuries involving Avisail Garcia, who is out for the entire season, and Jose Abreu, who was lost for two weeks, not to mention disabled list stints for Eaton and Conor Gillaspie, also disrupt the flow of this group.
"You lose some guys and it changes," Ventura said. "The season is so long that you go through ruts like most lineups do. When you start missing guys, one guy that would pick it up isn't really there to pick it up. It's not fun to go through, but every lineup goes through these little spurts that are less potent than your lineup is at other times."
Scott Merkin is a reporter for MLB.com. Read his blog, Merk's Works, and follow him on Twitter @scottmerkin. Teddy Cahill is a reporter for MLB.com. Follow him on Twitter at @tedcahill. This story was not subject to the approval of Major League Baseball or its clubs.