Homers by Willingham, Dozier lift Deduno
Moon shots account for five of Twins' runs, erase early deficit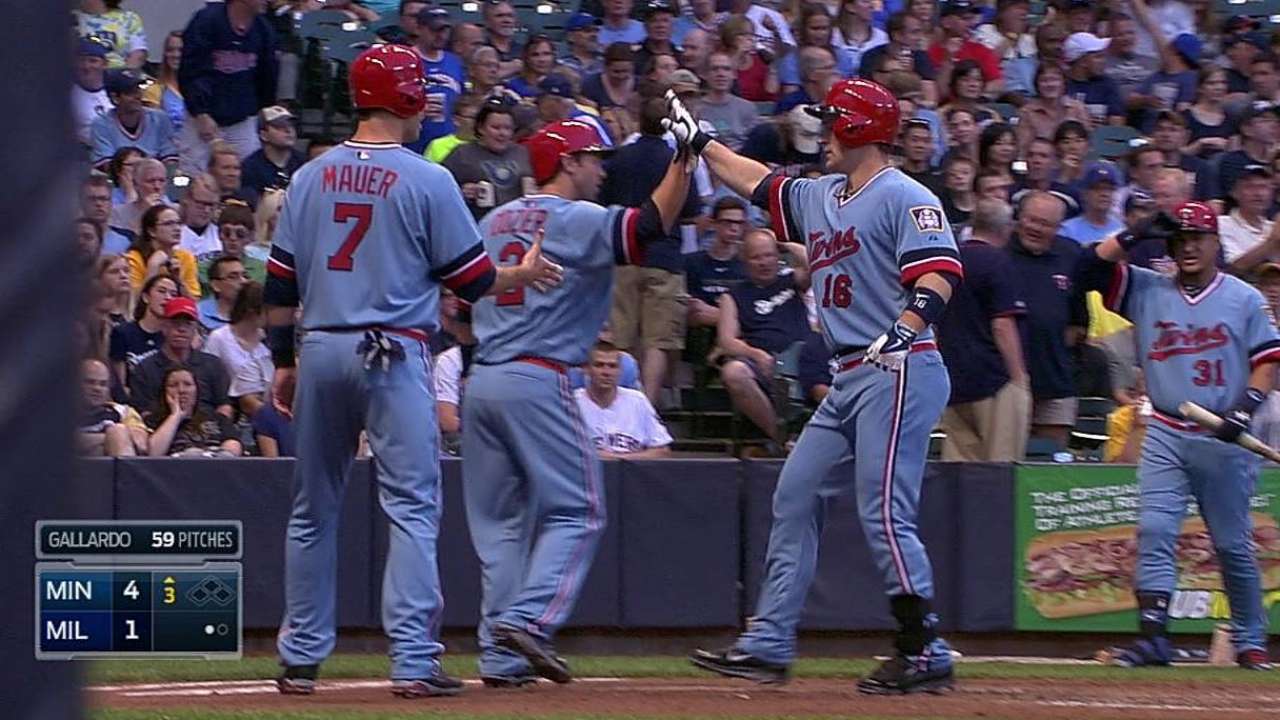 MILWAUKEE -- Minneapolis staple Prince charted some of the biggest songs of 1984, the year recognized by the Minnesota Twins when they wore retro uniforms Tuesday against the Brewers at Miller Park. It was as good a time as any for the Twins to provide some big hits of their own.
Backed by home runs from red-hot Josh Willingham and Brian Dozier, the Twins left Milwaukee with a 6-4 victory to split the first two games of a four-game, multi-city series with their National League neighbors to the east. The Brewers scored once in the eighth and made things interesting with another run in the ninth before Glen Perkins locked down his 15th save.
Willingham, who hit only .185 in an eight-game rehab assignment prior to his return May 26, came into the contest with a .500 on-base percentage and .320 average in eight big league games since his return. Now he has four home runs in six games and is on a seven-game hitting streak.
"There were spurts [last year] when I felt this good," Willingham said. "Hopefully I can keep being consistent; that's the goal."
Willingham, who said the output in his rehab start was reflective of a player just trying to get back in the groove of swinging a bat, hit his seventh career home run at Miller Park.
"I've always liked hitting here," he said.
Willingham was plunked by Cleveland starter Justin Masterson in the first inning of an April 6 game, and though initial scans didn't reveal a substantial injury, additional tests revealed a hairline fracture in his left wrist.
"This was more on the bone than deep in the wrist," Twins manager Ron Gardenhire said. "I don't think it hindered his ability to swing; it was just sore to the touch, and when he puts the bat head there, the handle goes right on the spot. That's why it took him so long. You have to let a fracture heal. But I don't think it had so much to do with [his swing]. I think it was just getting that point soreness out of there, and he's gotten that done. Luckily, his swing is still the same."
Willingham wasn't alone in the hit parade Tuesday. Brian Dozier delivered a two-run homer in the fifth against Brewers starter Yovani Gallardo to give his team a 6-2 lead.
"You know how baseball is; it has ups and downs, and he hit a little down spot, and the last couple nights, he's been seeing the ball really well," Willingham said of Dozier. "He was putting good swings on the ball when he was going bad, too."
Dozier's blast came soon after Twins starter Samuel Deduno wriggled out of a jam in the fourth. Four straight Brewers reached with one out, plating a run and loading the bases for Gallardo, who had hit a walk-off, pinch-hit double in the 10th inning last week and has 12 career home runs. But Gallardo grounded weakly into a 6-4-3 double play on a 2-0 pitch to extinguish the threat.
Deduno allowed two runs on six hits in five innings, with four walks and two strikeouts. Three double plays paid huge dividends, ending the inning on each occasion, and all coming on hitter's counts.
"I walked a couple guys, and then I made a pretty good pitch," Deduno said. "Today the fastball was a little bit crazy. The sinker was pretty good."
Even still, two of the double plays resulted from fastballs, and the third on a slider against fleet-footed cleanup hitter Carlos Gomez in the fifth.
"We had chances," Brewers manager Ron Roenicke said. "Three double plays -- two definitely hurt us. We had chances to put some runs on the board and still be in the ballgame. We had enough chances to be ahead in the ballgame. We've been doing a pretty good job offensively, so that is going to happen."
Gallardo acknowledged he would not have swung if given another chance.
"If anything, I'd rather let Siggy [Jean Segura] come up in that situation, but at that point in the ballgame, you're trying to help yourself out. Anything other than that ground ball would have obviously helped."
Perkins, who had not allowed an earned run in six appearances and eight of nine, walked the first two batters he faced and immediately brought the tying run to the plate in the ninth inning of a 6-3 game. But he buckled down against the teeth of the Brewers' offense, starting with a weak ground ball from pinch-hitter Jonathan Lucroy and followed by a sacrifice fly to the warning track from Ryan Braun and a game-ending strikeout of Gomez.
"We seemed to walk the leadoff guy every inning, and Sammy kind of battled through five hard innings," Gardenhire said. "It seemed like everyone came in and walked the first guy but got out of it with limited damage. A win's a win here. That's a tough team there, and we knew it was going to end up with the top of the order in the ninth inning -- you just knew it was going to happen, and it did. We fortunately made enough pitches to get through it."
Milwaukee had scored first, on Braun's RBI groundout in the opening inning, but the Twins answered in the second. Trevor Plouffe appeared to be picked off second base on a throw from catcher Martin Maldonado, but second baseman Scooter Gennett dropped the ball, and Plouffe advanced to third before scoring on Josmil Pinto's single.
JR Radcliffe is a contributor to MLB.com. This story was not subject to the approval of Major League Baseball or its clubs.