Alvarez stifles Rays in MLB-leading third shutout
Fish righty shakes off elbow concerns, extends streak to 21 scoreless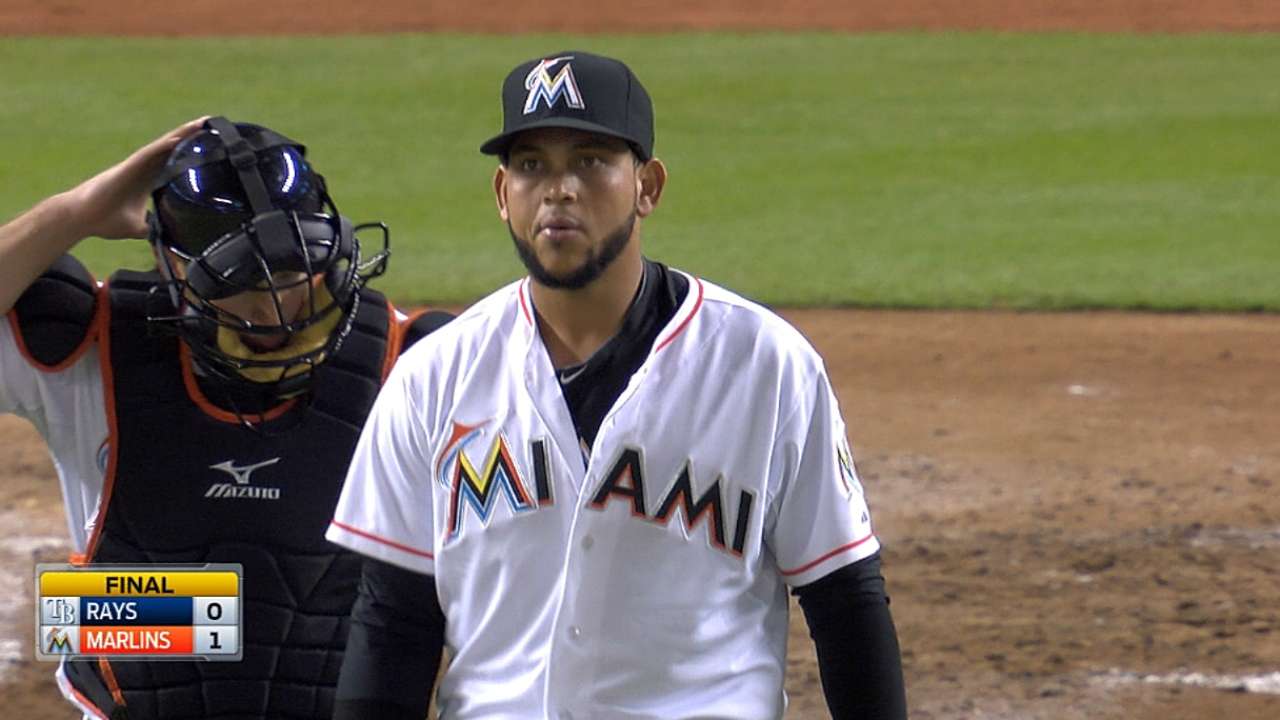 MIAMI -- Henderson Alvarez put any lingering concern about his right elbow to rest as he went the distance in the Marlins' 1-0 win over the Rays on Tuesday night at Marlins Park.
Alvarez threw 88 pitches (58 for strikes) in his Major League-leading third shutout of the season, allowing eight hits over his nine innings. The righty joined Cincinnati's Johnny Cueto as the MLB leader in complete games this year. Alvarez threw his third consecutive complete game against an Interleague opponent, dating back to last year's season-ending no-hitter against the Tigers.
In his last start, Alvarez exited after five innings at Washington with right elbow stiffness. He was pushed back a day, and the extra rest proved beneficial as he extended his scoreless innings streak to a career high of 21.
And one of the best parts about the whole game, manager Mike Redmond said, was keeping the bullpen out of it. The Marlins' relief corps has pitched in 167 2/3 innings over 58 games this season.
"That's big. Any time you can keep your bullpen off the mound is a big thing," Redmond said. "Alvarez coming out, doing what he did, and us being able to scratch across a run for him was big."
Alvarez's ability to control the pace of the game was key, especially since the Marlins couldn't muster more than one run. He threw 49 pitches in the first four innings.
By then, it didn't look like either of the teams would score for a while. Rays starter Chris Archer took the loss, but he only gave up one run on five hits in seven innings.
"Early on you could tell that was going to be a close game, the way Henderson was pounding the strike zone and Archer, wow, he's got good stuff," Redmond said. "That was the first time I've seen him pitch. I like the way he was going about it."
It took five innings before the game's lone run got on the board. Alvarez helped his own cause by loading the bases on a shallow single to center field, but it was Christian Yelich (0-for-2, two walks) who put Miami ahead with an RBI free pass from Archer.
Alvarez was able to bounce back from the discomfort he felt Wednesday, but he hadn't been convinced he could.
"The next day I was a bit nervous with the discomfort in my elbow," Alvarez said. "I wasn't sure if I could throw hard. Thankfully, throwing the bullpen [session] didn't bother me. And today I was fine."
Though the Rays led off three different innings with hits, Alvarez was able to get himself out of trouble each time. He forced batters to swing early, attacking the zone with a fastball that was steadily clocked at 95 mph.
Alvarez induced three double plays, one of which he turned himself in the seventh inning when Matt Joyce hit the ball back to the mound.
The Marlins benefited from a close call in the fifth inning. After hitting a single with one out, Yunel Escobar tried to steal second when the ball came back to the infield to Alvarez. The righty was alerted and threw just in time to get Escobar at second. Escobar threw his arms out, convinced he was safe, but umpires ruled that the call stands after a challenge from Rays manager Joe Maddon.
"That was a big play. It looked close," Redmond said. "I was a little surprised nobody called a timeout. [Second baseman Ed] Lucas did a good job getting over there. It ended up being a big play for us."
Alvarez didn't even notice Escobar was running.
"It took us all by surprise," he said. "All I heard were the screams from [catcher Jeff] Mathis, and that's when I noticed and threw the ball. I didn't throw sooner because there was no one on second base. Once Lucas got over there, I made the throw."
Tying up the Rays in the zone helped Alvarez keep his innings short. It also helped him eclipse Miami's record for fewest pitches ever thrown in a complete-game shutout, one that he set in his 7-0 home win on April 19 against Seattle.
"When batters swing early, they cut down on your pitching," Alvarez said. "They attacked the zone fast and I did too. I dominated early. I wish I could throw fewer [pitches], but you can't do that."
Alvarez recorded three quick outs in the first inning, but it looked like he deflected the last one off his pitching hand. The righty seemed unaffected, as he came back for the second inning and maxed out at 96 mph. The two hits Tampa Bay registered in the inning were hit so sharply that shortstop Adeiny Hechavarria was unable to put a glove on either. Alvarez retired the next three batters on a strikeout and a double play.
The Marlins are now 22-11 at home.
Maria Torres is an associate reporter for MLB.com. This story was not subject to the approval of Major League Baseball or its clubs.