Francona trying to monitor relievers' usage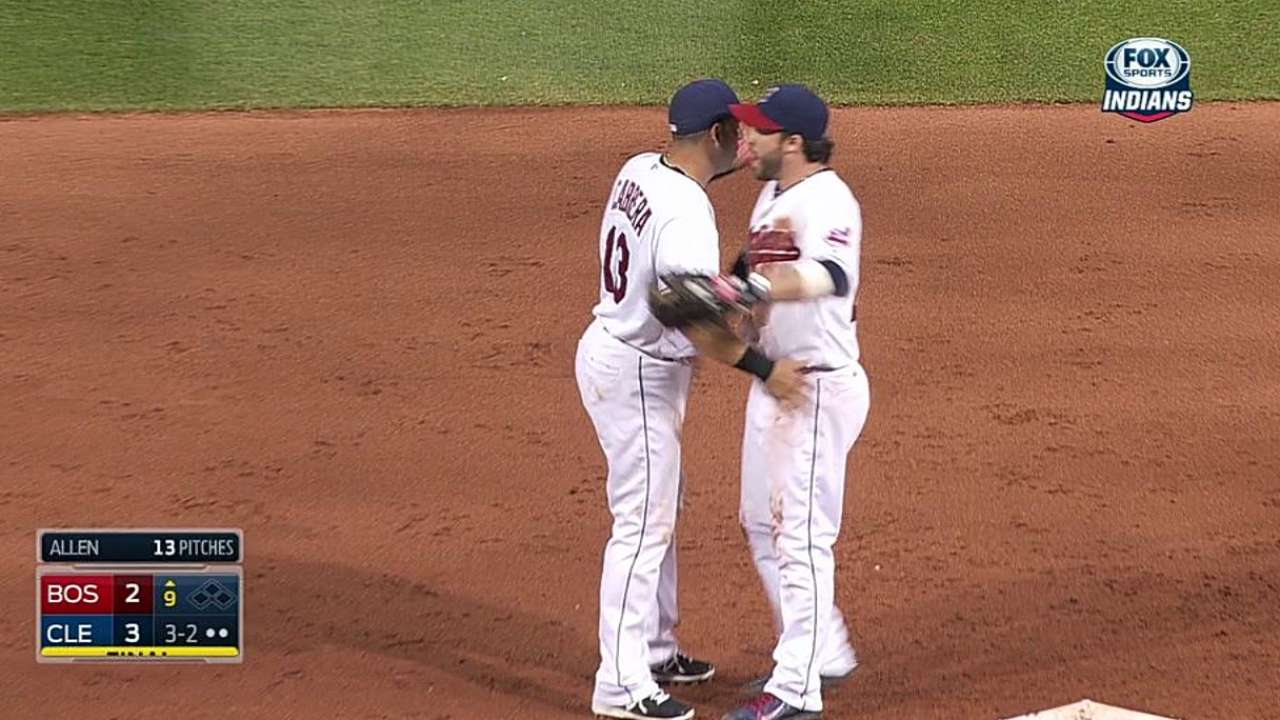 CLEVELAND -- The Tribe has gotten extensive use out of several relievers this season, but it's a trend manager Terry Francona would like to curb in the coming weeks.
"I don't ever have a goal of wanting our guys to lead the league in appearances," Francona said Tuesday. "And we're right there, so that's not something I'm hoping for."
Entering Tuesday's action, Cleveland's Bryan Shaw and Marc Rzepczynski were tied with two others for the most relief appearances (30) this season in the Majors. Cody Allen fell just behind those two at 29 outings. For Shaw, who allowed a pair of runs in Monday night's win over the Red Sox, his 28 1/3 innings ranked 13th-highest among American League relievers.
Before Monday's outing, Shaw had thrown 47 pitches combined in the previous two games.
"I told Shaw when he came out of the game [Monday] night," Francona said, "I grabbed him and I said, 'Those are my earned runs.'"
It would be one thing, however, if the relievers had struggled while juggling such heavy workloads. As of Monday, the bullpen's 3.19 ERA ranks ninth-best in the Majors. The team's relievers have also combined for 181 strikeouts, the second-best mark in the AL.
"I think we've shown we have a pretty good staff," said reliever Scott Atchison, who has a 2.49 ERA and 18 strikeouts in 22 appearances. "The strikeouts happen. I don't think anybody worries about them out there. You see that's why we maybe get some. Obviously, we have some guys with some really good stuff and everybody's throwing the ball well from the starters to relievers. Everybody's doing well. That's key. I think we're just kind of feeding off each other right now."
Even so, Francona wants to ensure he's not working any of his relievers to such an extent that it endangers their chances at long-term success.
"It's something that I get a lot of anxiety over," Cleveland's skipper said. "It's not just the fact of winning. It's, you're trying to balance winning, a long year and their careers. And the last one, I probably care [the most about]. I have a responsibility. I want to see Cody, Shaw, I want to see them all break the bank."
Alec Shirkey is an associate reporter for MLB.com. This story was not subject to the approval of Major League Baseball or its clubs.