'Pen can't close it out after Wheeler's strong start
Righty throws scoreless ball, but missed chances by bats burn Mets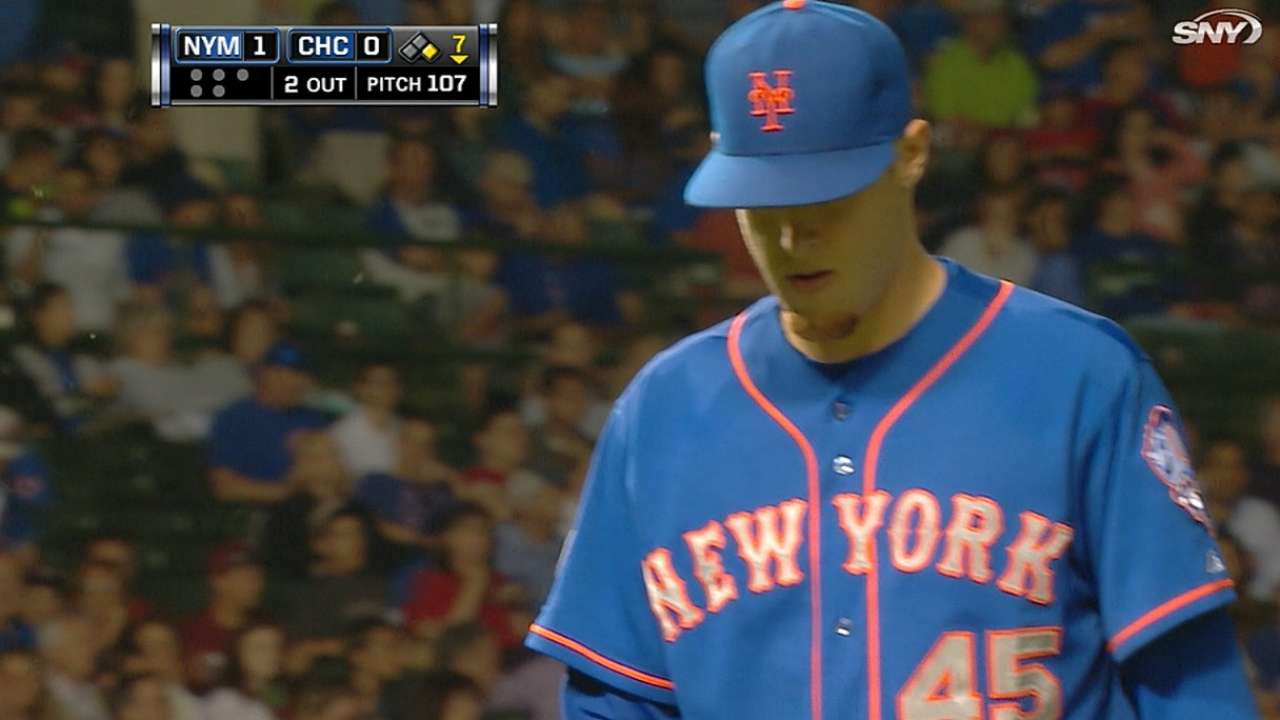 CHICAGO -- It was a familiar chorus that echoed throughout the cramped visitors' clubhouse late Tuesday night at Wrigley Field. Had the Mets just rapped out one measly hit with runners in scoring position, found one little patch of outfield grass, they would not have had to lament the series of small mistakes that cost them this game.
Yet that hit never came. After their first batter of the night singled, stole second and scored, the Mets never touched home plate again. And so Zack Wheeler's fine outing went to waste in a 2-1 walk-off loss to the Cubs, snapping New York's three-game winning streak.
"We gave this away," third baseman David Wright said.
Wright blamed himself, though his night at the plate was not the issue. Instead, it was Wright's inability to handle Starlin Castro's ground ball in the ninth inning, which allowed Chicago's winning rally to develop against Scott Rice. With a man on first and no outs, Castro hit a hard grounder to third, where Wright bobbled it just enough to make cutting down the lead runner at second base impossible. Instead, he took the sure out at first on what could have been a routine double play.
"It was one of those ones where you're thinking two right off the bat," Wright said. "Then it bounced a little higher than I thought and kind of caught me in the heel of the glove, and that was that."
Two batters later, Nate Schierholtz ripped a walk-off single into the right-field corner, ending the Mets' night of frustration.
"In that situation, you just want to put the ball in play," Schierholtz said. "Anything can happen. I wasn't sure where the right fielder was playing, and it didn't hit me until I was rounding first."
By that point, Schierholtz's Cubs teammates were already streaming out of the dugout to congratulate him. All the Cubs needed was one clutch hit, because the Mets let them stick around despite thoroughly outplaying them for the first seven innings.
Wheeler was that dominant, blanking the Cubs for 6 2/3 innings to deliver his third consecutive quality start. Over that 19 2/3-inning stretch, Wheeler owns a 1.37 ERA with 23 strikeouts and three walks.
Coming off his best outing of the year against the Phillies, Wheeler simply transferred his untouchable ways from South Philadelphia to Chicago's North Side. He retired the first five batters he faced, eight of the first nine, 12 of 14 and 19 of 22. Seven of those were strikeouts, with two walks and two hits -- both of them Schierholtz singles -- mixed in.
Wheeler's night finally came to an end when he walked Luis Valbuena with two outs in the seventh inning and Schierholtz lurking on deck. In a one-run game, manager Terry Collins called on Josh Edgin to retire Wheeler's nemesis, which the lefty specialist did without issue. But when Edgin came back out for the eighth, he promptly served up a game-tying homer to leadoff man Chris Coghlan.
"It's obviously frustrating when you lose the game," Wheeler said. "I can only do what I can do."
Coghlan's home run would not have been an issue had the Mets avoided the frustrating brand of offense that they have specialized in this season, putting plenty of runners on base but driving precious few of them home. After the first batter of the game, Matt den Dekker, singled, stole a base and scored against Cubs starter Jake Arrieta, the Mets posted eight consecutive scoreless innings.
Unlike the Cubs, they had plenty more chances. New York put its first two men on base in the second inning, stranding both of them in scoring position, then loaded the bases with no outs in the third. Again, the Mets came away empty. They put at least one runner on base in six of the game's first seven innings, scoring just once.
That has been a problem all year for the Mets, who dismissed hitting coach Dave Hudgens and replaced him with Lamar Johnson last week in large part because of the team's poor situational hitting.
Some nights, those shortcomings have haunted them more than others.
"When you continuously get runners in scoring position and we don't get that hit, it provides the other team with confidence and gives them a lot of momentum," Wright said. "Obviously, not being able to get that lead runner in the ninth, and numerous chances to put that team away, we couldn't do it. They were able to take advantage of it late."
Anthony DiComo is a reporter for MLB.com. Follow him on Twitter @AnthonyDicomo. This story was not subject to the approval of Major League Baseball or its clubs.