Rays react to suspension of Red Sox's Workman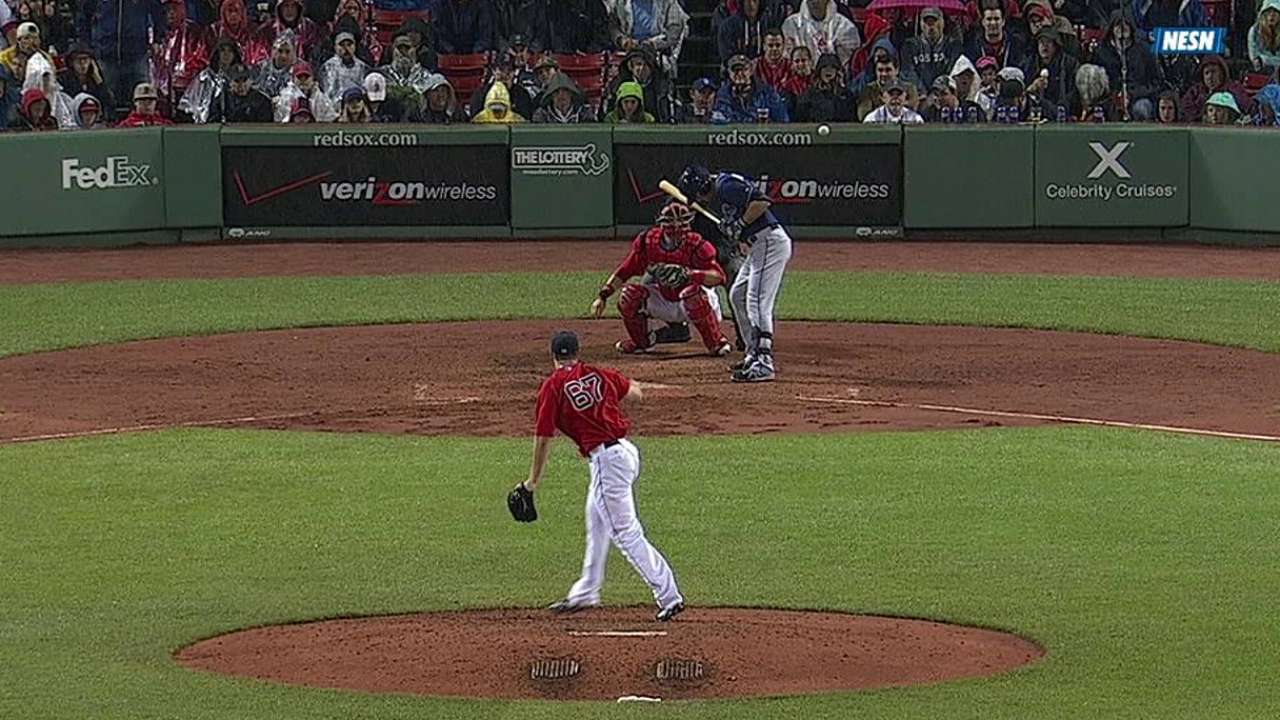 MIAMI -- Brandon Workman of the Red Sox received a six-game suspension and an undisclosed fine for intentionally throwing a pitch at the head area of the Rays' Evan Longoria in Friday night's game at Fenway Park.
"I really hadn't even thought about it until I saw it today," Longoria said. "I guess in this situation, you just let Major League Baseball decide what they think is the right or fitting punishment. I really just think it came down to where he threw the pitch. I just don't think it's as big a deal if he hits me in the rib cage or in the leg or whatever.
"I think Major League Baseball has to be able to regulate situations like this and kind of keep incidents like this from happening. And that's the one way that they can do it. Doling out fines and suspending guys."
Workman's suspension was scheduled to begin Tuesday night when the Red Sox played the Indians.
"What it comes down to is it's only a one-game suspension for him," Longoria said. "He'll miss one start, because obviously pitching every fifth day. That's why starting pitchers get suspended six games a lot -- if they're going to get suspended at all.
"It is what it is. It wasn't like I was going to be happy if he was suspended or I was going to be upset if he didn't get suspended."
Earlier in the game, David Price hit David David Ortiz with a pitch. Ostensibly, Workman's pitch came in retaliation of that. Workman claimed the ball had been "slick" and that it "slipped" out of his hand.
"I just think that if you were watching the game or you were Major League Baseball, the intent of the pitch was so blatantly obvious that it couldn't go ignored," Longoria said. "If he would have thrown one right in on my hip and I had to move out of the way or hit me, everything would have been a little different than how it ended up.
"So like I said after the game, I don't fault him for doing it. I understand the situation of the game. And he did what had to be done for his club. And that's that. It's Major League Baseball's job to do what they did. I guess they've spoken."
Of note, Price did not receive a suspension for hitting Ortiz, a fact about which Ortiz was not pleased, prompting him to make several unpleasant comments about the Rays' left on Tuesday.
Price, who drove back to the Tampa Bay area on Tuesday night in advance of making his Wednesday night start against the Marlins, talked to a pool reporter from his cell phone.
When asked about Ortiz's comments, Price said: "I've got nothing else for you, to be honest. I'm passed it. I have nothing else to say. People are going to have enough to say. I'm over it."
Price noted that he did not feel he should have been suspended and that he wanted to put the incident behind him.
"That's what I plan on doing," Price said. "That's what I want to do, I just want to get it behind me. I'll get home and be able to watch [Chris Archer] pitch tonight and focus in on my game tomorrow."
Bill Chastain is a reporter for MLB.com. This story was not subject to the approval of Major League Baseball or its clubs.