Coghlan, Schierholtz spark Cubs to walk-off win
Chicago comes alive with two late runs to take opener against Mets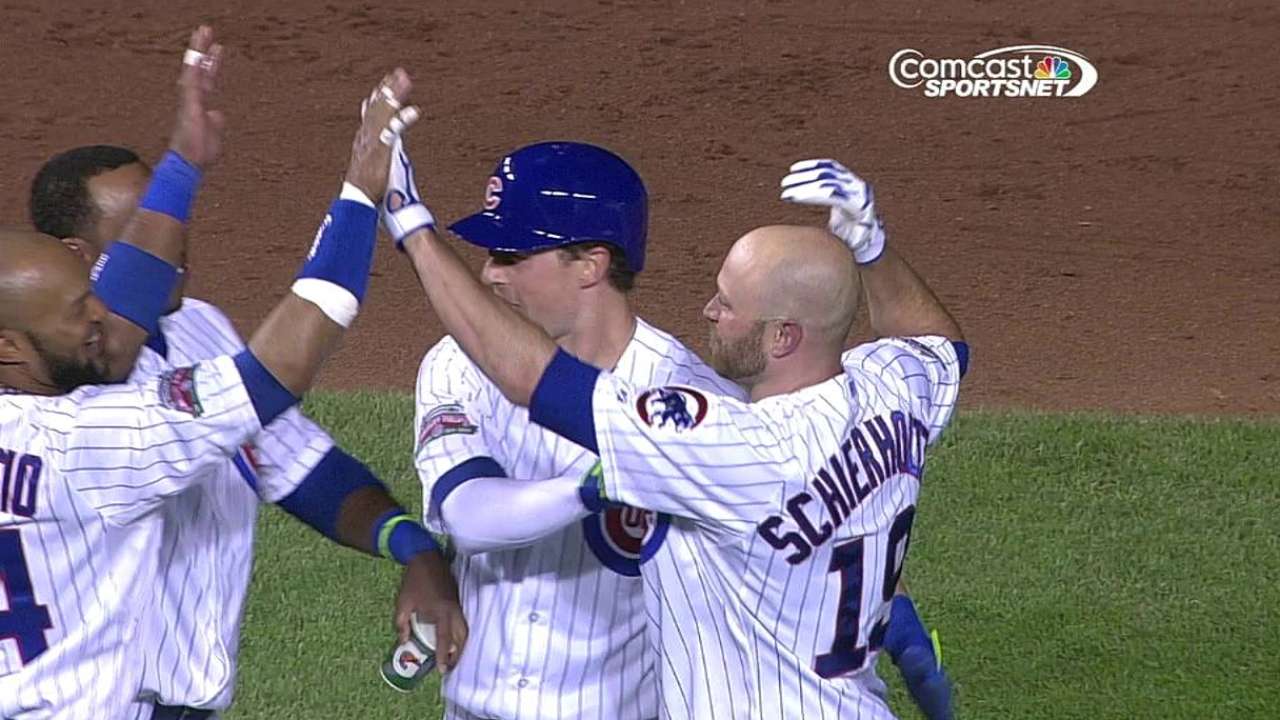 CHICAGO -- Nate Schierholtz may be one of the quietest players in the Cubs' clubhouse, but on Tuesday night, he produced the loudest noise at Wrigley Field.
Chris Coghlan hit a game-tying home run in the eighth inning and Schierholtz smacked a walk-off single with two outs in the ninth to lift the Cubs to a 2-1 victory over the Mets, ending New York's three-game winning streak.
"That's big for us -- a big boost there," Chicago starter Jake Arrieta said.
The Mets called on lefty Scott Rice in the ninth with the game tied at 1. Anthony Rizzo, who struck out in his three previous at-bats, singled to center to lead off, and Starlin Castro hit a potential double-play ball to third baseman David Wright, but he bobbled it and could only get the out at first. Rice struck out Luis Valbuena, and Schierholtz lofted an 0-2 pitch to right for a single.
It's the first walk-off win for the Cubs this season, and first since Julio Borbon delivered the game-winner last June 13 against the Reds in a 14-inning game.
"We gave this away," Wright said. "Obviously, not being able to get that lead runner in the ninth, and numerous chances to put that team away, we couldn't do it. Any time you get that many runners in scoring position and only come away with one, that gets the momentum back on their side, and they were able to take advantage of it late."
The Mets stranded 10 and went 1-for-9 with runners in scoring position.
Both Rizzo and Schierholtz spent a lot of time this spring working on their approaches against left-handed pitchers, and it's paid off. Both left-handed hitters have higher batting averages against lefty pitchers than against right-handers.
"That was one of my goals this year was to hit lefties better," Schierholtz said. "Now I've worked on it, and I know [Rizzo] feels the same way. It's always nice to go in there and hit someone you're not supposed to."
This season didn't start the way Schierholtz wanted, especially after setting career highs in nearly every offensive category last year.
"He's a very talented hitter," Arrieta said of Schierholtz, who had three hits Tuesday and is now batting .224. "He has scuffled but each time he steps in the box, we feel he's going to come through for us.
"I think we all feel very confident with his bat in our lineup wherever that might be. He showed what he's capable of tonight, getting that type of hit in that situation to put us on top."
Said Schierholtz: "I'm just trying to keep a good approach up there and swing at good pitches, and I feel like it's coming together."
Falling behind 0-2 against Rice, Schierholtz's focus was simply to put the ball in play.
"I wasn't sure where the right fielder was playing, and it didn't hit me until I was rounding first," he said.
And he received a celebratory shaving-cream pie in the face after the game.
Mets starter Zack Wheeler stymied the Cubs, striking out seven and holding them to two hits -- both singles by Schierholtz -- over 6 2/3 innings in his first game at Wrigley Field. The offensively challenged Cubs, who lost, 9-0, to the Brewers on Sunday, avoided being shut out for the ninth time this season when Coghlan homered to lead off the eighth. It was Coghlan's first since May 28, 2013.
New York tallied in the first when Matt den Dekker singled to lead off the game, stole second and scored two batters later on Curtis Granderson's sacrifice fly against Arrieta. The Cubs' starter was knocked out of the game by his pitch count, throwing a season-high 105 pitches over 4 2/3 innings, serving up seven hits and walking three.
New York stranded two baserunners in the second and made Arrieta throw 30 pitches in the third, leaving the bases loaded. The right-hander was lifted with two on and two outs in the fifth after he walked Lucas Duda.
The Cubs are keeping a close eye on Arrieta's pitch count to keep him in the rotation. Arrieta did not pitch in Spring Training because of tightness in his right shoulder.
Almost bigger than Schierholtz's clutch hit was the performance by the Cubs' bullpen. Earlier in the day, the Cubs showed their faith in young relievers such as Brian Schlitter, Neil Ramirez and Hector Rondon when veteran reliever Jose Veras was designated for assignment.
"It was nice to be able to actually reap the benefits of what the pitching did for us in the whole ballgame," Cubs manager Rick Renteria said.
In the last 19 games, the Cubs' relievers have given up 13 earned runs over 64 2/3 innings for a 1.81 ERA.
"It's been a common theme for the bullpen to come in -- big situations, a one-run game, tie ballgame -- and do the job for us," Arrieta said. "They did what we expect them to do, and that's throw heavy sinkers and get ground balls."
Schierholtz did what he expects to do, too, and that's deliver with runners on.
"I know I'm a better player than I've shown the first two months," he said. "I knew it would come around, it just took longer than I hoped. Obviously, I still have a lot to do the next four months. I'm confident, and that's all that matters."
Carrie Muskat is a reporter for MLB.com. She writes a blog, Muskat Ramblings, and you can follow her on Twitter @CarrieMuskat. This story was not subject to the approval of Major League Baseball or its clubs.