Wilson's rough outing too much to overcome
Cowgill, Hamilton go yard, but offense manages little else in opener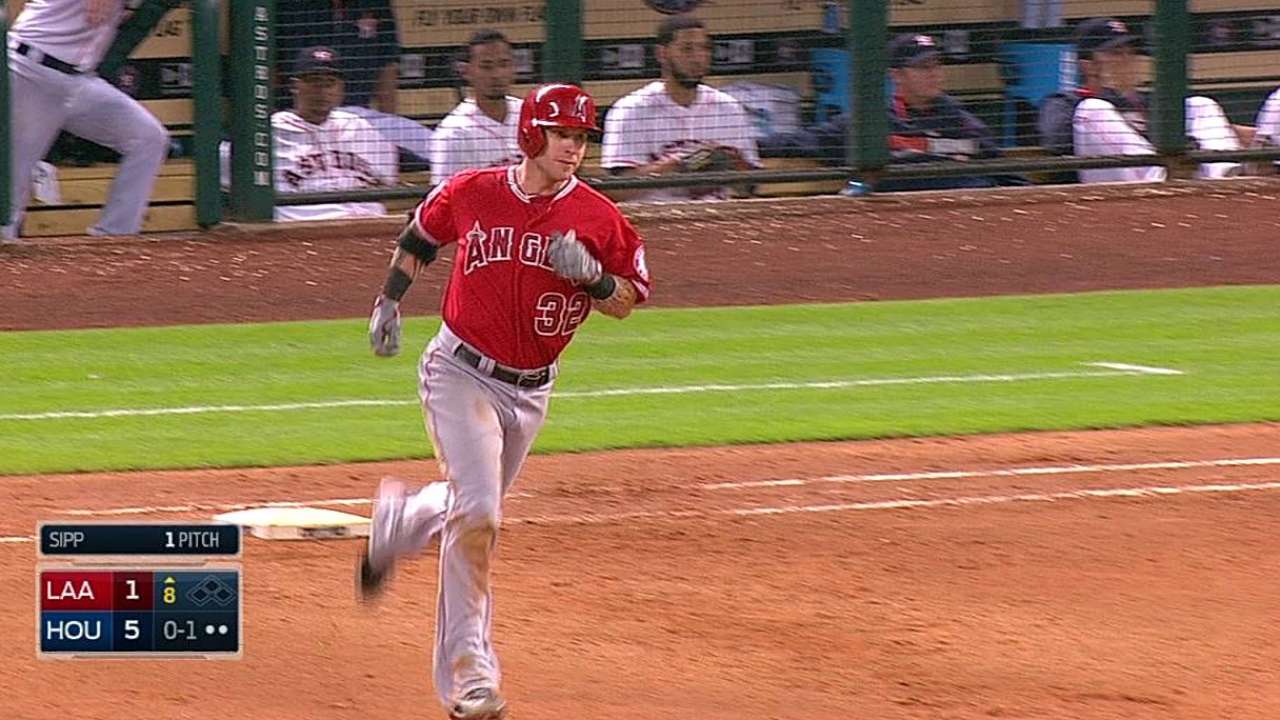 HOUSTON -- C.J. Wilson felt sick when he took the mound at Minute Maid Park on Tuesday, and his teammates were probably a little disgusted by the time he came off of it.
It was the third inning. Mike Trout had exited minutes earlier because his back flared up again, an injury that may or may not be a prolonged one, and the Angels already faced a five-run deficit, on their way to what would be a 7-2 defeat to the last-place Astros and a season-long fourth consecutive loss.
The Angels' lineup was supposed to be whole again, with Josh Hamilton returning for the first time in eight weeks -- then hitting a 400-foot lineout and a line-drive homer.
Now they're unsure about the status of arguably the game's best player.
"I'm sure he's frustrated," Hamilton said of Trout, who also didn't play Saturday and Sunday due to discomfort in his back and will be re-evaluated on Wednesday. "I don't think Trout has ever had any kind of injuries, really, except maybe a tight hammy here and there. That's part of the learning process, too. You play, and you play hard like he does, you're going to have things tweak every now and then. It's only going to make him better, more hungry, when he gets back out here."
Wilson walked a season-high five batters, gave up five runs (his highest total since April 1), lasted only 2 2/3 innings (his shortest outing since doing the same on Sept. 19, 2012) and watched as his offense was shut out through the first seven innings.
The 33-year-old left-hander got out of trouble with a couple of double-play balls in the first two innings, but he had no such luck in the third -- an inning that saw him issue three four-pitch walks and start off behind on six of the nine batters he faced.
Wilson, who said he'd been feeling sick the past couple of days, walked the bases loaded with one out. He then gave up a two-run single to Jason Castro, a single to Matt Dominguez and a bases loaded walk to Jonathan Singleton. Two batters later, Robbie Grossman hit a two-out, two-run single, prompting manager Mike Scioscia to make an early pitching change.
"I threw a fastball at 86 today," Wilson pointed out. "I just had nothing in the tank. My job is to go out there and pitch, so I just went out there and pitched. I didn't pitch very well, which is unfortunate because our team needed the game tonight. I feel like if I get out of that third inning maybe it gives our offense a little bit of a boost or something like that. We took their starter out of the game early, but they took me out of the game earlier."
The Angels put a runner in scoring position in two of the first three innings, but they couldn't get him in and didn't get their first run until Collin Cowgill and Hamilton each hit solo homers in the eighth. Collin McHugh worked around an elevated pitch count to twirl five scoreless innings, moving to 4-3 with a 2.52 ERA.
"Truthfully, I didn't have very good stuff today; didn't have very good command," McHugh said. "Their team did a really good job, especially in that first inning, battling."
But it wasn't enough, and very little has been lately. It wasn't enough against the A's, who outscored the Halos by 15 runs in a three-game set that saw Angels starters give up 14 runs in 12 2/3 innings. And it wasn't enough against the Astros, who had control by the end of the third inning and have now won eight of their last 10.
The Angels are now 2-6 on this 10-game road trip, 10-16 against the American League West and 30-27 on the year.
"If you look at the [last four] games," Scioscia said, "we maybe aren't getting out of the box with our starting pitching the way we have been when we've done well. These guys have been so well for so long that you're going to hit a bump in the road occasionally. I don't think there's anything we need to recreate. I just think we need to go out there and, particularly with our starters, get into their game."
Alden Gonzalez is a reporter for MLB.com. Read his blog, Gonzo and ?The Show?, and follow him on Twitter @Alden_Gonzalez. This story was not subject to the approval of Major League Baseball or its clubs.