Singleton's patience, power lift Astros in opener
After drawing key walk in third, prospect hits first big league homer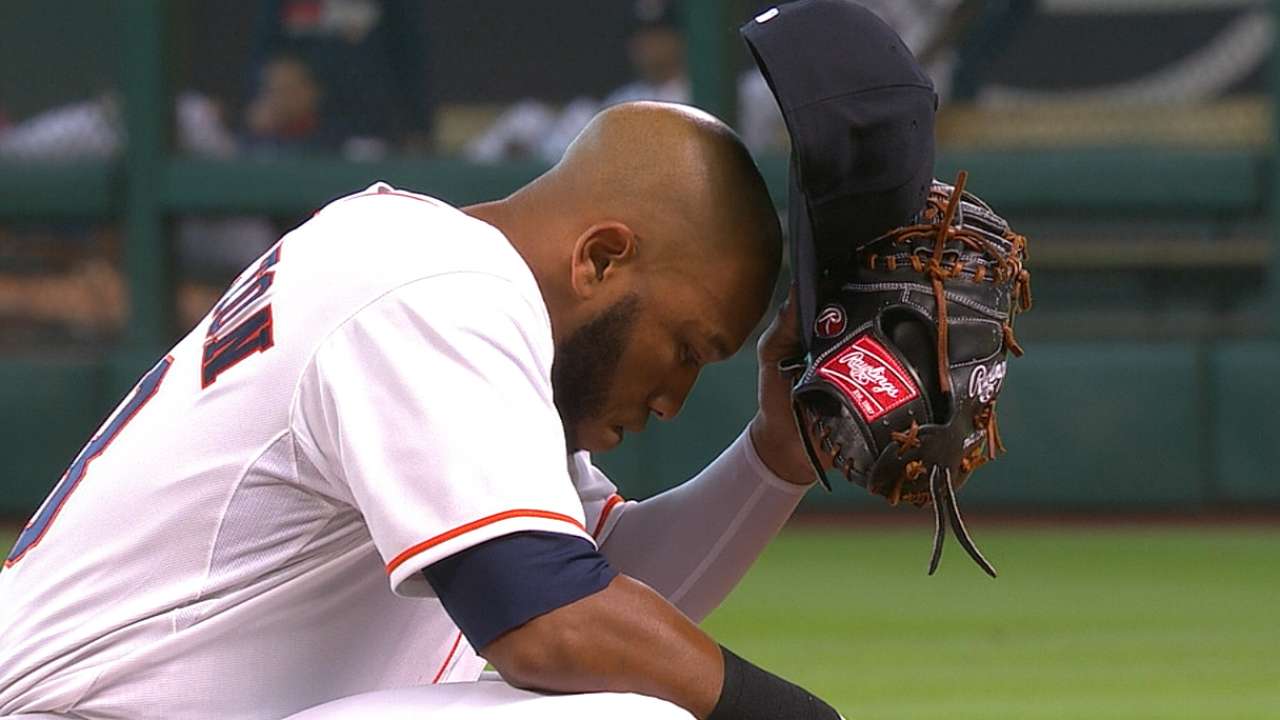 HOUSTON -- First came the patience, and they spoke about that some, too. Then came the power, and Jon Singleton showed why he's here.
From general manager Jeff Luhnow to manager Bo Porter to his former Minor League, now Major League teammate George Springer, everyone in the Astros' organization was talking all about Singleton Tuesday afternoon at Minute Maid Park.
The patience at the plate, his 42 walks in 54 games at Triple-A Oklahoma City, was mentioned some, sure. The power, though, is what they gawk over. So when Singleton came up without a hit in his first three Major League plate appearances and then launched his first career hit 406 feet into the bullpen in right field, everything Luhnow, Porter and Springer spoke about was validated in the Astros' 7-2 win against the Angels.
As Singleton rounded the bases, the sensation was something completely new to him, even though he got to the Major Leagues because of how well he hits the home-run ball.
"I was taken back," Singleton said. "It felt like I had never done it before. My heart was racing so fast when I hit home plate, it didn't make any sense."
Soon, the whirl of what just happened started to set in, as he found himself in a Major League dugout, surrounded by his teammates celebrating the accomplishment. Sure enough, his Minor League teammate and good friend, Springer was right there, too.
Springer's version of a congratulations was by putting both his hands over Singleton's head, with his finger bent down in the shape of a claw. Springer calls it, "The Monster Claw," and it's meant for big moments in a game. Or, in Singleton's case, a big moment for his young career.
"It speaks for itself," Springer said. "It's the monster claw. It was the monster claw of the day."
Singleton's day wasn't perfect, though. He finished 1-for-3 with one run, two RBIs, one walk, two strikeouts and two errors.
The debut for Singleton came in front of his parents, Rocky and Sherry, who were in the stands to witness their child's first big league game. And while the power was the highlight play for Singleton, his patience, which those who've watched him play also speak about, showed early in the game.
After striking out in his first at-bat, Singleton's second chance came in the third inning with the bases loaded. Instead of being over-aggressive, Singleton took four consecutive balls to take first base for his first RBI.
"Even though it was a walk, we'll take it," Singleton's mother, Sherry, said. "We'll take it one way or the other."
The inning started with Angels starter C.J. Wilson walking Jonathan Villar and Dexter Fowler. Wilson struck out Jose Altuve before walking Springer. Jason Castro then singled to right field, scoring Villar and Fowler, giving Houston a 2-0 lead. A Matt Dominguez single led to Singleton's at-bat with the bases loaded and the subsequent walk.
Robbie Grossman singled on a line drive to center field two batters later to score Castro and Dominguez to cap a five-run frame in which Houston sent 10 players to the plate.
Wilson left the game after 2 2/3 innings in which he gave up five earned runs on five walks and six hits. Wilson had gone at least six innings in each of his previous nine career starts against the Astros.
While Wilson wouldn't blame the loss on it, he was pitching while sick.
"You're not going to feel 100 percent, so you just go out there and give it everything you have," Wilson said. "Sometimes the balls find holes and sometimes you can't find the strike zone. It's been pretty rare for me to have a game like that, but there it was."
Houston starter Collin McHugh pitched his second consecutive game without giving up a run. In five scoreless innings, McHugh gave up only two hits and two walks. In his previous start, McHugh pitched seven shutout innings against the Royals in a 3-0 win. McHugh's record moved to 4-3 and his ERA dropped to 2.52.
"I'm not trying to go five innings every game, so for me, coming out after five, I was kind of disappointed," McHugh said. "It was the right move by the coaches and everything. I told them I understand."
The win for Houston breaks a two-game losing skid, after the Astros lost their last two in a four-game series to Baltimore. For the third time in its last four bouts, Houston has won its series opener.
The energy of the Astros finally breaking out of their three-season rebuilding slump was palpable at Minute Maid Park. Players like Springer, who was named the American League's Rookie of the Month earlier in the day, and Singleton working their way into the Majors and having success could be the first signs of a slow but sure turnaround in Houston.
"I feel like we're gaining momentum," Porter said. "We're starting to play our best baseball of the season."
Mike Vernon is an associate reporter for MLB.com. This story was not subject to the approval of Major League Baseball or its clubs.