Prospect Betts moves up to Triple-A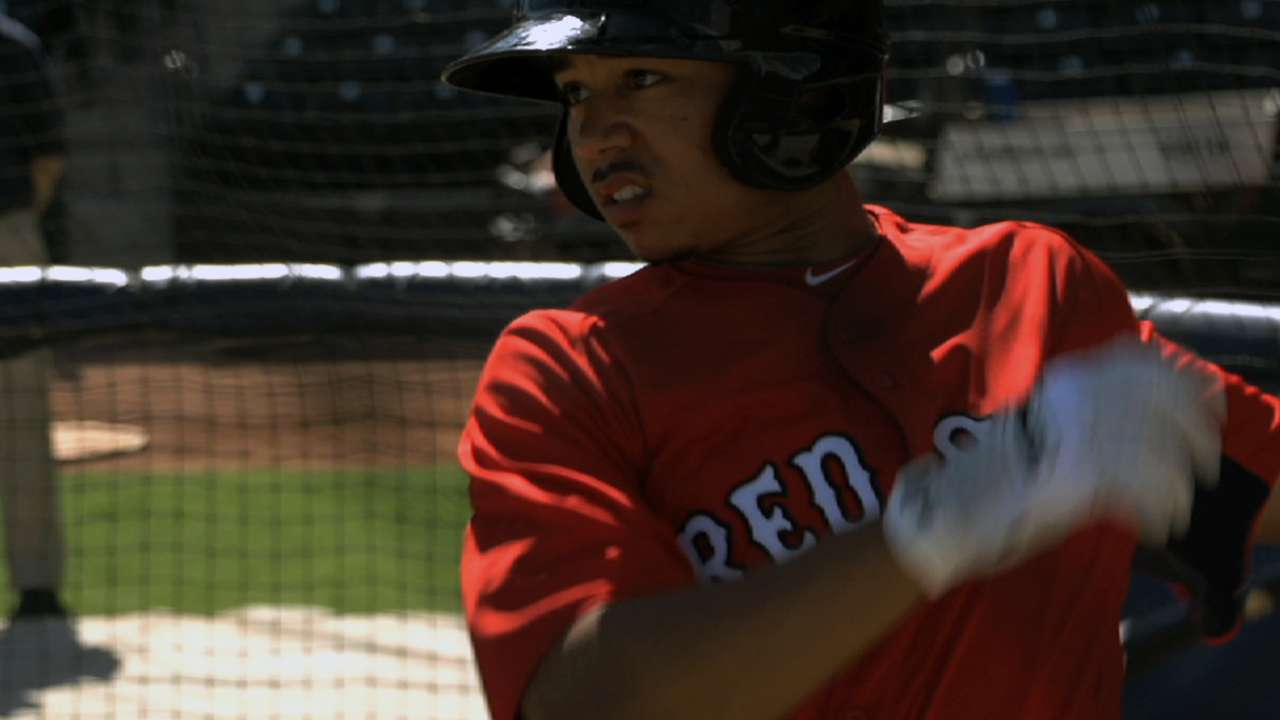 CLEVELAND -- Red Sox prospect Mookie Betts, who has created a lot of excitement this season, was promoted to Triple-A Pawtucket on Monday.
In other words, he is one step closer to coming to the Major Leagues and helping the Red Sox. There's at least a chance that could happen in 2014.
"You certainly can't rule it out," said Red Sox manager John Farrell. "Positional fit defensively is going to be part of this. I know he's going to Pawtucket to play second base, which is his position over a long period of time just to get settled in there. He played roughly 10 or 12 games in center field in Portland. I'm sure while in Pawtucket, he'll play center field in time. But it's exciting to see a young player who this time a year ago was in the South Atlantic League. He's moving quick."
Betts, 21, was selected by the Red Sox out of high school in the fifth round of the 2011 First-Year Player Draft. He's ranked as the club's No. 5 prospect by MLB.com.
"You look at his performance over the course of the season to date and he's really excelled in every area of the game," said general manager Ben Cherington. "He's controlling the strike zone, he's running the bases, he's playing defense, he's obviously hitting, he's hitting for power, and I think at some point, we have an obligation to challenge our young players when they are performing at a level where it's not certain that they're being challenged, it's up to us to make sure that they're being challenged."
One of the most exciting things about Betts is his athleticism, which creates a lot of versatility on defense.
"This conversation started a few days ago and we wanted to avoid introducing too much all at once to Mookie," said Cherington. "We knew that, because he had started to play the outfield, we wanted to give him a little bit of time to settle in in the outfield before also introducing him to Triple-A. So now that he's gotten a little bit of time in the outfield and he's gotten comfortable out there, we felt like this was the time to move him up to Pawtucket."
At Double-A Portland, Betts hit .355 with a .433 on-base percentage and a .994 OPS. In 253 at-bats, Betts had 18 doubles, three triples and six homers.
Ian Browne is a reporter for MLB.com. Read his blog, Brownie Points, and follow him on Twitter @IanMBrowne. This story was not subject to the approval of Major League Baseball or its clubs.