Twins OK with Santana's steep learning curve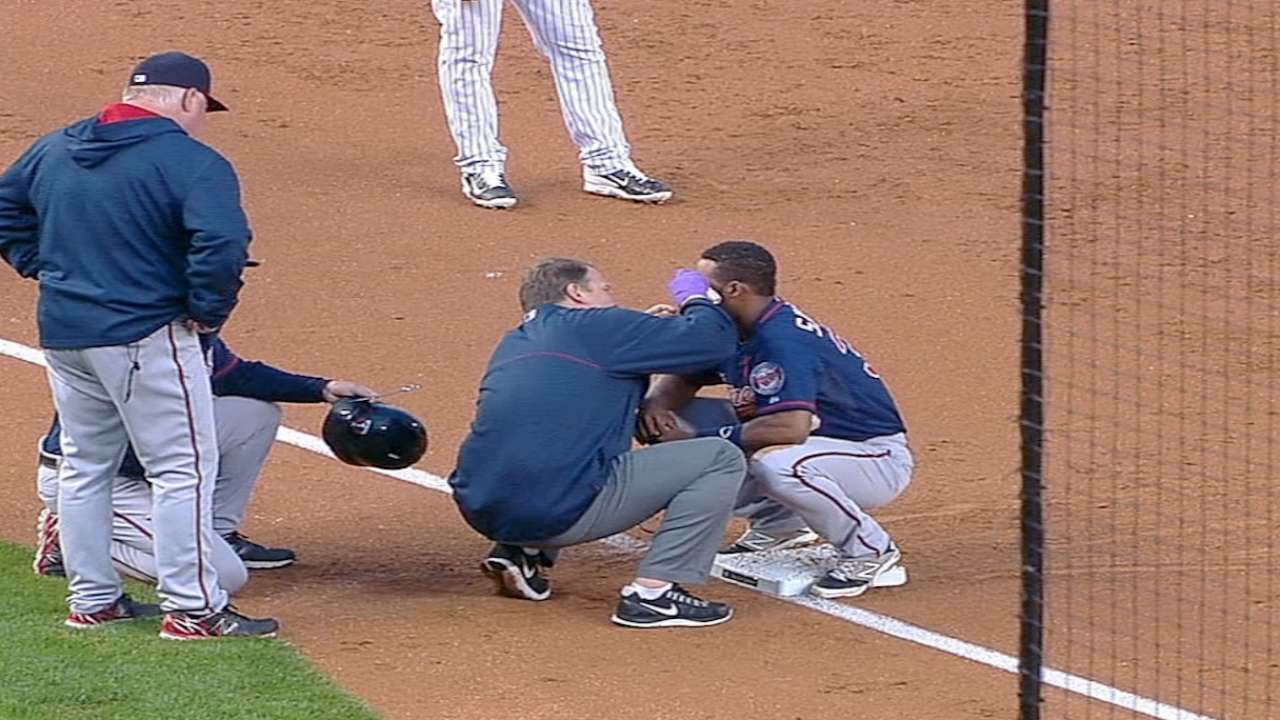 MILWAUKEE -- Danny Santana's throw to the plate was probably ill-advised, well late to catch speedy Brewers shortstop Jean Segura on Monday when the Brewers scored their first run. It also tailed well up the third-base line, where catcher Kurt Suzuki was able to flag it down and prevent Jonathan Lucroy from advancing all the way to third on the at-bat.
In a way, the play profiled both the talent and the project presented by Santana in center, where he started Tuesday as the leadoff batter -- his second start atop the order this season.
"As soon as he let it go, it really does fade," Twins manager Ron Gardenhire said. "It's like a banana. He's got a really quick arm and a good wrist flip, but he can really get good movement on it. He'd be amazing to see on the mound, I imagine. He'd have some kind of arm."
The Twins are determined to see what the 23-year-old Santana can do elsewhere on the field, even if it comes attached to a learning curve. Santana missed two games after he led off the series opener in New York on Friday and sustained a cut above his eye running the basepaths, but on Monday he returned to the middle of the outfield. He finished with two hits, including a single that chased Brewers starter Matt Garza in the seventh and a slow tapper to the right side that left Milwaukee's infield with no play in the ninth.
"He just brings some life to the game; he brings some lightning," Gardenhire said. "We saw it last night. He shoots the ball the other way, and not too many guys can tap a ball like that where [the defense has] no chance to get him.
"He's a little unpolished, but as far as playing in center field. I don't think he has the experience to probably do what a lot of center fielders can do, toward the wall. Straight-over-his-head balls are a little harder for him, but going side to side and actually being able to outrun some of those balls, he does that very well. He has a very strong arm. He can definitely come in and attack a ball. Knowing when you have a chance to throw people out and all those things … he just doesn't have enough experience up here at the big league level."
Coming up on his first full month in the big leagues, Santana, rated the Twins' No. 10 prospect by MLB.com entering the season, has spent most of his time in the infield, mostly at shortstop. But Gardenhire said he had zero reservations about using the switch-hitting Santana at center.
"The Major Leagues is not the easiest place to learn, but that's where we're at," Gardenhire said. "We like him; we want him in the lineup. I'm playing him. If I thought it might hurt him and hurt his makeup and have a chance to knock his socks off, I would never do that. … That's one thing we do like about him; he's not overwhelmed at all.
"He's a fun player to watch play baseball. He has a lot of talent. We just have to harness it, and we're trying to do that at the big league level."
Gardenhire acknowledged he liked Santana's bat in the lineup as opposed to that of regular center fielder Aaron Hicks against the Brewers' starters, but the switch back to an American League park on Wednesday might open up more opportunities for Hicks' return to the field.
"[Hicks is] our center fielder, but if you're scuffling a little bit … some of these pitchers are pretty filthy on right-handers, and I like the way Santana is swinging right now," Gardenhire said. "Right now, we're not scoring, so I'm trying to get offense in there. That's why Hicks is on the bench. He might come in during the eighth or ninth inning and win the game for us, so he's got to be ready for that."
JR Radcliffe is a contributor to MLB.com. This story was not subject to the approval of Major League Baseball or its clubs.