Seager continues rise with four-hit game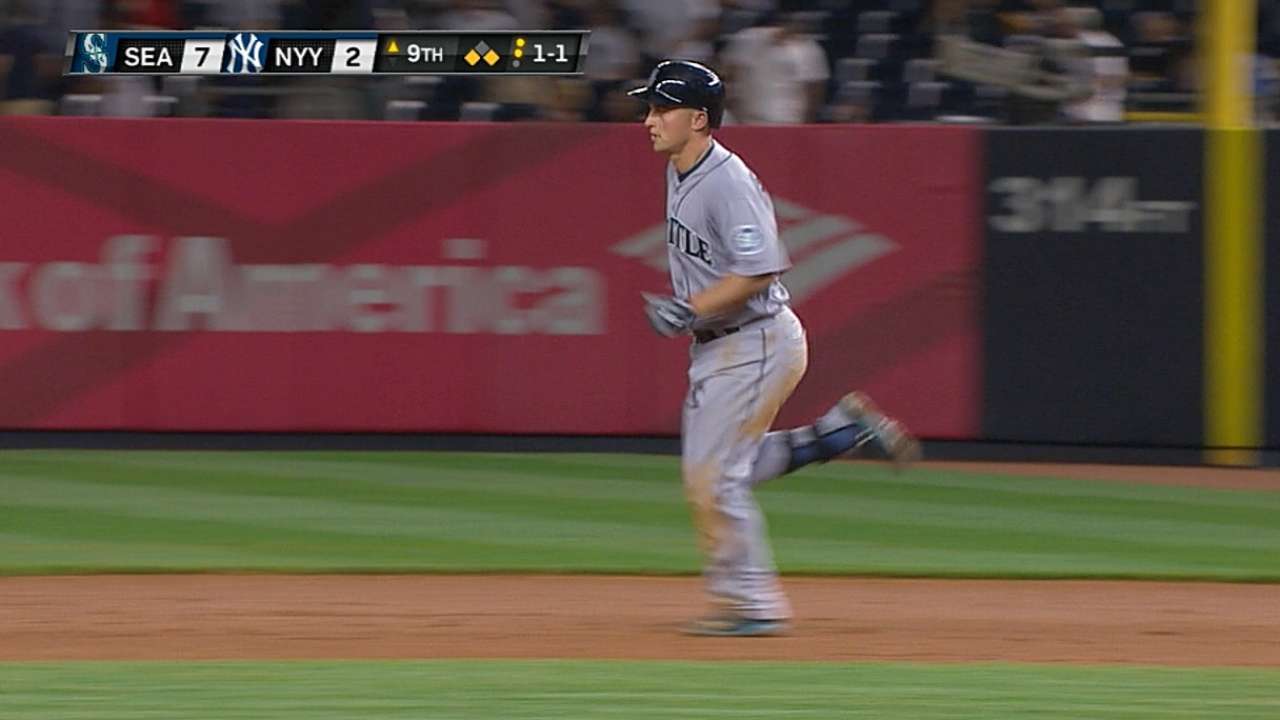 ATLANTA -- While Kyle Seager reached a new level with a club record-tying four extra-base hits in Monday's 10-2 victory at Yankee Stadium, the Mariners' third baseman has been on a significant roll for the last six weeks.
Since April 23, Seager has posted the fifth-highest OPS among all American League players at 1.034, as he's batted .328 with 19 runs, eight doubles, three triples, nine homers and 34 RBIs. The Seager surge has corresponded with Seattle's own rise, as the Mariners have gone 22-15 in that stretch, tied for the third-best record in the Majors heading into Tuesday's series opener against the Braves.
"He's starting to do pretty good, which is just what we envisioned with him," manager Lloyd McClendon said. "He's too good to be a .260 hitter. I think this guy is a .280 to .290 guy with power and can drive in some runs."
Seager was hitting just .156 with no homers and two RBIs in 19 games on April 23, but has now raised those numbers to .272 with a team-leading nine home runs and 36 RBIs in 57 appearances.
With Monday's 4-for-5 day, Seager became the first Major Leaguer since Montreal's Hal Breeden in 1973 to have a double, two triples and a home run in the same game. The last AL player to pull that off was Detroit's Hoot Evers in 1950.
The two triples were the separator, of course, and Seager admitted "that's not usually in the arsenal," as he'd tripled just three times in his first three MLB seasons prior to this year.
"It was definitely just one of those days where it all came together," Seager said. "I hit the ball hard a couple times. I hit the one ball down the left-field line where I kind of missed it a little bit, but it had eyes and found a good place, with the infield shifted over and the outfield playing to pull there. It was kind of a fluke play on that one. So it was definitely a good day."
That triple came when Yankees outfielder Brett Gardner missed a sliding attempt at a blooper right on the left-field line and shortstop Derek Jeter deflected the bounce further down the line and then was slow to retrieve it, thinking it had been a foul ball.
"That's your key," Seager said. "When you're struggling, somebody is going to make a diving catch on that or they'll be playing there for some reason. When it's going your way, those seem to drop and crazy things like that happen. It was just one of those days."
Greg Johns is a reporter for MLB.com. Follow him on Twitter @GregJohnsMLB as well as his Mariners Musings blog. This story was not subject to the approval of Major League Baseball or its clubs.