Hahn's debut sidetracked by home run ball
Righty allows two homers, four runs and six hits in 3 2/3 innings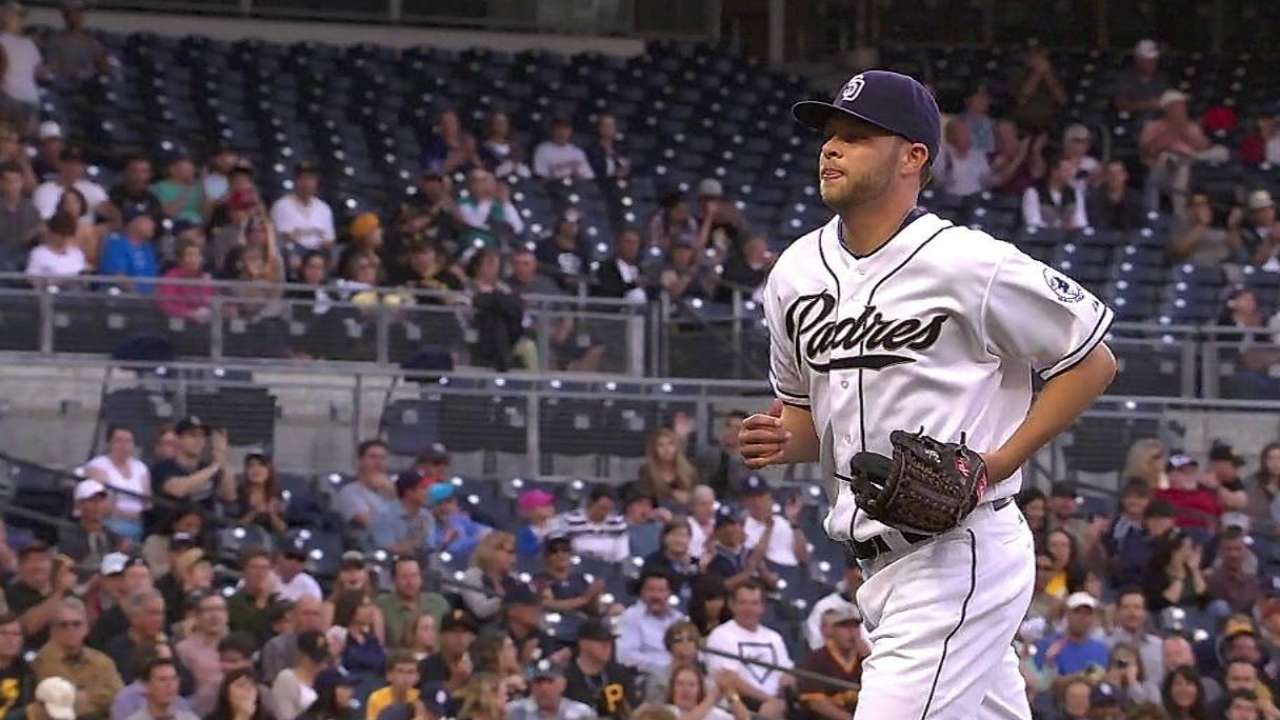 SAN DIEGO -- Neil Walker and Pedro Alvarez each had two-run homers on Tuesday night, ruining the Major League debut of San Diego starter Jesse Hahn and leading the Pirates to a 4-1 victory over the Padres.
The loss continued the Padres' recent cold streak at home, having lost six of their last eight games at Petco Park and 10 of 15 overall. San Diego dropped to 26-33.
The Pirates (28-30) are trending in the opposite direction as they try to return to the playoffs for the second consecutive year, having won 11 of their last 16 games, and are now 6-3 on their current 10-game road trip.
Gerrit Cole (6-3) was dominant for Pittsburgh, allowing just one hit in the first five innings before the Padres mounted a mini-rally with two outs in the sixth that fell short.
Through two innings, Hahn (0-1) looked to be equally capable. He struck out the National League MVP (Andrew McCutchen), the 2013 MLB co-leader in home runs (Alvarez) and the Pirates' cleanup hitter (Ike Davis) while giving up one hit on 30 pitches in the first two frames.
"That was awesome, those guys are great players," Hahn said. "For my first Major League strikeout to be Andrew McCutchen, it's just a great feeling."
But Hahn ran into trouble the second time through the lineup. With two outs and Cole on first, Walker drove a curveball on the outer half of plate just over the fence in left-center field for his 11th homer of the year to give the Pirates a 2-0 lead in the third inning.
"That [pitch] was exactly where I wanted it," Hahn said. "I thought it was a good pitch, he just did a good job of going down and getting it."
Then, Alvarez got his revenge against Hahn in the fourth by knocking his 11th round-tripper of the year, another two-run shot that put the Pirates up 4-0. Hahn would exit later in the inning after 79 pitches, ending with a line of six hits, four runs, two walks and five strikeouts in 3 2/3 innings.
"He lost some velocity as the game wore on in the third and fourth inning," said Padres manager Bud Black. "He only threw around 70 pitches his last start [in the Minor Leagues]. I think he needs to build his stamina and continue to build his arm strength."
Black had to balance wanting to limit Hahn's pitches and also attempting to rest a bullpen that had pitched a 2014 Major League-high 249 pitches on Monday night in the Padres' 10-3 loss.
Jason Lane solved both issues in his Major League debut as a pitcher -- nearly seven years after he last played as an outfielder in the big leagues. The 38-year-old relieved Hahn in the fourth and stymied the Pirates in 3 1/3 innings of relief on just 36 pitches, allowing no hits and ringing up three strikeouts.
"I was surprisingly a lot calmer than I thought I would be," Lane said. "I just got into a nice rhythm with [Padres catcher] Rene [Rivera], mixing pitches. I was telling him after the game, 'I feel like you've been catching me all year.'"
Lane even showed off some nifty glove work, knocking down a Travis Snider line drive headed up the middle before collecting it and tossing to first for the out. He also led off the bottom of the sixth and flied out to right field -- but he was far from the only Padre who couldn't find success at the plate.
San Diego mustered just four hits on the night, and none after Cole exited in the sixth.
Back-to-back-to-back singles by Chase Headley, Seth Smith and Yonder Alonso scored Headley to make it 4-1 and knocked Cole out of the game. But Jedd Gyorko, who is mired in a season-long slump (.163 batting average), was robbed of a base hit by the Pirates' defensive shift when he grounded out up the middle to Walker, ending the inning and the Padres' only offensive threat of the game.
Cole finished with four hits and one run allowed, two walks and six strikeouts in 5 2/3 innings.
"I had good stuff tonight, and stayed in the zone enough to keep them swinging the bat," Cole said. "Uncharacteristically, kinda just ran out of stuff at the end. But, kept us in the ballgame, and kept the lead as long as I could."
That turned out to be enough for Pittsburgh, which then leaned on hitless performances from Jared Hughes, Tony Watson, Mark Melancon and Jason Grilli, who recorded two strikeouts in the final inning for his ninth save.
Hahn and Lane became the first Padres pitching duo to make their Major League debuts in the same game since Sep. 4, 1971, when Mike Caldwell and Jay Franklin did against Atlanta.
The Padres, who came into the series having won 19 of their 25 games against Pittsburgh since 2010, will try to prevent a sweep at the hands of the Pirates when the two meet again on Wednesday at 3:40 p.m. PST.
Will Laws is an associate reporter for MLB.com. This story was not subject to the approval of Major League Baseball or its clubs.