Cole dominates as one-year anniversary approaches
Righty allows a run in 5 2/3 innings; Alvarez, Walker back him with HRs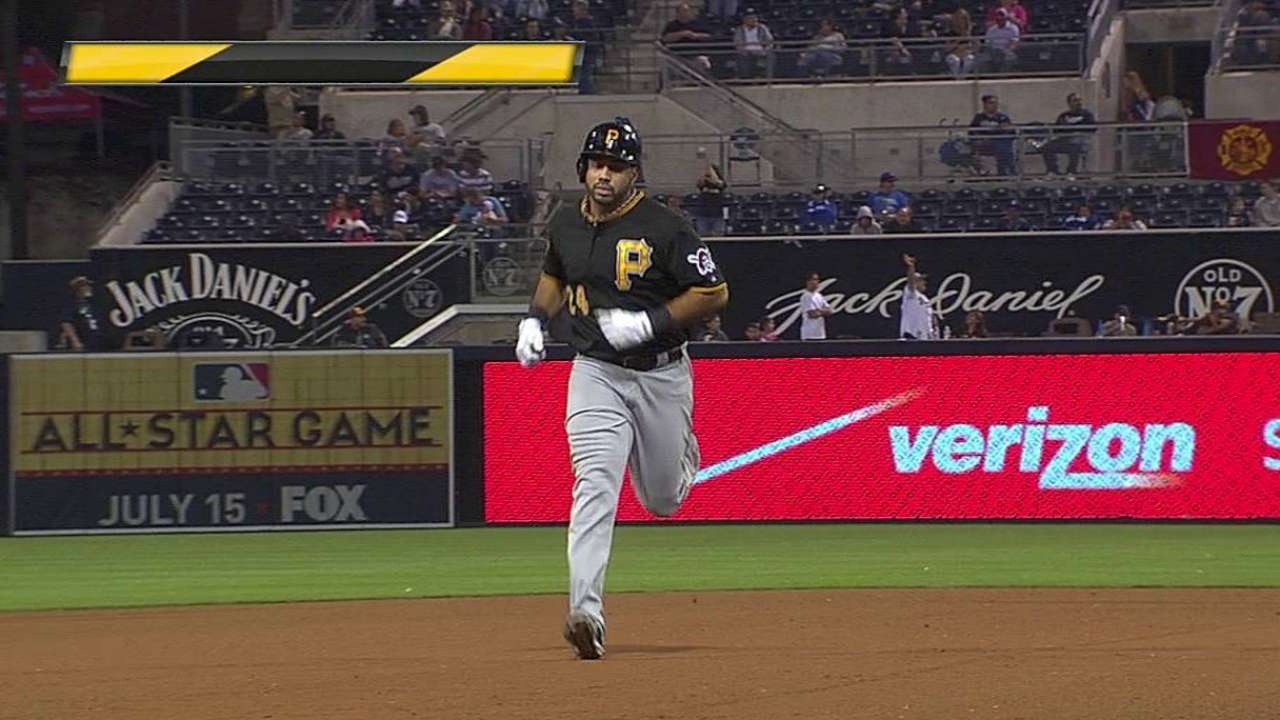 SAN DIEGO -- In his nearly one full year as a big league pitcher, Gerrit Cole has collected many wins and even more plaudits. Like any other young ballplayer, the right-hander is nearing a crossroads.
His manager, Clint Hurdle, is anxious to see which path the right-hander takes.
"I'm more interested to see what happens at the end of this year," Hurdle said of the development of Cole, who made his Major League debut last June 11. "The league has had a chance to break him down. After you see how he responds, you have a better idea of what type of pitcher he's going to be."
If Tuesday night's approach to that first anniversary was any indication, Hurdle will see plenty. Cole had a one-hitter two outs into the sixth inning and pocketed his sixth win as the Pirates downed the Padres, 4-1, in Petco Park.
For the Bucs, this was a critical win: At 6-3 and with only Wednesday afternoon's finale here to go, it assured them of a winning record on a testing bicoastal trip, despite starting it off with two sloppy losses to the Mets.
"We left New York behind us," Hurdle said, "and got some traction. We got the [pitching] starts we needed, the bullpen has been very efficient, the offense continues to show up."
Two-run homers by Neil Walker and Pedro Alvarez, the 11th for each, spoiled the big league debut of San Diego right-hander Jesse Hahn.
Given that 4-0 lead, Cole breezed through the middle innings, but ultimately didn't make it into the late frames. Too many deep counts -- a dozen at-bats of five-plus pitches -- caught up to him after 5 2/3, and lingered as his biggest disappointment.
"I'm really comfortable pitching with a lead like that, and I can do a little better," Cole said. "I just wasn't efficient at all. It's pretty frustrating. I need to get deeper into that game."
Cole outpitched a May-December pitching combo for the Padres. When Hahn needed help after 3 2/3 innings, it came from lefty Jason Lane.
If that name rings familiar, it is because Lane is a former big league outfielder who played 467 games, even hit 61 homers, from 2002-2007, primarily with the Astros.
After seven years of reinvention, Lane returned as a 37-year-old reliever -- and retired all 10 Pirates he faced.
"He flat out pitched out there, kept them in the game," said Hurdle, who, as Colorado manager, was on the other side of the field for Lane's previous big league appearance, on Oct. 1, 2007 in the Padres' outfield against the Rockies.
Hurdle reserved some admiration for his own guy.
"We saw a good, live fastball," he said of Cole. "The curve, slider down-and-away. The changeup as well. Pitch efficiency is one thing that got in his way."
Cole worked on a one-hitter -- Will Venable's second-inning double into the right-field corner -- and retired 11 straight, through the second out in the sixth. Then he was chased by another streak: Three consecutive hits, within the span of five pitches, the last by Yonder Alonso spoiling his shutout.
Jared Hughes elicited the inning-ending grounder in that sixth, then Tony Watson, Mark Melancon and Jason Grilli each anted an inning into the bullpen's hitless night.
Hitting 100 pitches on the nose, Cole allowed four hits and a run in 5 2/3 innings, walking two and striking out six.
Among the things to jump out at you about the 24-year-old Hahn was his Minor League track record as a three-inning starter and his refusal to allow home runs. Conclusions drawn from his 41 starts netting only 10 decisions (6-4 record) and the one homer he yielded in three years and 153 2/3 innings.
One of those trends continued. Hahn strong-armed the Bucs for 2 2/3 innings, striking out five of them, including Andrew McCutchen, then began ducking line drives. He did not make it out of the fourth.
"Looking at the game and knowing what a young pitcher goes through making his Major League debut, you're running on adrenaline," said Padres manager Bud Black, a former ace pitcher. "Once that wears off … I think he needs to build his stamina and continue to build his arm strength."
As for the long-ball avoidance … Walker and Alvarez muscled up for a pair of them in less than an inning.
Walker gave Cole a 2-0 lead by following a third-inning single by Jordy Mercer -- later forced on Cole's sacrifice bunt attempt -- with his 11th homer. The Bucs' double-play combo thus continued to set an offensive tone.
The homer gave Walker five RBIs in the first two games of this series, and was his 27th since the start of the 2013 season -- tops among National League switch-hitters.
"I don't consider myself a home-run hitter, a guy who's gonna hit a lot of balls out of the park," Walker said through a broad smile. "I do consider myself a guy able to find the barrel."
The single that began the inning was Mercer's seventh hit in his last 10 at-bats.
Walker's bat then called it a night. Mercer's did not. He lashed another single in the fourth off Hahn, who by then trailed 4-0, Alvarez having lined his own 11th homer with a man on earlier in the inning.
"He'll let me stay afloat until he gets hot," Walker said of being tied in homers with his good buddy, "then he'll hit about 25 in about three weeks. I don't think [our tie] is going to hold up."
Tom Singer is a reporter for MLB.com and writes an MLBlog Change for a Nickel. He can also be found on Twitter @Tom_Singer. This story was not subject to the approval of Major League Baseball or its clubs.